News
Is a Microbicide the Game-Changer Gay Men Need?
June 23, 2014
As other articles in this issue of Achieve point out, the old adage of "Use a Condom Every Time" is not working. Rates of HIV infection are rising among men who have sex with men (MSM), not just in the U.S., but around the world, and especially among young MSM of color and transgender women. As Jim Eigo writes in this issue, Truvada, when taken by HIV-negative people as PrEP, can significantly lower the risk of infection. But it has two serious drawbacks: to be fully effective it should be taken every day (whether or not you're planning to have sex), and it's hugely expensive (over $1,000 a month retail).
I recall a conversation with a fellow activist years ago, as we were bemoaning the persistent rate of new infections in gay men. "It feels like we'll never get a handle on this thing until we get either a vaccine or a lube that will prevent HIV," I said. The former remains, unfortunately, years away (last April, yet another vaccine study, HVTN 505, was shut down early due to a lack of effectiveness), but the latter may be closer than we think.
The Problem
Among 24,787 MSM who completed an online survey in the U.S. in 2010, 36% reported having receptive anal intercourse the last time they had sex, but only 45% said they had used a condom. Of course, it's not only gay men who have anal sex. In a 2009 U.S. survey, nearly 13% of women said they had had anal sex in the past year. That number rose to 20% in women aged 20 to 39, but only 11% said they had used condoms. Clearly, we need new tools to fight HIV, since anal sex carries the highest risk of HIV transmission among all sexual practices.
Advertisement
The Hope
A new study, MTN 017, is looking at a rectal microbicide (RM) that contains tenofovir, one of the drugs in Truvada. Rectal microbicides are gels that are being studied to see whether they can lower the risk of HIV when used in the rectum. This Phase II study opened in October and will enroll 186 HIV-negative MSM and transgender women in Peru, South Africa, Thailand, and the U.S., including Puerto Rico. While the purpose of the study is not to prove whether the gel is effective at preventing HIV transmission, it will hopefully answer some very important questions about the gel's safety and acceptability.
First, do people like the gel? The first microbicide study to show some effectiveness was CAPRISA 004, which found that a tenofovir gel, when used by women vaginally, reduced the risk of HIV infection by 39%. Unfortunately, when that gel was used rectally in MTN 006, it caused gastrointestinal problems. So the gel has been reformulated to include less glycerin, and an earlier study, MTN-007, found that it was safe and acceptable to both men and women who used it daily for one week. MTN-017 is a larger study that will further explore the gel's safety and whether people like it, and compare it to Truvada pills.
People in the study will cycle through three regimens, each lasting eight weeks: the gel used daily, the gel used before and after anal sex, and daily use of Truvada pills. This will allow researchers not only to collect data about the gel's safety and acceptability in the rectum, but also to compare it to the use of Truvada pills, which were approved for HIV prevention by the FDA in 2012. Throughout the study, researchers will do blood tests to see if people are actually using the gel and Truvada. Similar tests done during trials of Truvada pills found that most people in the trials were not taking the drug as prescribed. But those tests were not done until the trial had ended.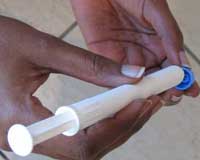 "By monitoring product use as the study is underway, we will have a much better sense of whether participants are adhering to the assigned study regimens," said Ian McGowan, M.D., Ph.D., co-principal investigator of the MTN. "The unique design of our study, which does not include a placebo, allows us to address any concerns or issues with adherence in a more real-time fashion, rather than waiting until after the study has concluded." The trial should go a long way toward answering the question of whether more people will use a microbicide as opposed to a daily pill.
As we wait for the results of MTN-017 and later follow-up studies that will look at the gel's ability to lower the risk of HIV infection, we can examine the two other roadblocks to PrEP and condoms: Will gay men use it, and can they afford it?
Many studies have already looked at the first question. A 2008 survey in Peru found that of 532 MSM and transgender women who had receptive anal intercourse, 29% would prefer a pill, while 57% would prefer a microbicide (14% had no preference). Clearly, an effective RM would be popular.
Of course, we don't know exactly how the first RM will be used. Ideally, it would be similar to the lube that most people who practice anal sex already use. But to ensure accurate dosing, MTN-017 will require people to use an applicator similar to the one pictured below. A 2010 study compared the reaction of 92 men and 25 women to three different methods: an applicator, a suppository, and an enema. The authors concluded:
Among females, the applicator was the preferred product across all ages ... whereas both the applicator and the suppository were preferred to the enema among older females. ... Younger males preferred the applicator to the enema and suppository, while older males did not appear to prefer any product over another. These findings suggest that the marketing of RM products and the counseling of adherence to their use for HIV prevention may need to be age and gender specific.
But would people use an applicator when they usually use their fingers to apply lube? In Biomedical Advances in HIV Prevention -- Social and Behavioral Perspectives, Marc-André LeBlanc and Jim Pickett write:
"Using an applicator to deliver a rectal microbicide may be a 'deal breaker.' It is one thing to use an applicator in a trial; it is quite another to ask men and women ... to use an applicator in their real lives."
Using an applicator to deliver an RM may be a "deal breaker." It is one thing to use an applicator in a trial; it is quite another to ask men and women ... to use an applicator in their real lives. After all, people who use lube most commonly use their fingers to apply it, utilizing the "dab will do ya method." And if more lube is needed, "another dab will do ya." ... If we are to have products that real people are going to use in their real lives, scientists and impacted communities must continue to engage with one another. Tapping community wisdom before, during, and after trials is not a luxury, or something nice to do -- it is absolutely essential.
That may depend on how effective it is at preventing HIV. Even though MTN-006 found that the vaginal form of a tenofovir gel had too many side effects when used in the rectum, it also found that people in the study reported a high willingness to use the product in the future if there was some indication of actual protection. So even though younger gay men have not seen the devastation of AIDS that was evident in the '80s and '90s, the desire to avoid infection may still be strong enough to lead them to use a less-than-100% effective RM.
More From This Resource Center
---
This article was provided by ACRIA and GMHC. It is a part of the publication
Achieve
. Visit
ACRIA's website
and
GMHC's website
to find out more about their activities, publications and services.
---
Add Your Comment:
(Please note: Your name and comment will be public, and may even show up in
Internet search results. Be careful when providing personal information! Before
adding your comment, please
read TheBody.com's Comment Policy
.)