If you want to curb new HIV infections in a specific group, like young gay men of color, what's the best way to do it? You could fund prevention and treatment groups staffed by people from that community. Or you could expand HIV testing for hospital patients. The CDC is thinking carefully about this question -- and is considering whether the answer runs counter to our first instincts.
"If you do routine screening in hospitals and emergency departments, you diagnose a lot of people -- including black gay men -- and it can be much cheaper per person diagnosed than implementing stand-alone programs for a specific group like black gay men," says Jono Mermin, Director of the National Center for HIV/AIDS, Viral Hepatitis, STD, and TB Prevention. "Programs specifically designed to reach one highly affected group can also be inexpensive and very effective -- but it depends how they are designed and implemented."
Mermin is one of the architects of the current U.S. approach to the epidemic -- what the CDC calls High-Impact Prevention (HIP). It includes programs that have been in place for over a decade as well as new strategies, so dating its launch is a little tricky. But 2011 is when the CDC published a booklet called High-Impact HIV Prevention: CDC's Approach to Reducing HIV Infections in the United States.
The basic principles are clear: Look at the desired outcome (increasing HIV testing, identifying new infections, supporting HIV meds adherence, etc.), look at the cost per intervention, find the most cost-effective bang for your buck, and do it, even if it means departing from conventional wisdom. "The way to get the job done may be to do something different," Mermin says.
Advertisement
How It Works
High-Impact Prevention isn't a single program. It's a set of principles with its fingerprints on a range of programs. One of the core principles is that strategies need to target areas with the greatest numbers of new infections. To do this, the CDC distributed $339 million in 2012 -- almost half of its annual prevention budget -- to state and local health departments based on the number of people with HIV in each area. "HIV prevalence isn't equal," Mermin says. In each state, the counties with the highest HIV burden received the most funding and reported individually.
The CDC will also focus on "cost-effective, evidence-based, scaleable" approaches: in other words, approaches that are affordable based on the cost per infection prevented and the medical costs saved by keeping someone HIV-negative. "Evidence-based" is key -- the impact of the strategy must have been studied and evaluated. "Scaleable" means it can done on a larger scale.
There are many examples of how HIP plays out. For example, in 2012, a $339 million funding stream made grants to state and local health departments in areas with the highest HIV prevalence in the country. 75% of this funding had to be focused on four core strategies: HIV testing, prevention with positives (including linkage to care, retention in care, HIV medications, adherence counseling, and behavior change), policy change that facilitates prevention, and condom distribution to high-risk populations. (The funding wasn't rigid -- additional money was available for other strategies, based on local epidemiology and cost-effectiveness.)
To see what's happening so far, check out the CDC's Enhanced Comprehensive HIV Prevention Planning (ECHPP) Project, an initiative that began in September of 2010 and just finished. These were three-year grants given to help 12 cities scale up prevention strategies that the CDC classifies as effective. The CDC publishes regular reports on these projects at cdc.gov (search for ECHPP Year One). These reports present a picture of how health departments are starting to stretch to meet the ambitious targets laid out in the National HIV/AIDS strategy, which is the overarching plan for the U.S.
The majority of grantees met targets in areas like testing, condom distribution, and keeping people with HIV in care. But they lagged behind in implementing post- exposure prophylaxis (PEP -- see article in this issue), even though this is a required intervention for ECHPP grantees. PEP has been recommended by the CDC for some time now, but its report on ECHPP progress says that slow PEP rollout might be because "PEP is relatively new to most health departments" and they have only recently begun to do planning and implementation. Now that it is required by CDC in at least one of its funding streams, perhaps this will change.
The CDC is also taking another look at the "Diffusion of Effective Behavioral Interventions" (DEBIs) -- programs that have been the basis for U.S. HIV prevention since 2000. For example, Mermin says that the DEBIs that focused on preventing heterosexual transmission often don't make the cut for HIP because of the high price tag per infection prevented. Other DEBIs are cost saving, and are listed at effectiveinterventions.org.
Another piece of HIP is the HIV Care Continuum, which President Obama signed into law last July. It directs federal agencies to accelerate efforts to "increase HIV testing, services, and treatment." DHHS, CDC, and OSHA launched a demonstration project that will put $8-10 million a year into community health centers, health departments, and other grantees to improve the care across the continuum of health services.
Federal HIV Funding by Category, 2014 Budget Request ($Billions)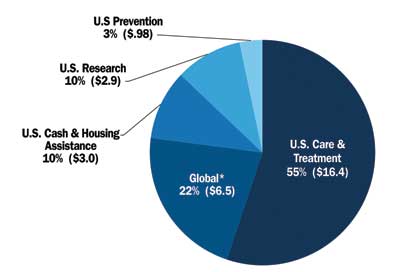 * Categories may include funding across multiple agencies -- global category includes NIH international research.
Figuring It Out
"'Capacity Building Assistance for High Impact Prevention' is a five-year, $130 million investment to implement HIP 'to high-risk populations in high-impacted geographic areas.'"
Sorting out which parts of HIP are new and which older programs have come along for the ride has advocates' heads spinning. In our conversations with them, there was confusion as to what HIP was all about. "There are a bunch of different messages and strategies that have been labeled as HIP. So oftentimes the broader community is not in tune with the lingo," said Kieta Mutepfa of the UCLA Center for Clinical AIDS Research & Education.
Among those we interviewed, some were familiar with different CDC initiatives, like "HIV Prevention for Young MSM and Transgender Persons of Color", which gave grants to community-based organizations (CBOs) to start testing and linkage to care in 2011. Right away, we see the challenge of putting HIP into practice. In the first year, only seven of the 30 funded CBOs achieved their target of testing at least 600 young gay men of color; only two of six CBOs achieved the target of testing at least 75 young transgender people of color. The CDC notes that this was the first year of the program -- and that start-up delays happen in many new programs. But it does highlight the challenges for organizations that may not have experience in providing testing services in meeting ambitious targets. The HIP model (which stresses linkages between testing and services like HIV treatment) emphasizes medical interventions. CBOs that don't work in that area will need to build their capacity to work within the "medicalized" framework of many HIP targets.
The CDC noted, "These findings indicate that the majority of CBOs had difficulty targeting the highest-risk clients, and that additional capacity-building assistance may be needed in this area." Such support could be coming this year. A new initiative, known as "Capacity Building Assistance for High Impact Prevention", is a five-year, $130 million investment to implement HIP "to high-risk populations in high-impacted geographic areas."
The funding is meant to "strengthen the capacity of the HIV prevention workforce to optimally plan, implement, and sustain high-impact HIV prevention interventions and strategies" across health departments, CBOs, AIDS service organizations, and health care organizations. In simpler terms, the grants are meant to get organizations ready for HIP by providing resources to build programs and create an infrastructure to sustain them. The first awards are scheduled to be made in April 2014.