Personal Story
Moved to Tears: A Blog From 2014 AIDSWatch
May 2, 2014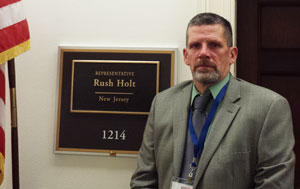 I have attended AIDSWatch in the past and was excited to be able to participate again. This time -- more than before -- I felt it important to put a face to AIDS. As a long term survivor having tested positive in 1986, I have survived the "Plague Years." And though science has made many advances and we are surviving longer there is an even greater need for the Federal Government to finance support services, not only for the newly diagnosed but those of us that are still living. It is important for our lawmakers to realize we would like to live a full life as do all other people living in the United States. The issues me and my fellow advocates addressed are of utmost concern for all of us living with and affected by HIV in our country! This includes the Re-authorization of The Ryan White Program, the full implementation and support of the Affordable Care Act, resolving housing issues through programs like HOPWA (Housing Opportunities for People Living with AIDS), lifting the Federal ban on Syringe Exchange Programs, and repealing HIV discrimination laws. And as we approach the 2015 Budget and Appropriations, it is crucial that our concerns be put on the table. I believe we were successful in achieving that goal.
At one point I actually cried when I was speaking with the Congressman Rush Holt's (D-NJ) representative. With his retirement, we are losing a great ally, and the compassion shown by his staff member moved me to tears.
The round table discussion facilitated by new Office of National AIDS Policy Director Douglas Brooks, was especially informative. Getting to know AIDS United Government Affairs Director Donna Crews as we waited to get into the room was a wonderful experience, as was connecting with Waheedah Shabazz-El of the Positive Woman's Network. And what a gift it was to share a room with the one and only Michael Rajner, who shared so much of his experiences with me. And I can't say enough about Deloris Dockrey from Hyacinth Foundation a true blessing. The awards presentation was not only inspiring but touching. I actually cried when Congressman Waxman spoke. Talking about his journey reminded me of how painful mine was in the beginning. The encouraging tales of the other recipients of the awards was inspiring. Moving me to tears yet again.
The accommodations were exceptional and I have written a letter to Kimpton Hotels who managed the host hotel the Palomar applauding there staff in doing a wonderful job during my stay. I did not hear a single complaint about the staff. My experience at AIDSWatch 2014 far exceeded anything I could have possibly expected. I look forward to participating again next year!
Ed Barron is an AIDSWatch 2014 advocate in New Jersey.
More From This Resource Center
Related Stories
---

This article was provided by
AIDS United
. Visit
AIDS United's website
to find out more about their activities and publications.
---
| | |
| --- | --- |
| No comments have been made. | |
Add Your Comment:
(Please note: Your name and comment will be public, and may even show up in
Internet search results. Be careful when providing personal information! Before
adding your comment, please
read TheBody.com's Comment Policy
.)