Honoring the "Gay Family" I've Lost to AIDS
November 15, 2013
HIV/AIDS both derailed and defined my life.

-- Dr. Perry Halkitis, author of The AIDS Generation: Stories of Survival and Resilience
This one statement sums up the effect this disease had on my adult life.
My parents "outed" me as gay the summer of 1980 and they did it with a great deal of love, dignity and respect and they told me it was perfectly normal and nothing to be ashamed of! So I got to come out in a big way that summer in my hometown of Westhampton Beach, N.Y.
I was working as a waiter at the Club Pierre. The owners (Pierre and Jay) were gay, as were most of the waiters; and I was dating the hottest waiter of all, Frank Marino! As often happens, I immediately established a "gay family" that loved and supported me in much the same way my biological family did. Pierre and Jay quickly became our gay parents. We double-dated and spent vacations with them, including a visit to Cherry Grove, Fire Island, at the end of every season.
I also had a "gay older brother" named Greg Daly. Greg rented a beach house at Pond Point on Dune Road where I was an ocean lifeguard for 12 years. Greg was a handsome Harvard graduate who lived and worked in New York City and took me under his wing and, like Frank, became a member of my "gay" as well as my biological family. That summer Frank and I would spend our days off staying at Greg's Upper East Side apartment, looking for work and a place to live in Manhattan come fall. (Greg died of AIDS on August 7th of 1998, and remained my dear friend and older "gay brother" to the end.)
Advertisement
We found the apartment first, a tiny one-bedroom on 73rd and York that cost $291.55 a month! At that price we could pay the rent with summer savings until we got jobs. So the summer went by with work at the beach and the Club Pierre, and late nights out at the Club Marrakesh, Scarlet's and LeMans, the fabulous disco in Southampton.
LeMans had "employee night" every Wednesday and if you could show proof of Hampton employment to Donald Spencer, the hot and handsome bouncer at the door, you got in for free. We went almost every Wednesday night after work and were there for the final hurrah on the Wednesday following Labor Day of 1980. As was often the case in those days, the bouncer often made extra cash on the side by selling "party favors." So, when I followed Donald to his car that night, I wound up getting more than party favors. Donald and his identical twin gay brother Danny both worked at LeMans and were probably hired because they were the hottest, most popular gay men in the Hamptons at the time. (Both died of AIDS in the early '80s.) So when Donald put the moves on me that night in his car, even though I was dating Frank, I couldn't resist ...
Shortly after that we moved to NYC. My first memory of living in our new apartment was waking up in the middle of the night with fever and sweats and then running to the bathroom with diarrhea that was all blood and wouldn't stop! I woke Frank and we rushed to a nearby hospital where I was diagnosed with shigella, a disease that hits mostly the very young and very old as well as people with compromised immune systems. I believe I could have been exposed to HIV then, the summer of 1980.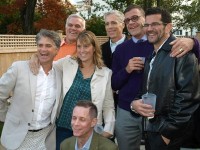 Frank and I both got jobs in NYC. I worked as a media planner at Grey Advertising, and Frank worked as a bartender at Rounds, the infamous "hustler" bar on 53rd street. We also continued to work at the Club Pierre and spend a lot of time with our "gay parents" Pierre and Jay. Jay was the first person we knew to start getting sick on a regular basis. By the time he was finally diagnosed with AIDS in 1984, Frank and I had split up and I would spend nights in Queens at Pierre and Jay's apartment to give Pierre a break from taking care of Jay.
In the end Jay was so sick, he never left his bed. One night when I was there and Pierre had gone out, Jay begged me to carry him to the roof of the building and throw him off so I could end their suffering. Soon after that I was there with Pierre when Jay died. Men came with Hazmat-like suits and zipped Jay into a body bag to carry him out. Pierre eventually moved back to France and I saw him whenever he visited NYC up until he died of AIDS around 1994.
On one of my visits to see Frank at Rounds, he introduced me to an older man named Ron Plummer who was president of a small advertising agency. Ron was quite a character and we became fast friends and I eventually went to work for him in 1986. Once I started working for Ron, he immediately became like a "gay mother" to me. Like most gay men in those days, Ron had no children of his own, so I became like a son to him. I was working for Ron when I finally got tested in 1987 and went from a highly functional alcoholic to a completely out-of-control alcoholic.
Ron recognized my alcoholism but in his motherly way completely enabled me by covering for me at work until 1992 when he couldn't take it anymore. In May of 1992, five years after my HIV-positive diagnosis, Ron walked into my office at work and very calmly told me that he had made an appointment for me to see his doctor at noon that day. Later, the doctor's results revealed nothing good. Along with the HIV, I was told I had hepatitis B, chronic fatigue, a swollen liver and liver enzymes so high that he knew I drank a lot on a regular basis.
More From This Resource Center
---

This article was provided by TheBody.
---
Add Your Comment:
(Please note: Your name and comment will be public, and may even show up in
Internet search results. Be careful when providing personal information! Before
adding your comment, please
read TheBody.com's Comment Policy
.)