ACT UP/NY Demands Department of Health Accountability at the Epicenter of the U.S. Epidemic and Commits to Reinvigorate the National Prevention Agenda
Acting Locally, Thinking Nationally
ACT UP's local campaigns on HIV prevention revealed problems and gaps that require data collection and research at the federal level. The bedrock of prevention is HIV testing that's accurate and sensitive to early infection. Undiagnosed MSM, most in early infection, account for 82 percent of new infections, according to a recent study.22,23 The recently approved fourth-generation Alere Determine rapid HIV test detects p24 antigen as well as antibodies to document infection much earlier than previous generations.24 The speedy, universal implementation of this test -- and more sensitive tests in the research pipeline -- will maximize the likelihood of early detection of HIV infection. A recent study using fourth-generation testing reported that 32.4% of HIV infections diagnosed would not have been detected with earlier, less-sensitive testing.23
Fast-tracking research on HIV infection recency- and new-incidence estimation procedures will aid in gathering more complete, accurate numbers. The annual NHBS study, the source of much of what we know about HIV and at-risk populations, would tell us more if the sample size increased. Real-time PCR sampling of NHBS subjects could determine the incidence of acute infection in those who report an unknown serostatus, and their viral load as well, helping to determine the "community viral load." NHBS serosurveys need to ensure that participants who say they are unaware of their infection are not simply reluctant to share personal information. Looking for antiretroviral drugs in the blood of persons of unknown serostatus is one possible way. We also need research into possible correlates of HIV infection in subpopulations at the highest risk for HIV, and studying factors that are behavioral (like differences in sexual networks) and biomedical (like incidence of untreated sexually transmitted infections).
Advertisement
We need implementation science to support the scale-up of HIV prevention weapons we already have, as well as a robust research and development pipeline for new biomedical interventions. In the age of PrEP, the development of antiretroviral drugs in long-acting formulations for HIV treatment should be accompanied by their parallel development as prophylaxis. We need to increase research into microbicides (rectal as well as vaginal, in multiple modes of delivery)25 and into alternatives to the current condom for barrier protection, including but not restricted to new kinds of condoms. In addition, we need research to confirm that these alternatives work effectively for anal as well vaginal sex; if they don't, we need to develop alternatives that do.
We need to know more about HIV transmission biology. We need to know to what extent viral suppression translates into lower risk of HIV transmission during anal sex among MSM; only two percent of the serodiscordant couples in the much-cited HPTN 052 study that established the benefits of treatment as prevention were same-sex (male) couples. Easy, available assays to detect the presence of HIV in the semen of virally suppressed patients might eliminate the need for some of that research. To help us evaluate when and for whom PrEP is a good prevention choice, we'll need to monitor for transmission of drug-resistant HIV among patients who've received antiretrovirals prophylactically, and understand the barriers to adherence to PrEP medications in the real world. Will a successful vaccine against HIV be the ultimate prevention technology? Its development will depend on expanding basic and applied research into immune response to HIV.
Prevention as Treatment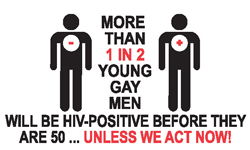 When the Affordable Care Act goes into full effect, the notion of prevention will have statutory standing for the first time. Local and federal agencies must seize the opportunity, coordinate efforts, and mobilize around HIV prevention. We need to fund a full prevention agenda: easy and accurate HIV testing, sex-friendly behavioral programs, prophylactic drugs and a practitioner's network schooled in their use, innovative prevention research, and quick implementation of results -- all within a larger framework of comprehensive primary care that addresses the various health needs of MSM. To spare the current and future generations of men the infection that badly wounded the last one, the HIV cascade of care -- which focuses now on the testing, linkage, retention in care, and treatment of people living with HIV -- will have to extend across the great serodivide and reconceive prevention as treatment, as ongoing care for people who are HIV-negative and at risk, arming them with skills and all the tools available, pharmaceutical and other, to maintain their health.
Design by Bacilio Mendez II, ACT UP/DAWG (the Digital Activism Working Group)
References