Mark Patton on Fighting the HIV Horror Show With Honesty
Part of the Series This Positive Life
October 22, 2013
Are you in a relationship now?
I am in a relationship now, but that's the one thing I'm not going to talk about. I'm a public person because of my movies and the traveling I do, but my partner is a very private person from a very private family, and I've impinged on him and his family's life enough. I sort of leave them alone. [Laughs.]
OK, then, moving right along. You were living with your brother at the time of your diagnosis. Did you have to tell your parents? Did your parents come visit you at the hospital?
"And [my father] had the same reaction to them telling me I was going to die -- saying, 'No, he's not. I'm not going to see him, because he's not going to die.' I think he thought, if I looked up and I saw him standing there, that it would be a signal to me that I should go ahead and die, and I just wasn't going any place."
Yeah, my parents were alive. My entire family was alive. My mom died the year after my diagnosis. And then my dad recently died. I didn't actually tell my family. My brother told my family, because they had to come to the hospital to see me. My father, actually, said, "Absolutely not." He wasn't coming because I wasn't dying. When I was a little child, I was a borderline diabetic. The last time I saw my father before I was diagnosed, he took me aside and he said, "Have you had your blood sugar checked lately?" I said, "My blood sugar's fine." He said, "No, there's something wrong with you. I know it in my heart." And he had the same reaction to them telling me I was going to die -- saying, "No, he's not. I'm not going to see him, because he's not going to die." I think he thought, if I looked up and I saw him standing there, that it would be a signal to me that I should go ahead and die, and I just wasn't going any place. I knew in my head I wasn't dying. My entire family's been amazingly supportive, always.
How long had you been out to your parents when you were diagnosed?
Oh, I've been out since I was like 5. I officially came out to my parents when I was 19 and living in New York. I did have to go through that whole saying it out loud: "I am telling you I'm a homosexual." My father was a truck driver, my mother was a licensed practical nurse, and we were from a lower-income family -- it wasn't like my parents were awfully sophisticated people. We did have issues over the years that I would attribute to me being gay. My father would get mad at me for leaving home, and I'd say, "You know, that's what grown-ups do." And, if you're gay, where I came from at that time, you move away and live somewhere else -- San Francisco, etc. Not Kansas City.
So, you're from Kansas City.
Kansas City, Missouri.
Advertisement
You said you were from a lower-income area there. Do you know anything about Kansas City now? Do you know if there's support for people living with HIV in Kansas City now?
Oh, yeah. There's an amazing group of people now. The only problem with Kansas City: My residence is in New York, and those places are really geared towards if you make $50,000 a year, you qualify for assistance with your medications. Because my copays are really high, I live in Mexico, though. My medicine here is free, which shows you the big difference between the U.S. and Mexico. I own a business here, and they're happy that I'm here, and all my medications are free. And 99 percent of the country is insured. The thing is, Missouri and Kansas are both very conservative, and the threshold for money is very low. If you earn more than like $12,000 a year, you don't get any assistance towards any HIV medicines if you're uninsured, and you have to depend on Ryan White money. Well, the Ryan White money is gone three months into the year. You have to depend on yourself for your own meds, and coupons from drug companies. A lot of the people out there have to choose between eating and having medicine, and that's really what it comes down to.
I'm a free spirit, but if I found out I was HIV positive, I would get on a plane and fly to any coast I can get to. I would get out of the Midwest. I would get out of the South. We know, you know, what it's like in some places like Mississippi. If you earn more than $10 a day in Mississippi, you don't get any help. How are you going to pay for the medicine?
You own a business in Mexico? What do you do?
I own an art gallery and a store here in Mexico. And an interior design firm. I was an actor from the time that I was 18 until right after I made A Nightmare on Elm Street 2, so I stopped that in 1985 and then became an interior designer. I have an interior design firm. In my art gallery, everything's handmade. A lot of it is handmade by me. [Laughs.]
A lot of what we're discussing happens in your post-acting years, but can you talk about what it's like for actors who have to come out as gay or actors who are HIV positive?
Actually, my partner -- his name was Timothy Patrick Murphy -- he died of AIDS in 1988. He was very well known at the time. He was on the television show Dallas and he had been on soap operas his entire life. He was a strong working actor. He played the Michael Landon character in Sam's Son, which was directed by Michael Landon and loosely based on his life. When he died, the National Enquirer was at his funeral taking pictures of everybody. It was a horror show.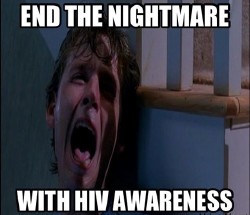 Now, for me, personally, when I reentered that world -- kind of through a back door a couple of years ago -- it was when they did a documentary on Nightmare on Elm Street called Never Sleep Again. It's very successful. Nightmare on Elm Street, obviously, is a worldwide franchise. And everybody knows Freddy Krueger. I'm the star of the second film, which is called the "gayest horror movie ever made." So, after this documentary, there was this whole brouhaha, because there had been Internet fodder for years, and I said, "Yes, the writer wrote it this way." And when I finished this documentary, they said, "Well, you know, they call you the Greta Garbo of horror." I said, "Oh, really?" And they said, "Yeah, everybody wants your autograph because you've been gone a long time and everybody's DVD is filled with signatures and they don't have yours. Do you want to go on tour?" And that's what I did.
I've been all over the world really. I've been to Germany a number of times -- London, Paris, you name it -- and all over the United States for horror conventions. I sign autographs for $20, $25. I travel with Robert Englund, who played Freddy Krueger. I travel with old movie stars or old rock-n-roll stars, basically, and we talk.
It turned out a lot of people did want my autograph. They started a Facebook page for me, and the next day we had 4,000 people. I thought, "What can I do with this?" I said, "For the first year on this tour, I'm going to talk about homophobia in Hollywood." And I would use this as a platform to talk about that. The second year I talked about bullying. And then I announced my HIV status the third year, because I wanted people to know me as a healthy person first. Because I'm talking to people that may have little to no contact with the gay community. They're all headbangers, except they're all just really sweet, dorky people who just look a little scary. There's this huge horror fan base.
"But now, HIV is something that those who have public lives don't talk about. I'm glad I got to be that person. It's fine for me; it's a good fit for me."
When I announced I was HIV positive, I did it in The Advocate online magazine in partnership with HIV Plus magazine, and I'm on the cover this month; it got picked up by CNN, then CNN International, and it went viral. And I couldn't figure out why. You know, I put Freddy's clawed glove on, I say I'm HIV positive -- and then I went to my Wiki page, which they had changed. They have all those lists of "People from Kansas City," "Actors," etc. And now I was listed on "Notable People Living with HIV." I thought, "I'm going to hit this list and see who my compatriots are" -- you know, all the people that are out there talking in the world. There were 109 people on that list at the time. I thought there would be thousands and thousands. And I'm the only actor who's alive. I thought, "Oh my God, I know why CNN picked it up." I mean, obviously there's Greg Louganis or Magic Johnson who came out as HIV positive. Like, those are the 109 people in the world. It's now becoming "OK to be gay" in Hollywood -- in New York, certainly. But now, HIV is something that those who have public lives don't talk about.
I'm glad I got to be that person. It's fine for me; it's a good fit for me. So that's why I said at the beginning of this interview: I'm glad to answer any questions, because I want people to know that you can avoid this.
You said that you have an undetectable viral load and you've had one for about 13 years and that your T-cell count is 500. Do you see an HIV specialist doctor?
I do.
How did you find that doctor?
I live in Puerto Vallarta, which is basically the West Hollywood of Mexico. The boys come from everywhere to get here. We have a really great HIV clinic, as far as care goes. Mexico is so far ahead, in a weird way, of the United States. We'll be across the street from the Church of the Virgin of Guadalupe and there'll be women handing out condoms. There'll be a condom stand that's all brightly colored, and they're handing out condoms to people. We have parades and they're throwing out condoms into the streets. And when you're pregnant here, you're tested for HIV; it's just an automatic test. They catch a lot.
And there really is only one place to go in town, and everybody goes there, and so you know everyone in town who is HIV positive. Mexicanos have a real sense of privacy that is respected by each individual, so a lot of times you'll see people on the street and they'll pretend that they don't know you. That's just their way of keeping themselves private, and that's totally understandable. When you're there in the clinic, everybody's like, "Hey! How are you? Nice to see you!" But when you see them in the street, they might not know you. It took me a while to comprehend this, as a person from the North, but I grew to understand that it is cultural. When you grow up so close to people, your personal privacy becomes incredibly important. I can say anything I want about myself, but I have to respect my friends who I see on the street.
But my doctor is fabulous. He's wonderful. I also have a private doctor I utilize here, because I take an antidepressant, which I think a lot of HIV-positive people need. Because I think one of the first symptoms that I really had -- as I look in hindsight -- is when I was in New York, I had really bad depression, and I'm not a depressive-type person. I was going to a therapist, and they wanted me on an antidepressant, and everyone just wanted me to get over it. And I really think, honestly, that's when I was converting and the depression went along with the conversion. Because I remember having a fever, feeling flu-ish, and then I fell into this depression. A lot of my art at the time were like these little figures of these things trying to break through healthy people, and I think my subconscious was trying to tell me something.
My private doctor, if I'm a day late picking up my medicines -- which cost almost nothing -- will come knock on my door. "Hi, just coming to check on you!" Can you imagine that at home in the U.S.? [Laughs.] I'm very well cared for. If I were to fall into some serious medical situation, I really doubt that I'd return to the United States. I'd probably be treated here in Mexico. Even if I were to, say, re-investigate cancer, I would stay here. I'd feel the level of care was perfectly good for me, as good as I get in the U.S., and this is my home now. But, I'm a proud American -- I love America! I just love Mexico, too.
More From This Resource Center
Related Stories
---

This article was provided by TheBody. It is a part of the publication
This Positive Life
.
---
Comment by: Mauricio Vargas Ruiz
(Puerto Vallarta México) Sun., Mar. 13, 2016 at 11:25 am UTC
I want to relate the REAL truth about this guy: http://markpattonplagiarism.blogspot.mx/
Comment by: Brandon Cullum
(tucson, arizona) Sun., Jan. 24, 2016 at 11:09 am UTC
Mark Patton im sitting here actually watching you in noes2 and not am I now just a fan... but a blessed listener to your stories making me feel like, not a stranger, but a new friend that is completely inspired!
Comment by: Michele Reed
(Las Vegas ) Tue., Oct. 29, 2013 at 2:17 am UTC
YOUR AWESOME and so is this site!
Comment by: TonyDewitt
(Newark, NJ) Thu., Oct. 24, 2013 at 5:54 pm UTC
An excellent interview with someone who has tremendous experience with the disease, both with his acquaintances and in his own life. The take away lessons are that testing is very important, and that HIV can be transmitted via oral sex.
Comment by: jim hamilton
(Seattle, WA) Thu., Oct. 24, 2013 at 5:11 pm UTC
Can we just refer to him as "the most famous living actor KNOWN to be living with HIV"? It would be the more accurate statement.
Comment by: Queen
(East Cleveland, OH) Wed., Oct. 23, 2013 at 10:44 am UTC
Thank you so very much for the article! I love when people are just straight up! Mark Patton you are the bomb!
Add Your Comment:
(Please note: Your name and comment will be public, and may even show up in
Internet search results. Be careful when providing personal information! Before
adding your comment, please
read TheBody.com's Comment Policy
.)