Hispanics/Latinos Continue to Represent a Growing Share of AIDS Diagnoses, Rising From 15% in 1985 to 21% in 2011
New York, NY -- National Latino AIDS Awareness Day (NLAAD), held each year on the last day of Hispanic Heritage Month, takes a nationwide community mobilization approach to address the HIV/AIDS epidemic. NLAAD fosters a collaborative effort among school groups, faith based organizations, health departments, hospitals, community organizations and many others, to directly reach the communities they regularly interact with. This year's theme, "Commit to Speak," is a call to action that encourages the growing Latino/Hispanic communities in theUnited Statesand territories to become aware of the disproportionate impact HIV, AIDS, and other health disparities have on their community by committing to speak about risk factors.
NLAAD is a campaign initiated and spearheaded by the Latino Commission on AIDS, since 2003. Events are organized by local partners annually on October 15th in more than 200 cities and 45 states across the country and US territories. NLAAD was established to act as a community mobilization catalyst to prevent the spread of HIV infection, promote HIV testing opportunities, connect people to care, and hold activities that raise HIV/AIDS awareness and other health conditions impacting Hispanics/Latinos.
Tony Ochoa, Program Manager of National Latino AIDS Awareness Day shared, "Addressing the impact of HIV and AIDS in the Latino/Hispanic communities requires a cohesive effort from a multitude of organized bodies and individuals. Raising awareness through our collective organizing gives me hope that this is not an impossible task."
"Over the last five years New York State has seen a decrease of approximately 28 percent in new HIV diagnoses among Latinos and in 2012, new diagnoses decreased by 7 percent" said Dan O'Connell, acting director, New York State Department of Health, AIDS Institute. "New YorkState's success stems from collaboration between communities, persons living with HIV, community based organizations, state and local health departments and our health care system. Together we are leading the way toward a day where HIV viral suppression will be the norm for people living with HIV and new infections will be rare."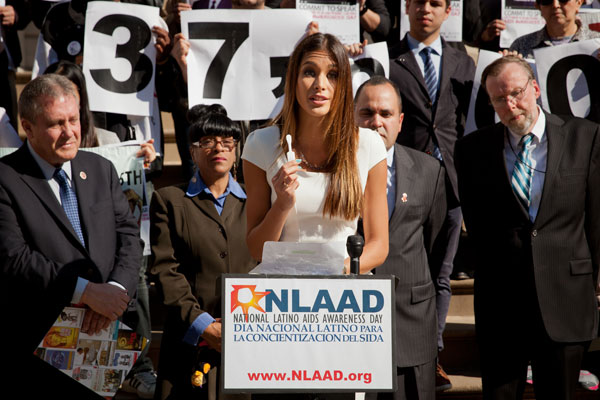 Actress/model and former Miss Universe Dayana Mendoza discusses the OraQuick® In-Home HIV test at a press conference hosted by Latino Commission on AIDS President Guillermo Chacón for National Latino AIDS Awareness Day.
"More than 37,000 Latinos are living with HIV in New York City and many more that don't know their status," said Dr. Blayne Cutler, Assistant Commissioner at the NYC Health Department. "It is important for Latinos and all New Yorkers to get and stay in treatment to be healthy and for those who don't know their HIV status to get tested today. In fact, every day is National Latino AIDS Awareness Day."
"As the HIV epidemic continues to devastate Latino/Hispanic families across the country, it is important to promote HIV testing as a routine part of health screening and we need to continue advocating for increased access and retention to culturally and linguistically competent medical care for those living with HIV and AIDS", stated Guillermo Chacón, President, Latino Commission on AIDS. "The Latino Commission is extremely concerned with the new increase of HIV cases among African American and Latino Gay men. We must do more to address this difficult challenge."
"I thank the Latino Commission on AIDS for inviting me to stand with them on National Latino AIDS Awareness Day," said Council Member Daniel Dromm (D-Jackson Heights, Elmhurst). "As an openly gay council member representing a district that is 40 percent Latino and also has a large LGBT community, I want to say that speaking out about HIV and AIDS is important. The more we talk, the more we will eliminate the stigma surrounding this disease. It's important that everyone get tested. HIV/AIDS is preventable and treatable."
National Latino AIDS Awareness Day was created in 2003 in response to the devastating impact of the HIV/AIDS epidemic on Hispanic/Latino Communities across theUSand territories. This October 15th, marks the ninth annual commemoration of NLAAD, which is held each year in commemoration of the last day of Hispanic Heritage Month. NLAAD represents a call to action for Hispanics/Latinos to protect their lives and the lives of those they love by getting tested and learning about HIV. For more information, please visit www.nlaad.org.
This article was provided by Latino Commission on AIDS.