A New Law Silences HIV Outreach in Russia
September 19, 2013
On June 30, 2013, Russian President Vladimir Putin signed a bill banning "propaganda of non-traditional sexual relations to minors" that had passed the Duma unanimously. Under the new law, Russian individuals and organizations deemed to have engaged in this "propaganda" can be fined from $5,000 to $30,000. Foreigners can be fined, held up to 15 days in prison, and/or deported. Despite the stiff penalties, the definition of "propaganda" is not clearly defined in the law, and many people and organizations remain unclear about when and how they may be prosecuted for doing HIV outreach targeting LGBT in Russia. Evgeny Pisemsky, chairman of the board of NGO Phoenix Plus in Orlovskay, Oblast, Russia -- a former GMT Initiative grantee partner -- spoke to amfAR about some of the possible effects on his work among GMT.
Places for gay people, like clubs, may be closed in the near future. Already these days, police checks of these places are happening more often. The proclaimed reason is to check for drugs. In the current environment of high stigmatization, working with MSM on the internet can be one of the most effective tools, but these web resources -- including both websites and groups in social networks -- are being blocked. In mid-July, the online community Parni Plus (Positive Guys), based in My World social network on the Mail.Ru site, was blocked and deleted by the administration of the site without any prior notice. The main objective of that online community was to provide information on sexual health and relationships to LGBT. The site itself is marked "18+," as required by the federal legislation, making it clear that the materials were aimed strictly at the adults. But even this did not prevent the Mail.Ru management from shutting the site down.
Our printed informational materials can also be refused for printing. Currently, the government does not allocate resources for targeted HIV prevention programs among MSM, and officials and businesses, like Mail.Ru, are starting to view HIV prevention programs for MSM as "propaganda of homosexuality" and either ban them or hamper their realization "just to be on the safe side." NGO staff will not want to implement prevention programs among MSM to stop their NGO from being prosecuted or even closed.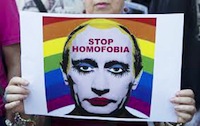 MSM themselves will be less motivated to turn to the governmental medical institutions for help, especially since another bad law was recently adopted in Russia that allows the prosecutor's offices to request and obtain a person's medical information without getting permission from the court. This means that information about a patient's homosexuality that is available in the AIDS centers can be disclosed. And this is aq direct violation of the Russian Federation Constitution. I am sure that the law against propaganda of non-traditional relationships will have an extremely negative impact on the spread of HIV among gay and bisexual men.
It will also have other negative impacts on services for MSM. Here is a recent online comment posted by a 17-year-old gay man about counseling he received last year through a clinic for MSM. As a minor, he would not be able to receive the counseling today, because it can be considered propaganda:
"My mother found out that her son was a gay on her birthday. She told me two things I will never be able to forget: 'You fags are worse than junkies!' and 'I should have got rid of you! Then I wouldn't have to go through such trouble with you!' To cut it short, it was a real nightmare. But I was seeing a wonderful counselor for those two months, who really helped my mother. I am really grateful to him for this. He helped me explain to my mom that life was not over, especially her life."
More From This Resource Center
---

This article was provided by
amfAR, The Foundation for AIDS Research
. Visit
amfAR's website
to find out more about their activities and publications.
---
| | |
| --- | --- |
| No comments have been made. | |
Add Your Comment:
(Please note: Your name and comment will be public, and may even show up in
Internet search results. Be careful when providing personal information! Before
adding your comment, please
read TheBody.com's Comment Policy
.)