Spencer Cox, Iconic HIV Activist, Through the Eyes of His Mother and His Friend
A Conversation With Beverly Cox and Peter Staley
September 12, 2013
The death of veteran treatment activist Spencer Cox on Dec. 18, 2012, at age 44 sent a shock wave through the HIV community. His passing has lent urgency to the field of research on the effects of "surviving a plague" on longtime HIV survivors, helped reconnect seasoned activists with one another, and led new generations to engage with our community's brutal history. Even mainstream media outlets weighed in on the implications of Spencer's death from a disease that is no longer a death sentence due in large part to his own work. And as of June of this year, a prominent New York City health center carries his name. Spencer was "a fighter ... an activist," in the words of Peter Staley; he was also a friend, a brother and a son. TheBody.com sat down with Staley, Spencer's fellow ACT UP alumnus, Treatment Action Group (TAG) cofounder and friend; and Beverly Cox, Spencer's mother, for this conversation about Spencer's life and legacy.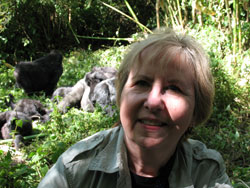 Terri Wilder: Beverly, can you tell us about Spencer as a kid? What was he like?
Beverly Cox: Spencer was actually a wonderful small child. I had no problems with him. He was smart; he was funny; he was very well disciplined. It was only when he hit puberty that ... [laughs].
But you know, I was thinking about a story the other day. Of course, I think of Spencer every day -- and things come to mind that I'd thought I had forgotten about him.
He decided when he was 6 years old that it was time to run away from home. I guess he had seen it on TV; I'm not sure. He got a paper bag and put a few things down in the bottom, and he announced to me he was running away from home. I said -- and I was very serious with him about it -- "OK. Now, how are you going to go? Are you going to walk, or are you going to take MARTA?" MARTA is our transit system here in Atlanta.
He was very serious. He said, "I think I'll take MARTA." I said, "OK. Well, how about taking your dog with you when you go?" He had a little miniature dachshund. He said he would.
I said, "You can't take a dog on MARTA. So what are you going to do?"
He says, "I'll tie her to the back of the bus." I could just visualize this MARTA bus with this little dog, with about two inches of legs.
So I said, "OK. While you're at it, how about taking your brother?" He was 2 years old. He said he would. He went in and he got Nick about three diapers and put it in the bag.
I looked at my watch and I said, "It's almost time for me to start cooking. So I wonder if you guys are going to eat with me, or if I'm just going to be cooking for myself."
Advertisement
He says, "We'll eat with you."
I said, "OK. I'll cook for us all then." So I cooked and we sat down to eat, and we ate. I looked outside and I said, "It's dark. Are you going to go ahead and run away from home tonight, or are you going to wait and get an early start tomorrow morning?"
He looked out and he said, "I think I'll wait and get an early start tomorrow morning." I said, "OK."
Three weeks later, I unloaded the bag. And he never mentioned running away from home again.
Terri Wilder: That's funny.
Beverly Cox: Yeah. He was a hoot. He was. When he was 2 years old, at Christmas, he got a record player. You remember the big records, LP records? And we bought Bedknobs and Broomsticks for him. He loved that record. He memorized it and would sing it, complete with English accent.
Peter Staley: Beverly, I didn't know that story. But you'd be interested to know that Bedknobs and Broomsticks was one of my favorite movies as a kid.
Beverly Cox: Spencer loved it. And who sang? Was it Julie Andrews?
Peter Staley: I think so, yeah.
Terri Wilder: We know that Spencer was involved in ACT UP starting around 1989. Peter, you can correct me if I'm wrong -- was he the youngest person to join ACT UP?
Peter Staley: I think Garance [Franke-Ruta] was younger. And there may have been one or two other less prominent members that were around Garance's age. But he was certainly right down there. He was a lot younger than the average.
Beverly Cox: He was about 21 at that time, wasn't he?
Peter Staley: Yeah.
Beverly Cox: That would have been about right. Because he left Bennington College after three years; and that would have been 21.
Terri Wilder: Beverly, when you were raising Spencer as a child, did you see leadership skills in him early on?
Beverly Cox: Oh, yes. I used to say to him, "Spencer, you should be an attorney." Because he loved -- and I don't know if you saw it, Peter -- a good debate.
Peter Staley: Yes!
Beverly Cox: He always wanted to be right. And that is not all: I loved a good debate, and I wanted to be right. So the two of us would debate -- we weren't angry at each other; this was as he got older. He would say, "Facts, facts, lady. If you can't quote facts, don't say it." We would see who could out-best each other. It would drive his younger brother Nick absolutely nuts.
As a matter of fact, to give you a story on that, he and I were arguing once when he was in high school -- we were arguing the welfare system. I was arguing that it almost enslaves people, and it gives them no incentive to get out and take care of themselves, or at least try. And he was arguing the opposite.
The next day, he came home from school and he tells me that he had gotten into the same argument with his history teacher. (I'm sure he started it.) His history teacher was arguing for the welfare system, and Spencer was arguing my argument. I said, "Wait a minute. Yesterday, you were arguing for the welfare system!" And he says, "I always take the opposite argument so that I can listen to the person's argument, to see if I think it's valid or not." I thought that was pretty interesting. He would argue what he didn't really believe just to see what the other person's argument was.
More From This Resource Center
Related Stories
---

This article was provided by TheBody.
---
Comment by: Wayne Stump
(Toronto, Ontario, Canada) Wed., Sep. 18, 2013 at 8:35 pm UTC
So much to say about this. First of all, thank you to thebody.com for publishing this conversation and story. Otherwise I would not have learned about this remarkable (and may I add as a gay man, very handsome) man! Even though I volunteered for the Canadian AIDS Treatment Information Exchange and learned "a fair bit" about HIV and antiretroviral treatment and the evolution of the same, I was not as aware as I should be about the role of the activist community in the development of these medicines that certainly saved my bacon for what that's worth. I was more aware of the doctors and scientists involved in the effort (such as say Dale Kempf at Abbott Laboratories who was among the first to determine the molecular structure of HIV protease in 1988/1989, leading to the development of the very important class of protease inhibitor drugs). So I very much appreciate knowing about the ACT-UP folks who did so much to advocate and bring about these life-saving medicines. Thank you! Yes, this man's death is very troubling, and causes me to wonder and reflect on many issues that are just too many to expand on here (I note that I am running out of characters as I compose this comment. I did some further research and found a good article in the New York Times: http://www.nytimes.com/2013/02/24/fashion/what-really-killed-spencer-cox-aids-activist.html?pagewanted=all&_r=0
I am indeed sad that anyone, especially anyone lucky enough to live in a privileged developed country with access to these expensive drugs and the very best health care infrastructure, should die of HIV-related causes. And then someone who indeed advocated for the development and availability of life-saving treatments. Certainly a great deal to think about, and I thank you for this. Please accept my best regards,
Wayne Stump
Toronto, Ontario, Canada
Comment by: Douglas A. Houge
(Rural Minnesota) Wed., Sep. 18, 2013 at 2:42 pm UTC
A small piece of me dies every time I hear of another passing. I was infected by 1983 and lived in DC during those awful years. At 53 years of age, I believe we all have contributed more than our share to the current progress of science. My psychiatrist wants to write off my militance as resulting from manic depression. I will not. There are miles to go before we sleep. I am so sorry for your loss.
Comment by: John Magisano
(NYC) Thu., Sep. 12, 2013 at 8:43 pm UTC
Great interview. And institutional memory is lost so easily, reflected by the major AIDS groups not "sitting across from each other." For nearly two decades the New York AIDS Coalition was that mechanism to work on state policy and funding issues, and there was also NYCOCCHA (the NYC Communities of Color HIV/AIDS Initiative) that successfully pushed the city council for funding. I don't know if NYCOCHA still exists, but NYAC died a silent death a couple of years ago. A lot of the fracturing of the AIDS community came from the early success of funding initiatives like the Ryan White Care Act. All of the groups were (are) very busy competing for gov't dollars. Many of them got really fat for a while, but it's nothing but one funding cut after another for many years now. The groups should be together on budget advocacy, but would need new mechanisms to do it. Maybe this Medius effort will restart them. How can one get involved in Medius?
Add Your Comment:
(Please note: Your name and comment will be public, and may even show up in
Internet search results. Be careful when providing personal information! Before
adding your comment, please
read TheBody.com's Comment Policy
.)