People living with HIV/AIDS in Los Angeles can face numerous barriers -- including systems, structural and social barriers -- to accessing the life-saving, HIV-focused care they need. Some may lead to people already falling through cracks in the system, and some may inhibit people from seeking care at all. AIDS Project Los Angeles (APLA), with support of AIDS United's Access to Care (A2C) initiative, has set out to tackle these barriers by creating the Care & Access Network. The Care and Access Network is a partnership with Northeast Valley Health Corporation, REACH LA and the Los Angeles County Division of HIV & STD Programs, and uses a variety of intervention protocols to get HIV-positive Los Angeles area residents into care and to keep them there.
Baby Steps
One intervention example in which we are starting to see success involves a culture change -- not a seismic shift, but a discernible change -- in the way one Ryan White-funded HIV care clinic in the Los Angeles County – University of Southern California medical system now addresses systems barriers. The catalyst occurred once our County patient navigators (NAVS) went to work in the clinic to help reach a long list of patients who had fallen out of care. The NAVs locate and contact out of care patients though multiple people-finding resources, and upon consent, work with the client using to address barriers to care and connect them back into HIV care. The County NAVs have gradually assimilated into the clinic culture and have been resourceful enough to try to amend some of the structural barriers they faced: out-of-date patient contact information, expired medical consents, insufficient reminder calls to patients by clinic staff, no electronic medical record keeping and limited access to computers and databases. To date, the County NAVs have been providing helpful feedback to the Medical Director or the head administrative RN, who then have taken appropriate action to resolve the issues. The result has been improved documentation of new patient contact information, increased appointment reminders to patients from clinic staff, and more mindful attention to create patient-centered conversations.
Safe Spaces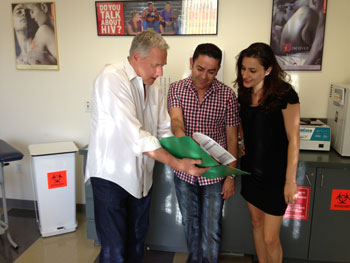 Another example of early success involves a newly diagnosed client who came into the other arm of the Care & Access Network, located at APLA's Geffen Center, through a support group of newly-diagnosed HIV-positive people. The client became comfortable enough to disclose that he recently relocated to Los Angeles and learned through an emergency room visit that he was HIV-positive. His viral load was sky high, (over a million copies/ml), he had no HIV medical care outside the ER, and no health insurance. Because he was employed by the adult film and escort industry, he was fearful production companies and clients would shun him if they found out about his HIV diagnosis. Uninsured and depressed, the client was happy to receive help. APLA's patient navigator linked the client to a Ryan White-funded HIV clinic, and he became virally undetectable within eight weeks on antiretroviral treatment. He also gained skills about disclosure and negotiating boundaries, which would come in helpful when faced with the lure of lots of money to engage in risky sex practices. The client's most pointed crisis was to risk telling employers about his HIV status and suffer a major loss of income, especially when living in a new city with no family or friends. Together, navigator and client addressed the fear of loss of health, income and stigma and found a talent manager who works with other HIV-positive adult film stars. The client signed with the manager and met others who were going through similar health challenges. Today, the client is starring in a new DVD release where his knowledge of treatment as prevention, condom use and boundary negotiation has brought back real confidence. He sort of has a boyfriend, has cut down on his "overnights" to attend his support group meetings and doctor appointments, and is grateful for the advice and safety of the Care & Access Network.
APLA is a grantee of AIDS United's Social Innovation Fund-supported Access to Care Initiative.
Brian Risley is the manager of the Treatment Education Program at AIDS Project Los Angeles.