Opinion
Avoiding Tired Old AIDS Queen Syndrome
June 25, 2013
Over the past couple of years I've seen this easily recognizable biohazard symbol ...
... appear in some unexpected places -- like the bodies of other gay men.
Including gay porn performers ...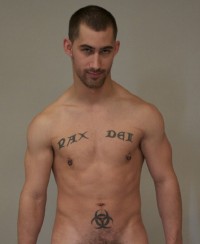 Treasure Island Media's Ethan Wolfe
And at least one gay porn company has incorporated the symbol into its logo.
The biohazard symbol dates back to 1966. It was created for Dow Chemical Company by environmental-health engineer Charles Baldwin as a means of designating "containment products" -- biological materials that carry a significant heath risk.
The first time I ever saw the symbol tattooed on a guy's body, I thought, "Oh, he's probably got HIV." I eventually did a Google search for biohazard tattoo and Ask.com convinced me I'd probably jumped to the right conclusion.
(It's a good thing I don't work for Ask.com. I'd be correcting grammar all day.)
Then I wondered if there was a real gay man with HIV who'd ever explained his own tattoo to a media outlet. Another Google search turned up this two-minute CNN video from 2011. Description: Michael Lee Howard, like many HIV-positive men, lives with a biohazard tattoo. He explains the significance of this "ink."

All this got me thinking about my own journey with the virus ...
I was infected with HIV twenty years ago; June, 1993, a couple of days after my birthday. Yes, I know exactly when, where and with whom. There has never been an ounce of comfort in knowing ... because knowing exactly has meant that I can relive it, turning it over and over again in my head until I want to take a hatchet to the memory. I'd rather be one of those people who couldn't recall the specifics of getting infected if their life depended on it.
My father died of esophageal cancer barely two weeks after I seroconverted. My mother succumbed to lung cancer a year and half later. If they had lived longer and known I was positive, I have no reason to believe they would have been anything but supportive. But many times I'm relieved they never had to witness the toll HIV has taken on my body, my career and my mental health. When I eventually got around to telling my siblings, my sister, a nurse and college professor, said, "I love you; please don't shut me out of your life over this." My brother's only comment on the matter was, "Man, I always thought you were smarter than this." Well, so did I.
Even though HIV has been inside me for two decades, I've lived with it much longer -- three freakin' decades. I started working at CNN in the summer of 1983, around the same time that the mainstream media began its dangerously maladroit reporting on the epidemic. I remember the first time I saw something about it. I was sitting at work reading the Associated Press wire stories in preparation for my shift and there was an article about how this thing that started as "gay cancer," and then became known as GRID (Gay-related Immune Deficiency) was now called AIDS -- Acquired Immune Deficiency Syndrome. I shuddered; it felt like my lungs had collapsed. I scrolled past the story, but my brain delivered a chilling synopsis: I'm barely out of the closet and I've had sex with exactly one man. What does this mean? Shit.
And then people started dying -- the famous, like Rock Hudson, and the friends, like Darrell, a guy I had known since first grade. They weren't beautiful deaths, like Ali McGraw in Love Story. They were horrible, slow motion departures that came one after another, made all the more excruciating by fervid judgment. I vividly recall a news report in which the leader of a Christian organization cruelly and casually remarked, "Well, as far as we can tell, this disease is killing all the right people."
AIDS was everywhere in the '80s and '90s -- the news, magazine covers, TV shows and movies (Beverly Hills 90210, thirtysomething, Designing Women, An Early Frost, Parting Glances, Longtime Companion, And the Band Played On). It came to dinner with friends. It wandered around my eccentric pal Aubrey's annual Easter egg hunt. AIDS hung out at the bar. And it cast a shadow over every sexual encounter. Sometimes you knew who was positive because it was painfully obvious, or because they just told you. And sometimes you found yourself sucked into gossip about who has to have it because, you know, he's slept with everybody.
I remember hanging out with my mom on a day off back in 1985 when she turned away from All My Children and said, "I'm afraid I'm going to get AIDS." I gingerly explained to her how that was not possible. I'll never know if maybe all she was really looking for that day was some kind of reassurance that her gay son wasn't going to get it. A few years later, the most heated argument I ever had with my boyfriend of two years, Tom (circa 1987-89), was whether or not to get the test. I said, "Isn't it better to know?" He said, "What could you do about it if the test is positive?" That was not an uncommon point of view at the time.
More From This Resource Center
Related Stories
---
This article was provided by Any Major Dude Will Tell You.
---
Comment by: Brian b
(Nampa Idaho) Wed., Jun. 22, 2016 at 3:26 pm UTC
I love your attitude 👍😀 i gotta say i will be three years sober from alcohol on aug. 31st. I can not believe how much of my recovery program i saw in what you just wrote. I know totoly off the point but honestly i truly believe your higher power has kept you alive to do all the service work youve talked about and to tell your story. I can tell you there is no humanly possibpe way for me to be hiv negative but i am. I know of at least two men i had unprotected sex with in my past whom later told me they were posative. There is no explanation except that my higher power saved me from it because at that time of my life i dont believe i could have handled a posative diagnoses. Rock on man I hope you live an other 50 years to be an inspiration, that is if you are able to stay healthy and live a quality life 😀
Comment by: jon
(North Carolina) Tue., Jul. 16, 2013 at 8:51 am UTC
Thanks for writing exactly what I think & feel at this juncture & stage of my life with HIV/AIDS. I know several in my age group -- 60-something -- who would probably write the same thing. It's almost as if we are so few still alive, who actually remember the REAL stories, that it sometimes becomes surreal. And no one wants to hear it any more. The scary part, I suspect we have not heard the last from this virus.
Add Your Comment:
(Please note: Your name and comment will be public, and may even show up in
Internet search results. Be careful when providing personal information! Before
adding your comment, please
read TheBody.com's Comment Policy
.)