In advance of the pending New York City mayoral primary election on Sept. 10, and the general election on Nov. 5, Gay Men's Health Crisis (GMHC) will host a Mayoral Candidate Forum in order to voice concerns to mayoral candidates regarding the HIV/AIDS epidemic in New York City.
Moderated by POZ Magazine's Editor-in-Chief Oriol Gutierrez, the forum is sponsored by GMHC and co-sponsored by TheBody.com, POZ, Gay City News and Hivster.com, along with more than 30 New York City-based nonprofits, community-based organizations and nongovernmental organizations.
The forum will be held on Tuesday, July 23, at 5:30 p.m. at GMHC's Peter Krueger Dining Room at 446 West 33rd Street, 7th Floor, between 9th and 10th Avenues.
This is a digital event that allows anyone to get involved, even if you can't attend in person. Use the hashtag #HIVMayoralForum to join the conversation.
GMHC would like people to start tweeting the candidates prior to the event in hopes of compiling some tweets before the event. Also, if enough people start using the #HIVMayoralForum hashtag on Twitter, the forum can begin trending! You can thank candidates for agreeing to participate, tell them you look forward to seeing them, or ask them a question.
Tweet, using the #HIVMayoralForum hashtag, to any of these candidates:
Sal Albanese (D): @SalAlbanese2013
Adolfo Carrion (I): @AdolfoCarrion
Bill de Blasio (D): @deblasioNYC
John Liu (D): @JohnLiu2013
Bill Thompson (D): @BillThompsonNYC
Anthony Weiner (D): @AnthonyWeiner
Feel free to tag @gmhc in your tweets, or Oriol Gutierrez of POZ, the evening's moderator, at @oriolgutierrez.
Follow #HIVMayoralForum tomorrow evening for some live tweeting of the event!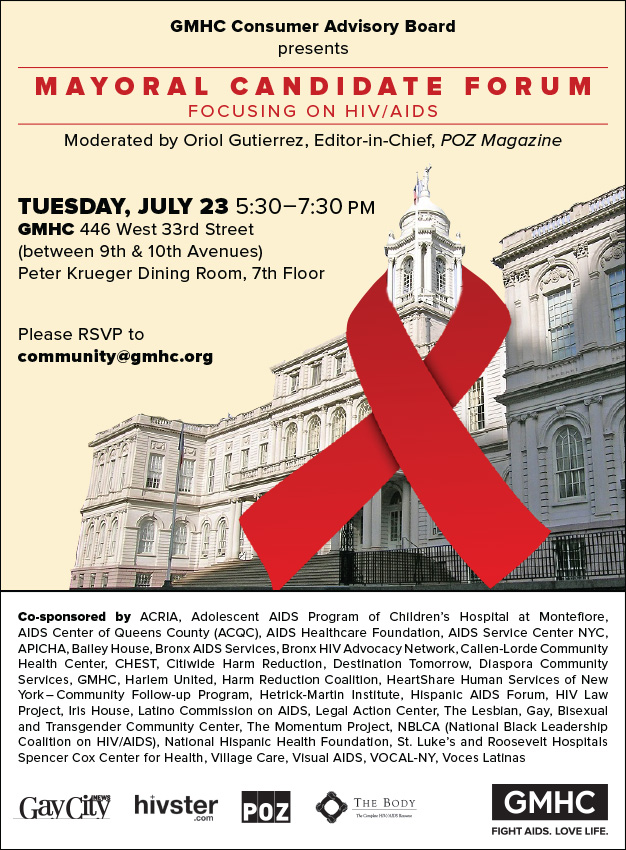 Copyright © 2013 Remedy Health Media, LLC. All rights reserved.