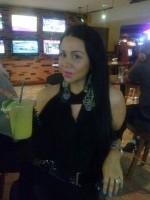 Bueno, me dijo alguien que hizo un comentario en mi foto en mi perfil personal (que es éste), que a pesar de que admiraba mi trabajo y mi espíritu ... No debería hacer el VIH sea "Fashionista" Él continuó diciendo que el VIH/SIDA es algo muy serio y un asunto de vida o muerte ... bueno! He estado viviendo con el VIH desde que era un adolescente ... me infecte a los 16 años en 1989 y diagnosticada en 1991 ... Yo sé lo que es vivir con el VIH ... y yo soy más que este virus! ¿La gente realmente esperan que las personas que viven con el VIH/SIDA parescan enfermos y que seamos suicidas y deprimidos todo el tiempo? pues ... NO! Me niego a ser una víctima! Soy un sobreviviente ... Soy sólo un ser humano normal, que tiene gran passion por la educación y prevención del VIH! pero esto no quiere decir que yo no voy a cuidar de mí misma, mi aspecto, mi espíritu, divertirme, vivir la vida al máximo y tratar de ser lo más feliz que pueda ser. esta persona realmente espera que todos nosotros estemos tristes a toda hora? oh pobre de mi? NO! Yo no elego vivir de esta manera! y por favor ... sean lo más feliz que puedan ser se puede vivir con el VIH o cualquier otra prueba o lucha y aún así hacer lo mejor de una situación negativa! en la vida que elegimos 2 caminos ... tomamos el camino de la vida, el amor y el éxito (con todas las pruebas y luchas) o podemos elegimos vivir como si estuvieramos muertos! así que sí !!! estoy enamorado, tengo mi carrera, trato de ser mejor humano, me gusta ayudar a las personas ,me encanta viajar, comer, ir de compras, hacer ejercicio, y me encanta la moda osea una mujer normal que está viviendo con el VIH y llegó a 40 ... pero, que NO se deja definir por el VIH.

This article was provided by
The Well Project
. Visit
The Well Project's Web site
to learn more about their resources and initiatives for women living with HIV. The Well Project shares its content with TheBody.com to ensure all people have access to the highest quality treatment information available. The Well Project receives no advertising revenue from TheBody.com or the advertisers on this site. No advertiser on this site has any editorial input into The Well Project's content.
(Please note: Your name and comment will be public, and may even show up in
Internet search results. Be careful when providing personal information! Before
adding your comment, please
read TheBody.com's Comment Policy
.)