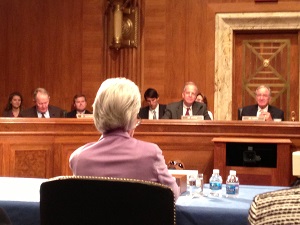 On two successive days this week, Kathleen Sebelius, Secretary of the Department of Health and Human Services, testified in front of the Senate and House Labor, Health and Human Services and Education subcommittees about the Administration's Fiscal Year (FY) 2014 budget. In both cases she submitted written testimony that specifically mentioned the Ryan White Program, stating, "The Budget includes $2.4 billion for the Ryan White HIV/AIDS program to continue its critical role in support of patients across the HIV/AIDS continuum, by linking patients to care, prescribing and improving adherence to antiretroviral medicine, and achieving viral suppression. Included in this total is $943 million for the AIDS Drug Assistance Program (ADAP), an increase of $10 million over FY 2012 to provide life-saving and life-extending medications to 218,900 individuals. This investment will allow ADAP to serve an additional 1,600 people living with HIV/AIDS relative to the estimated number of clients served in FY 2012." The testimony additionally noted the Administration's request for $471 million in new funds for research through the National Institutes of Health.
In the Senate hearing, Senator Tom Harkin (D-IA), the Chair of the Subcommittee, delivered a fiery speech to the Secretary about the Administration's trade of funds from the Prevention and Public Health Fund (a program that Senator Harkin has long championed) to pay for outreach and other activities implementing health insurance marketplaces under the Affordable Care Act. The Senator backed up his words by placing a hold on the nomination of Marilyn Tavenner as the administrator of the Center for Medicare and Medicaid Services (CMS).
Both hearings included a particular focus on the upcoming implementation of the Affordable Care Act. Senators and Representatives in both hearings asked about recent Arkansas legislation that would allow expansion of Medicaid to go forward in the state by providing coverage through private insurance providers on the state's health insurance marketplace. The premiums would be paid for using federal Medicaid expansion funds. The Secretary said that the department was awaiting a specific plan but that she had been in contact with Governor Mike Beebe (R) and looked forward to being able to review specific details.
The Senate Testimony can be found here; for the Senate video, click here.
The House Testimony can be found here; for the House video, click here.
(Please note: Your name and comment will be public, and may even show up in
Internet search results. Be careful when providing personal information! Before
adding your comment, please
read TheBody.com's Comment Policy
.)