Filling the Cup
Funding from rich nations has stagnated over the last four years, at roughly $7.5 billion a year, while PEPFAR funding has actually decreased over the past four years. What is particularly troubling is that the 2013 budget proposes a half billion dollar cut for PEPFAR programming, which is only partially offset by a proposed increase to the Global Fund.
Surprisingly, the short-term needs are not that great and could actually result in cost savings. One reason is that scattershot spending is no longer justified. Spending should be tailored to local conditions and focus on the most cost-effective interventions. According to the most recent projections, the gap in needed funding is only a few billion dollars a year. Even more convincing is that studies show that early investments will have a big payoff in terms of long-term cost savings.
U.S. PEPFAR Funding 2004-2013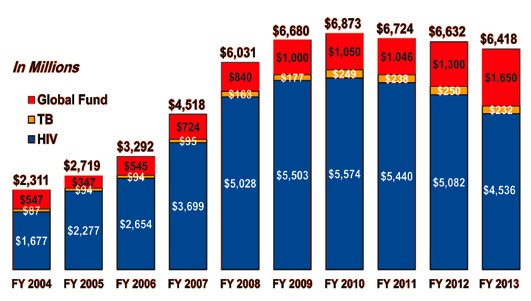 PEPFAR funding has decreased over the past four years. The 2013 budget proposes a half billion dollar cut for PEPFAR, which is only partially offset by a proposed increase to the Global Fund.
Defeating the Lame Excuses
To fund the half-full funding glass, we must confront the four excuses that continue to dog our work:
"We Have No Money"
Fiscal cliffs, financial crises, debt-ceiling showdowns, Medicaid on the ropes -- if you believed the pundits, you would think that AIDS funding was dead in the water. They say we should turn our attention solely to doing more with less.
But these claims of financial Armageddon can be debunked by looking at the reality of record corporate profits, huge amounts of money spent on weapons of war, and a culture of rampant financial speculation. Corporate profits in the U.S. are at an all-time high and the richest 100 people in the world got $241 billion richer in 2012. The U.S. defense budget is $633 billion. A tiny Robin Hood tax (less than half a percent) on financial transactions could raise over $350 billion a year. And supposedly we don't have money for AIDS -- what a laugh!
"Do More With Less"
Advertisement
There has been impressive efficiency in global AIDS programs. Over 90% of drugs are low-cost generics, supply systems have been streamlined, and patient information and laboratory systems are starting to work. The cost of treating patients in many African countries has plummeted to less than $300 a year per person. But the era of easy fixes that can make up for flat funding are over. Future cost drivers include:
New and improved facilities.
Expanding the number of healthcare workers.
Greatly expanding HIV testing.
Adding viral load and drug resistance testing.
Reaching the hard-to-reach and underserved.
Potential higher costs of patented medicines.
Increased costs of aging patients with multiple illnesses.
"What Promises?"
At the United Nation's 2011 High-Level Meeting on HIV/AIDS, prior commitments to provide universal treatment, intensify prevention efforts, and fight stigma were reaffirmed. More specifically, governments committed to treating 15 million people with HIV by 2015.
Despite these promises, leaders have begun to turn their attention elsewhere. Policy apologists, using the dismal argument of cost-effectiveness, argue that commitments on AIDS should be abandoned in favor of more limited and cost-effective interventions like vaccines for children. Instead of acknowledging that adequate resources are needed for all neglected diseases, health pundits like Zeke Emanuel (who has the ear of Obama) propose a zero-sum game of limited resources and ruthless defunding of AIDS. These false arguments must be fought head on.
"Can't We Wait?"
The AIDS crisis is not over -- globally or domestically. But the Global Fund is driving on fumes. Although it needed $20 billion for scale-up during its last funding cycle, it received only $11.7 billion in pledges.
The upcoming debt-ceiling fight could result in an 8.4% cut across-the-board cut in most federally funded programs. As a result, amfAR estimates that 387,000 fewer people with HIV would be treated -- leading to 80,000 deaths, 122,500 new orphans, and 21,000 infants being infected. In the U.S., the CDC would lose $64 million in funding for HIV prevention, the Ryan White program would be cut by $196 million, $77 million would be cut from the AIDS Drug Assistance Program, AIDS-related research at the NIH would be cut by $251 million, and funding for HIV housing would drop by $27 million. These cuts will only fuel the fire.
Conclusion
Waiting is not an option. Every day 7,000 people are infected with HIV and 4,700 die. Every day new people are added to the waiting list for HIV treatment. So activists must not and will not give up.
We are still fighting for a Robin Hood tax and other taxes on the rich, and for reductions in defense spending.
We are agitating for an expansion of funding that will begin the end of AIDS, especially by expanding treatment-as-prevention, male circumcision, condom promotion, and needle exchange.
We are demanding policy changes that will fight stigma, discrimination, and criminalization of neglected groups, and that will expand programs to improve connection to care and end the drivers of the epidemic.
We are demanding revised treatment guidelines and the increased use of the latest drugs, the reversal of counterproductive intellectual property and trade policies by the Obama administration, the strengthening of local health systems, and a scaling up of commitments by country partners.
To win these fights, we make common cause with international allies and seek deeper alliances with domestic AIDS campaigners. We cannot afford to lose this fight.
Brook Baker is a professor at the Northeastern University School of Law and a Policy Analyst for Health GAP.