The grand arc of the global HIV treatment movement has revolved around lowering drug prices, increasing funding, and scaling up health services for people with HIV. Activists have tried to find the right balance of prevention, treatment, and care and have responded to new discoveries by demanding that policy makers create programs that match the science.
But today we are at a crossroads. Will we increase funding and provide universal access to HIV prevention, treatment, and care -- and break the back of the AIDS epidemic -- or listen to the "fiscal cliff-jumpers" and continue flat-funding, ensuring a global epidemic that will affect generations to come?
Activist Wins
Activists won the initial fight to lower prices on life-saving HIV treatment. Those medicines now cost pennies on the dollar in sub-Saharan Africa, compared with their costs in the U. S. (a generic version of Atripla costs $197 a year, whereas the brand-name version can cost $30,000). But a treatment time bomb is ticking, as newer medicines are more widely patented in low- and middle-income countries, and as the U.S. and European Union coerce developing countries into allowing stronger and longer drug patents.
Advertisement
By 2012, activist campaigns led to $16.8 billion in funding to fight global AIDS -- roughly half from rich nations and half from developing countries. Activists spearheaded the creation of the Global Fund to Fight AIDS, Tuberculosis and Malaria (the Global Fund), and their persistent demands led George W. Bush to create the President's Emergency Plan for AIDS Relief (PEPFAR). They also used "insider-outsider" strategies, organizing public protests while fighting their way onto the Board of the Global Fund, into positions at UNAIDS, and into PEPFAR meetings.
During the 2008 Presidential campaign, activists "birddogged" candidates Obama and Clinton by relentlessly showing up at their campaign events. Both candidates eventually committed to PEPFAR funding of $50 billion over five years. They then hounded President Obama, demanding that PEPFAR provide treatment for 6 million people by the end of 2013 -- a goal he finally announced on World AIDS Day, 2011. During the International AIDS Conference in Washington, D.C., last July, thousands poured into the streets calling for policy changes and increased funding. And just before World AIDS day last year, naked AIDS protesters seized the office of U.S. House leader John Boehner to demand that Congress fully fund domestic and global AIDS programs.
Along with international allies in Europe, activists are now campaigning for a small "Robin Hood Tax" on the transactions of financial institutions, which could raise hundreds of billions dollars. That campaign has succeeded in establishing a beachhead in 11 European countries, but the fight in the U.S. will likely take much longer.
New Hopes
There have been breathtaking advances in AIDS science in the past two years. The HPTN 052 study compared the benefits of starting HIV treatment at a CD4 count of 550 versus 250. It found that earlier treatment delayed progression to AIDS, and reduced the risk of heterosexual HIV transmission by 96%. Follow-up studies are looking at the risks and benefits of earlier treatment, at treatment fatigue, and at drug resistance. Broader studies are hoping to confirm the effect of "treatment as prevention" on community viral load, HIV incidence, and death rates, and its cost-effectiveness. Finally, Truvada has been approved to prevent HIV infection, and we have seen promising studies on microbicides and even on vaccines.
In addition, it was reported on World AIDS Day was that nearly 8 million people (including nearly 6 million in sub-Saharan Africa) were taking HIV treatment as of December 2011 -- a 64% increase since 2009. New infections were down 21% from a decade earlier and deaths had decreased by 24% since 2005. And 57% of pregnant women with HIV had received effective treatment both to protect their own lives and to prevent transmission to their newborns.
Much of this progress is the result on U.S. funding. In fiscal year 2012, the U.S. PEPFAR program:
Supported HIV testing for over 49 million people, including 11 million pregnant women.
Subsidized circumcision for 2 million men.
Distributed more than 600 million condoms.
Funded HIV treatment for over 5 million people, preventing more than 1 million deaths while preventing over 270,000 new HIV infections.
Provided HIV meds to 750,000 HIV-positive pregnant women, preventing more than 116,000 transmissions to infants.
Prevented nearly 2 million children from being orphaned and provided care and support to more than 4.5 million orphans and 10.5 million adults.
At the insistence of activists, PEPFAR has worked to reduce any negative impact its programs may have on non-AIDS health services and to strengthen care for TB. Global Fund results announced at end of 2012 include:
The number of people on treatment increased by 900,000.
1.7 million pregnant women received treatment to prevent transmission.
HIV testing sessions increased by 60 million, to 250 million.
Condoms distributed jumped from 3.5 billion to 4.5 billion.
Care and support services rose to 19 million and services for the most at-risk groups rose to 30 million.
International AIDS Funding 2002-2011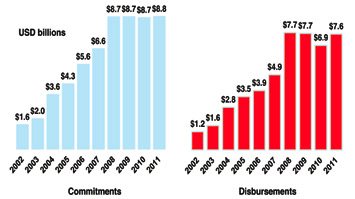 New Needs
Despite these dramatic successes, the cup is only half full. Well over seven million people with CD4 counts below 350 (making them eligible for HIV treatment under World Health Organization guidelines) are waiting in line to die. And if WHO treatment guidelines move higher -- as U.S. guidelines have -- the number eligible for treatment jumps, and we're only a third of the way home. At present, children are under-treated (28% receive meds), as are men compared with women (47% vs. 68%).
AIDS activists have been less successful fighting for equal and respectful services for men who have sex with men, sex workers, injection drug users, prisoners, people with disabilities, migrants, and other "outsider" groups. These groups consistently have less access to services and often face not only stigma but criminalization as well. As an example, the U.S. government continues to defend its anti-prostitution pledge requirement (a demand that any organization receiving PEPFAR funds has a policy opposing prostitution), expanding it to U.S.-based organizations and taking the case all the way to the Supreme Court.