My HIV Journey: Videos of My First Months on HIV Meds, and Where I Am Now
April 2013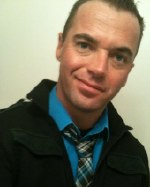 Aaron Laxton
I am simply a guy who on June 6, 2011, received the news that more than 33 million people have received: I am HIV positive. I decided in that moment to record the journey that I was embarking on so that I might help others as they receive that news. I'm not a doctor and I don't endorse any agenda other than simply living a healthy life.
Table of Contents
More From This Resource Center
---

This article was provided by TheBody.
---
Comment by: kuripo
(philippines) Wed., May. 15, 2013 at 9:04 am UTC
Hi Aaron,
A great motivation for everyone ...
Thank you,
Dart
Add Your Comment:
(Please note: Your name and comment will be public, and may even show up in
Internet search results. Be careful when providing personal information! Before
adding your comment, please
read TheBody.com's Comment Policy
.)