28% of South African School Girls Are HIV-Positive

A Video Blog
By Justin B. Terry-Smith

March 22, 2013
According to the BBC, 28% of South African school girls are HIV positive. This is such a travesty. The South African Health Minister Aaron Motsoaledi is stating that young men are not infecting them but older men are. The South African Health Department put out this ad to engage the HIV/AIDS epidemic.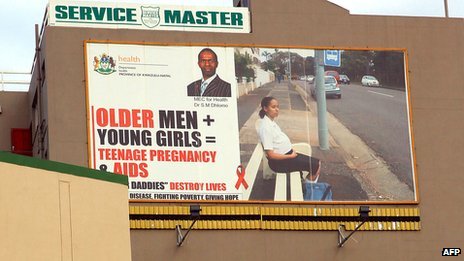 What do you think? Helpful or Stigmatizing?
Motsoaledi was put into office in 2009, after the term of former South African President Thabo Mbeki. Mbeki was instrumental in brainwashing a lot of citizens to believe that HIV does not cause AIDS, because he himself was brainwashed by HIV Denialist and/or Dissidents. Mbeki also claimed that his administration did not have the resources to send aide to all South Africans that were HIV positive. Motsoaledi stated that he has treated pregnant girls that range from ages 10 to 14 who were also HIV positive. After he took office, there were rates of infection that were first greater than 678,000 but climbed to 1.5 million. In 2012 alone 260,000 perished from AIDS, about half of which were from South Africa.
Author's Note, 4/24/13: The report on which this blog was based was found to be incorrect; South African Health Minister Aaron Motsoaledi's words at an event were misinterpreted by a journalist and then re-reported by other news companies and agencies. According to Motsoaledi, there are no statistics available on national figures of HIV prevalence among young girls.
Get email notifications every time this blog is updated.
---
Comment by: Pumlani
(South Africa) Wed., Apr. 10, 2013 at 2:52 am UTC
Justin you didn't get the last part correctly. Motsoaledi was actually appointed by Pres. Zuma. Mbeki was recalled in 2008 & Motlanthe (caretaker Pres.) appointed Hogan as caretaker minister of health. When Zuma was elected he then appointed Motsoaledi (in 2009).
Add Your Comment:
(Please note: Your name and comment will be public, and may even show up in
Internet search results. Be careful when providing personal information! Before
adding your comment, please
read TheBody.com's Comment Policy
.)