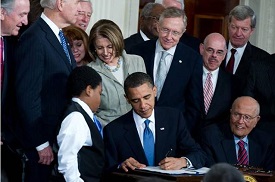 Saturday, March 23, is the third anniversary of the signing of the Affordable Care Act! While many provisions have yet to take effect, we have already seen some of the benefits it will have for people living with HIV/AIDS. AIDS United staff members joined a teleconference with Representative Xavier Becerra (D-CA), Rep. Ron Kind (D-WI), Rep. Terri Sewell (D-AL), and Rep. Dina Titus (D-NV) to commemorate the anniversary. Rep. Becerra highlighted the resiliency of the Affordable Care Act and all that it has survived, including a Supreme Court ruling and fierce opposition, proving that Americans from varied backgrounds all across the country have recognized the importance of health care for everyone. Both Rep. Becerra and Rep. Kind reprimanded the budget proposed by Rep. Ryan, which they say takes the "care" out of the Affordable Care Act. Rep. Ryan's budget includes the revenue and cost savings of the Affordable Care Act but seeks to repeal it and revoke the benefits and protections it provides to millions of Americans. The Representatives also spoke on the future of the Affordable Care Act and possibilities to further the cost-effectiveness of many of its programs and proposals.
Trust for America's Health has released a story bank featuring stories of successful prevention initiatives in action from around the country, many of which are due to the Affordable Care Act's Community Transformation Grant program. These are just some of the success stories that have come as a result of the Affordable Care Act. AIDS United is already looking forward in anticipation to the 4th anniversary next year when state and federal health exchanges will be up and running, Medicaid expansion will be well underway and the promises providing millions of more Americans access to health care across the country will be realized. Of course there is much work to do, including ensuring that the Ryan White Program is integrated and compliments the ACA. AIDS United will continue to update you on the changing landscape of health care and its implications for people living with HIV/AIDS as the Affordable Care Act goes into full effect next year.

This article was provided by
AIDS United
. It is a part of the publication
AIDS United Policy Update
. Visit
AIDS United's website
to find out more about their activities and publications.
(Please note: Your name and comment will be public, and may even show up in
Internet search results. Be careful when providing personal information! Before
adding your comment, please
read TheBody.com's Comment Policy
.)