What do you think are the biggest issues that need fixing in HIV today?
One, I think that HIV is not a "one disease fits all." I think there are regional things to think about. I think that people that live out West, in San Francisco, potentially deal with different issues than someone with HIV in Tennessee. I think that that needs to be approached.
After the pastor wrote me that unpleasant email, it really started making me think, why in the South are we having an epidemic, but we also have the highest number of churches? So there's a tremendous opportunity that is being missed in churches with a captive crowd, if you say, to talk about HIV or STDs [sexually transmitted diseases], or any of that. Some churches are against contraceptives or prevention, I guess. My church that I grew up in wasn't. They were OK with birth control and condoms. But they never talked about sex or disease, or any of that.
And so I think the first thing is to look regionally, maybe, at potential issues. And that's what I've been kind of looking at. I can't speak for anyone else in the country, except, you know, Nashville, or the South, really. Here, the stigma is very strong, still. And I was nervous about that.
Advertisement
Because we're not talking about it enough, in my opinion, in the South -- HIV and prevention and even early on in schools, besides mixed in with every other STD that you can get -- what I think that it's doing is that it's making it harder to talk about later. When I was growing up, I don't really ever remember talking about HIV or STDs, beyond the one day in health class.
And the way to combat stigma: I was sitting in a group therapy, right after I was infected. Maybe I was a little bit green, and maybe the gentlemen that were in there who have had HIV for years, maybe they were a little bit jaded. But in that group therapy that I was in we talked about stigma. And they kept bringing up stigma, that it's so terrible and hard.
And then I just asked a simple question, but it really was a little bit of an epiphany to me before I released my blog. They said the stigma was so bad. And so my follow-up was, well, what have you guys done to combat it? What have you done to fix it? And almost everyone in the room said that they hadn't told anyone that they had HIV. Again, understand some people -- maybe a majority of people -- can't disclose it. I get it. With me, I could.
What was just an epiphany to me: The only way to attack stigma is to talk about HIV, and to talk about it in its face, and show that it's OK. And so those two things, the regional thing and really just keep on talking about HIV, because by doing that, it will become a little more accepted -- not accepted that you want to get it, or that it's OK that people have HIV, but that it's not a death sentence, and that we're not the scum of the earth because we have HIV.
"Keep on talking about HIV, because by doing that, it will become a little more accepted -- not accepted that you want to get it, or that it's OK that people have HIV, but that it's not a death sentence, and that we're not the scum of the earth because we have HIV."
Could you compare how you felt about having HIV when you were first diagnosed, as opposed to now? How has it changed?
I think it has changed. Right after I found out, I was very scared of what people would think. I knew that it wasn't a death sentence and that I would get on the medicine and that though my life expectancy may be shorter than if I was negative, that I would live a long, great life. But I was scared about if someone would love me, and I was scared about what people would say about me.
Right after that, I made a decision that if someone wouldn't love me romantically because of that, that I was OK with that. And I really meant that. I would rather talk about it, about this disease, and attack the stigma, than worry if someone is going to love me, or want to be with me the rest of my life. Because I will be fine.
But coming now, several months later, I respect and I understand the disease a lot more. So my attitude toward that has changed. The thoughts that have started going through my mind now are, you know, disclosure. Why is disclosing or not a criminal act? My mind has just started going down that road. It's not something that I'm going to focus on, but it's just starting to get into the sub-issues; after you get over the big issue of having HIV, it's just how to live with it, you know? Knowing when or not to disclose, or why people choose not to.
But I'm not scared for my life like I was right after I found out that I was positive.
How do you think having HIV has changed you?
It has made relationships that I have with people, in general, more important. It's humbled me tremendously. I mean, I was a cocky bastard. Last year and before that, I was a talent agent and was cocky, and cared less about people and more about myself. This disease really humbled me. I couldn't think of anything worse than contracting HIV, before I contracted it. That was the worst thing in my mind that could happen to me, as a gay man. And then when it happened, it was very humbling.
It was humbling to know that I had to reach out to people to help me, that I needed to go to a therapist and that I needed some of those services that Nashville CARES has provided, that I have supported for years but never thought I would use. So it was humbling, in that aspect.
The other thing is that -- and I don't know if you've heard this before, or what -- but after I found out that I was HIV positive, it made my life a lot richer. Things that don't matter do not matter. Little things don't make me go crazy like they used to. Relationships mean the world to me. My family: It got me even closer to them. So in a weird way it kind of refocused my life into being better.
It's really hard to explain and put that to words, but my life is totally different, in the way that I look at people and relationships; and how I even look at myself is a lot different. I mean, it took a while for me to really be OK with looking at myself in the mirror right after I found out that I was positive. I'm OK with that now. And I feel good about myself.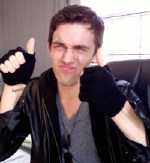 Josh Robbins
What advice would you give to someone else who has just found out they are positive?
If they just found out that they're positive: One, that they are the exact same person they were the hour, the day, the year before they found out that they were positive. That they are still them. Now they just have something that is going to make them choose relationships more carefully and, really, how things are going to be valued.
The one suggestion that I would give is find at least one person that you feel that you can trust, and tell them. Don't try to do this by yourself. Whether it's a therapist, or somebody that truly loves you in this moment. Try to find at least one person to tell that you're positive.
Get online, create an anonymous Twitter account, and find other people like me that are able to talk about it, that you can communicate with, and that it's safe. If you email me anonymously then I'm going to respond. And I won't know who you are but you at least start that chat.
Read TheBody.com. Gosh, I've spent hours on the website. Learn as much as you can about HIV.
But the main thing is that you're still you and that the way that you think about yourself is as important as getting treatment for the disease.
Do you have any closing thoughts, or any takeaway messages you want to relay?
Yeah. First, thank you so much for asking me to just chat with you. Everyone knows their own personal story of the moment they found out that they were positive; and maybe they even have stories like mine, where they know the person that infected them, or that exposed them.
But what you guys are doing is simply amazing. And I know that the three weeks when I was not sure if I was positive or not, I did more research than I'd ever done about HIV. And it's websites like you guys' that I came to, and that I learned the information. And I heard other stories, and I was reading about people. And so, thank you. You know? You helped me tons.
That makes me feel very proud. Thank you for the kind words!
Find Josh Robbins on Social Media

This transcript has been edited for clarity.
Warren Tong is the research editor for TheBody.com and TheBodyPRO.com.
Follow Warren on Twitter: @WarrenAtTheBody.
Copyright © 2013 Remedy Health Media, LLC. All rights reserved.