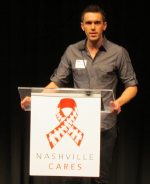 Josh Robbins
It's still very gracious of you to help him. It sounds like there was no resentment at all on your part.
The day that I made the call to him, it was because I asked one of my friends, Vic, who works with Nashville CARES: "What do I have to do now? Do I have to call that person, or will the Health Department just call him?" For me that was like an easy out. I'll just let them do it.
And Vic said to me, "Yeah, they will. However, that takes a lot of time. And if he doesn't know that he's positive right now and he has unprotected sex or any risky behavior during that time, are you going to be OK knowing that that could be happening?" And that's the reason why I made the immediate call: Because I hadn't infected anyone and I know that he didn't intentionally infect me. But I wanted him not to put anyone else at risk, without knowing his status and that sort of thing.
And I'm glad I did, you know? It wasn't until the last week of May 2012 that the Health Department here in Nashville finally called me. They asked who I had sex with, or whatever. But it took them four months to call. So if I hadn't made that call to him immediately then he would just now be finding out. And if his viral load was high, you know -- I didn't know at the time -- or his CD4 count was really low, not only did I want him to know so that he wouldn't expose anyone else, but I wanted him to get to a doctor so that he would be better equipped to be successful against this disease long-term.
And so, as a whole, I told my family and a couple of my best friends, and the person that I had unprotected sex with. I made all those calls immediately.
Everyone's different. Obviously, now, because I have a blog, imstilljosh.com, and I was on the cover of one of the national publications here, telling my story, I'm very open about it now. But I also understand that that is not for everybody. I'm in a position and a place in my life where I could be open, and I wanted to. But there are other people that are HIV positive and maybe only their doctor knows. And that's OK.
Advertisement
It definitely takes time for a lot of other people. It sounds like you were ready to open up immediately.
Yeah, it was pretty immediate. I'm somebody that finds humor in weird things, you know? Sometimes when I go to funerals, the whole thought of somebody being passed away, and laying in a casket, and people walking by . . . I guess I'm just weird, but I kind of find humor in different things like that -- or I can see humor in it.
So I was sitting in my house and was thinking, how in the world am I going to tell everyone? Or, what happens if they find out before I tell them? Or, if I told a couple people and then everyone else kind of starts trickling to find out? Again, I still didn't know anyone that had ever told me that they were HIV positive.
So I did a test thing on my Facebook and social media. I don't even know why I did it -- but I posted an Elton John song, Philadelphia Freedom. Because the only thing that I put with HIV was Magic Johnson and the movie Philadelphia. And so for some reason there was like a little comfort in there, a little humor; I don't know.
And then a couple days after I did that, I decided to make a blog and tell my story. Because Nashville's a city, but it also feels very small at times. And in the gay community, everyone knows everyone. I wanted to be in control of that dialogue, and my story. So I created a blog on Thursday morning. And that Thursday, at 4 p.m., the best way that I knew to let everyone know is, I just posted the blog address on my Facebook. That first day, you know, I think I had like 600 friends or something; the blog was viewed almost 1,300 times. So the secret got out real quick.
From there, the gay publication in Nashville asked me if they could tell my story, or write about it. And I said, "Absolutely." Where I am now, it's twofold: Number one, it's to raise awareness; it's for people like me that have found out, that they're HIV positive, and they felt alone. They didn't know anyone. It's not something that anyone seems to ever talk about -- or did, at that moment, to me. Number two, I'm trying to tackle the stigma of HIV, that it's not a death sentence, obviously, as we all know. But in the South, particularly, there's still a very strong stigma around it.
So I wanted to stand up and yell in town that I had HIV, that I'm OK, that I'm going to survive, and that I'm still Josh. Kind of the motto behind my little blog is: I'm still Josh; you still be you. As long as you still do you guys, then I'm still going to be me. And we just have this disease now that I'm just dealing with.
How do you start the conversation with somebody when you're disclosing to them?
Well, for me, it's actually been pretty easy. Because I don't know if I copped out. I mean, I posted it on Facebook, and I have a blog. The blog is now at almost 15,000 views. Then being on the cover of the magazine here, locally. Everyone here, as far as the gays in town, they're all aware. I guess some of them are probably tired of me talking about it.
But there's other things that I had to think about. I have a company and I have a staff, and we have interns and that sort of thing. And so I've made it a decision again -- it's not my legal responsibility -- but I made a decision that I was disclosing to everyone.
You know all the pink stuff, the marketing for breast cancer awareness? Susan G. Komen for the Cure? People walk around and they say stuff like, "I'm a survivor of cancer." Or, my mom -- I've done MS Walks with her. And it's very easy for her to tell people that she has MS. I see it real similar, that it's just a disease that I'm fighting. There's no cure yet, and there's no vaccine that works 100 percent yet. So I'm just on a journey, just like other people; but it just happens to be that what I'm fighting is HIV.
"It's so important for other people that have HIV that in any way feel like they're scared or feel less or whatever. I want them to know that they're still the same person, that they're OK, and it's going to be fine."
It is so important to me for people, and particularly -- and that's where my heart is -- ifor Nashville, because this is my home; I've lived here for 10 years. So it's so important for other people that have HIV that in any way feel like they're scared or feel less or whatever. I want them to know that they're still the same person, that they're OK, and it's going to be fine. So that is really the bottom line on all of it.
The benefit for me, with the way that I disclosed, and that I've told everyone and I've told them so quickly was that I haven't gone to the bar or to the club or whatever here, and knew that people were talking about me, about something that they haven't heard from me about. So I don't feel uncomfortable going out now. And I'm sure there are people that are going to say things. But I've tried to be honest and I've tried to be transparent.
And some people have called me brave, which I don't think at all. I don't think that what I'm doing, or what I've done and what I'll continue to do, is brave. But if it helps one person or two people here feel like they're OK, then that's enough.
A good example of that is I got a call, a couple of weeks after I released the blog, from someone -- and I couldn't even tell you who it is now -- but they called me. It was a 22-year-old here in my city that had just found out a couple days before they called me that they were HIV positive. And they contemplated committing suicide because of it. And they happened to see someone reposting my blog on Facebook and they read it. Then they felt compelled to call me.
From there, I talked to him for just a few minutes. And he said that because of the blog he decided to tell at least one of his friends, or a couple of his friends. So now he's fine, you know? He didn't commit suicide.
I don't think that I had anything to do with that, except that I know that's what people feel, or that's what people have told me that they have felt immediately. And so if my being able to talk openly about how I contracted it, and what I'm going through, and how I feel, and all those things, if that helps other people then it's worth it to me. Because I'm in a position where I can, you know? I have a strong support group around me. My family means the world to me, and they're OK.
I don't think you give yourself enough credit. It sounds like you saved that boy's life. Would you say that's the best response you've gotten from sharing your status?
It's funny, but I have been flooded with different stories of people. And so some of the best responses to me are people that have been living with this disease for 15 years or 20 years, and they come and say, "Thank you. I haven't been in a position where I could really talk about it like you, but thank you. It makes me feel a little bit more normal at least." Just as a whole, that's the stuff that feels good.
But there have also been a couple of bad things. I got a really nasty e-mail from a previous pastor. He told me everything that he thought about why I got the disease, and how I'm living with it, and all that stuff.
Then, you know, there's thedirty.com, which is a funny website. Somebody posted something not pretty about me on there, basically saying that I'm trying to get fame from this, or monetize this. And that's not the case at all. I haven't made any money from talking about my status, and I wouldn't.
But all that is to say that there's good and bad, but the great things have far outweighed any negative that could ever come at me.
What did your youth pastor say to you, and how did you react?
Basically what happened is that I released the blog, and then the pastor saw the blog and sent me a very long email, basically saying that it's unfortunate that I contracted the disease, that he saw the disease as a direct result of me living a sinful lifestyle from my sexuality, and that God really wants to love me, and so I need to repent and turn away from all of this stuff. Just a religious rant. But the hard part for the email was that it was really tied in with some things that were very personal to me that he really used as weapons -- the fact that I had been molested as a kid, and the fact that the pastor's oldest brother passed away from HIV, and that sort of thing.
He was trying to do exactly what he thought was right, which was to email me and tell me that I'm wrong and that I'm sinful. Although I disagree, adamantly, with every theology that he discusses in the email that he sent to me, I really truly believe that his heart was in a place where he thought he was doing the right thing. So I don't hate him or despise him, but I did respond to him via a blog.
I basically just told him that HIV was not a result of God being angry at me, and that eventually I would be in heaven and that I'm OK.
I did rebuke him a little bit, in a nice way. I told him that this was the absolutely wrong email to ever send to someone that's recently infected, and especially someone that's recently infected and then trying to talk about it in hopes of decreasing stigma and also furthering the discussion of prevention in others. This is totally the wrong tone. And so I responded in that way. But I haven't directly spoken or had a conversation at all with that pastor. And I don't really want to.
He sent me the email but I responded to him in the only way that I knew how at the moment, which was via my blog. But I did disguise his identity so hopefully he hasn't gotten any hate mail, or anything.
But, you know, it was totally the absolutely wrong thing to ever say to someone, particularly someone that's recently infected.