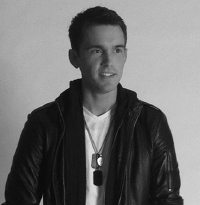 Josh Robbins was already an HIV advocate in Nashville, Tenn., when he was himself diagnosed with HIV in January 2012. He'd supported local HIV organizations' events as a small-business owner, and was even part of an HIV vaccine study. Then a brief unprotected sexual encounter put him on the other side of his advocacy activities. "I needed some of those services that Nashville CARES has provided, that I have supported for years but never thought I would use," Josh recalls. Because he was in a vaccine study beforehand, he's been in HIV care practically since the day he became positive -- and he's been open about his HIV status for almost as long, even videotaping his diagnosis appointment for YouTube. "I don't think that what I'm doing, or what I've done and what I'll continue to do, is brave," he says; "But if it helps one person or two people here feel like they're OK, then that's enough." In this interview, Josh opens up about disclosure, stigma, growing up gay in the U.S. South -- and befriending the man from whom he acquired HIV.
Josh, welcome to This Positive Life.
Well, thank you. I've been looking forward to it.
Can you start by describing how you found out you were HIV positive?
Yeah, absolutely. I had unprotected sex on December 18, 2011. We started with a condom and then the condom came off. I really didn't think that we were going to really continue, or go back into anal intercourse. And then things got hot and heavy again. So we had unprotected sex for about five minutes. And that's not a stretch. I mean, it was really just, like, five minutes.
He didn't get off, actually. There was a knock on my door, so we had to end it quickly. One of my really good friends stopped by and needed to talk. He had some things going on. And so it was kind of an end-it-and-that's-it. So that was on December the 18th.
I really didn't honestly think a whole lot about it.
Advertisement
And then on Jan. 2, 2012, I started getting really sick, kind of like the flu-like symptoms that they talk about. I had a fever, chills, just didn't feel good. I really just thought I had the flu. So the next day on the 3rd I went to one of those doctor-in-the-box type things, one of those urgent cares. They thought that I just had some kind of flu-like thing going on. They didn't know what it was; they just gave me some cough medicine for my throat, because my throat was really hurting.
I came home. Still felt terrible. And the next morning I woke up and had, like, 30 sores in my mouth. Again, I wasn't thinking about HIV at all. I kind of got mad, and I called my mom and my sister. And my mom and sister both worked at hospitals, my mom as an RN. They immediately thought that I obviously just had an allergic reaction to whatever the medicine was.
I went back to the doctor two days after that. The doctor came in and looked at everything, and reviewed his notes. He left the room and he came back in with a nurse and he said, "We need to talk about your high-risk behavior." And it kind of hit me right then. In my gut, I knew that it was HIV.
They wanted to test me there but they couldn't, because I'd been involved in an HIV vaccine study here in Nashville. I was very active in our community, as far as talking about prevention. But I was still kind of oblivious to it. I told them that I couldn't get tested at that office, which they didn't take too kindly to, because they really wanted to test me for that.
I had to call the HIV vaccine program because I was a volunteer and I could only be tested there. I had to go in. And then, from going in to the vaccine study program, till I finally got the results, which was January 24, that was like three weeks or so. So I actually found out from the medical professionals at the hospital that I'd been doing the vaccine trial with.
It sounds like you were practicing safer sex that entire time, and this was a slip-up.
Yeah, I think that it was. I mean, there had been other times that I trusted someone, or asked them their status, and I knew them. What I'd been really focused on in 2011, specifically because of the vaccine program, was not allowing my trust in someone and me judging their character to be the factor of whether I wanted to have protected or unprotected sex with them. That was something that I was working on in 2011. And so with him, it was a slip-up.
How old were you at the time?
Well, my birthday was January 12, so in the middle of feeling sick and doing my first test, and then my second test, and then my third test with my vaccine program, my birthday was dead in the center. So I was 28 at first and then halfway through that three-week process I had my 29th birthday.
You filmed yourself getting the test; is that right?
"I knew that as soon as they said that I was HIV positive that I would forget anything else they said. And so I [audio-recorded my diagnosis] for that purpose -- so that I could listen back to what they said; but also because I wanted to hear those words again."
Yeah. That week after I came back from the doctor-in-a-box that said I was showing symptoms of acute HIV syndrome -- it was on a Friday -- I couldn't get into the vaccine program to meet with them until Monday. So I was sick, not feeling good, and on top of that, I knew in my gut that I had contracted HIV.
During that two-and-a-half to three-week process of me finally getting what the final result was of this test, I started writing and videoing just little things, how I felt at the moment. The reason why I did that was because I didn't want to forget it. I didn't want to forget how I felt. In the unlikely case that I got out lucky, and it was just the flu, or something, I wanted to remember what I felt like then, and how everything kind of flashed before me.
When I went in on the 24th, when I got my final result of being positive, I did video. And then when I went in the actual room, I just audio-recorded it. And the reason why I did that was simply because I didn't want to forget what they said. If it was a positive result, number one: At that time I didn't know one person that had ever told me that they were HIV positive. Number two: I also knew that as soon as they said that I was HIV positive that I would forget anything else they said. And so I did it for that purpose -- so that I could listen back to what they said; but also because I wanted to hear those words again.
A couple weeks after I got that result and I hadn't really told anybody, then I went back and listened. And I heard how powerful it was from an outsider's perspective. So I decided to put it online in a little short video clip on YouTube.
I Just Found Out I'm HIV Positive, Now What? I'm Still Josh -- I Have HIV



When they told you that you were positive, what did you think, and how did you feel?
The staff and the medical professionals at the Vanderbilt HIV vaccine study are so caring and so honest and gracious. One of the guys that's kind of over the program that I'm in was prepping me; and we really had an open dialogue. I told him that my gut said that I had been infected. During that three-week process, he started going down the road of, well, what does this mean? He started talking to me about viral loads and CD4 counts. Then I started doing a lot of research, because I had no idea what he was talking about.
When I walked in on the 24th to get the results . . . again, I knew in my gut what the result would be. What I was surprised about was the viral load. I don't know. For some reason, in my mind, 175,000 is what I expected. Now that I know what I know, it's just funny that I even thought that. But 175,000 was what I expected. So when he said that I had a positive viral load, he followed that sentence up with that my viral load was at 5.5 million. That was a shock for me. It was a real big shock.
What was the first thing that you did to help you come to terms with your diagnosis?
I had already made a decision. I'm really close with my family. I have a mom, a stepdad, my father, and my stepmom. And then I have a sister and two stepbrothers. But I've known them my whole life and so they're like my brothers. My family as a whole has been through a lot in the past couple years. My dad had a seizure, almost died. My sister had carbon monoxide poisoning on a trip. She almost died. One of my stepbrothers had a motorcycle accident, and he died twice; and they brought him back to life. And my mom has MS [multiple sclerosis]. With all that's happened with my family, we've gotten really close. We've always told each other that if there was ever any kind of news or anything that we needed to tell each other, that we would do it immediately, and that we wouldn't hold the information.
Before I went to get my results, I purchased a plane ticket to go home that night. I knew that if it was positive, then I don't know that I would have gone and bought a ticket. I would have been scared, and that sort of thing. So I kind of just started my day and then, you know, bought a ticket; then went and got my results; then came home and got my bags; and then I went to the airport. I immediately flew home.
And so the day that I found out, I told my mom and my stepdad. My sister picked me up from the airport. And then I drove down and woke my dad and stepmom up -- they were asleep -- and shared the news with them, as well. So immediately, within 24 hours, I had a support group, which was my family, the people that I'm the closest with.
The next day, I flew back home in the morning; and I went to work the next day. Probably the hardest call, on top of telling my family, is that I knew that -- because I was negative via a blood test on November 30, 2011; then I had unprotected sex December 18, and then I was sick January 2, 2012 -- so I knew timeline-wise exactly who the person was. And I knew that they didn't know that they were positive. And so that was a very difficult call. But I did that call within 24 hours of finding out, too. Because I wanted to get it out of the way.
What was that conversation like?
It was a difficult conversation. First, I texted him to see where he was and if he could chat. To be completely transparent, it wasn't somebody that I was extremely good friends with. It was someone that I had a bunch of drinks with -- it was a one-night stand kind of thing. I was just glad that I had his phone number, to be honest. This may make me sound terrible, but that is being real.
So I texted him and said, "I need to chat with you. Call me." And he called me immediately and said, "What's going on?"
I said that I'd just found out that I was HIV positive and, based on my timeline, that I really, really, really strongly encouraged him to go get tested. And he actually put the words in my mouth. He said, "Because I'm the only one that you could have gotten it from?"
And I said, "Yeah."
There was a pause there. He didn't really even know where to go. So I helped him and got him in touch with the people at Nashville CARES to test him. I introduced him to those people and then, when he found out that he was positive, helped him know what to do next, where to turn and that sort of thing. He was going through the process of meeting with people, trying to find a doctor and that sort of thing; it was a process that I just went through a couple weeks before him, so I was able to kind of lead him in that direction.
We are friends now, and we chat all the time. He is not open at all about his status, which is completely his choice. And I've honored that. And so I haven't disclosed who he is to anyone, either. [Editor's note: The man who exposed Josh to HIV, who is now a friend, wrote a blog entry about getting the call from Josh that led to his own diagnosis -- read this story from his perspective.]