HIV Infection Among Heterosexuals at Increased Risk -- United States, 2010
March 15, 2013
FIGURE. Period Since Most Recent HIV Test Among HIV-Infected Heterosexuals at Increased Risk* Who Did Not Report a Previous Positive HIV Test Result (n = 82†) -- National HIV Behavioral Surveillance System, United States, 2010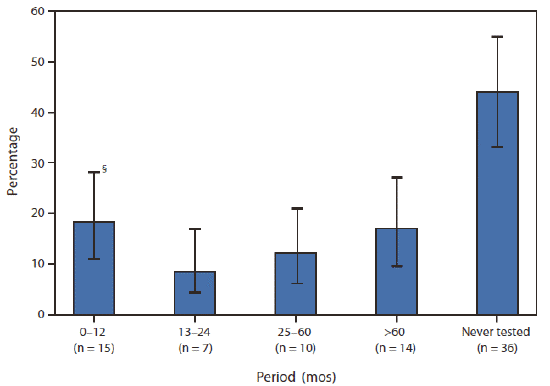 Abbreviation: HIV = human immunodeficiency virus.
* Increased risk for HIV was defined as having low socioeconomic status (a household income below U.S. Department of Health and Human Services poverty guidelines [adjusted for household size] or a high school education or less). The analysis excluded persons who ever injected drugs and men who ever had sex with men.
† Among those reporting the date since their most recent HIV test. Excluded were seven participants who reported that their most recent HIV test was >12 months before the interview but did not report the year of that test.
§ 95% confidence interval.
Alternate Text: The figure above shows the period since most recent HIV test among HIV-infected heterosexuals at increased risk who did not report a previous positive HIV test result (n = 82) in the United States during 2010, according to the National HIV Behavioral Surveillance System (NHBS). Among participants who tested positive during NHBS, knew the date of their most recent HIV test, but did not report a previous positive HIV test result, 36 (43.9%) reported never having had an HIV test until NHBS. An additional 14 (17.1%) had been tested >5 years before the interview.
---

This article was provided by
U.S. Centers for Disease Control and Prevention
. It is a part of the publication
Morbidity and Mortality Weekly Report
. Visit the
CDC's website
to find out more about their activities, publications and services.
---
| | |
| --- | --- |
| No comments have been made. | |
Add Your Comment:
(Please note: Your name and comment will be public, and may even show up in
Internet search results. Be careful when providing personal information! Before
adding your comment, please
read TheBody.com's Comment Policy
.)