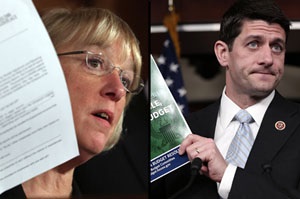 Senator Patty Murray and Representative Paul Ryan
Earlier this week, both Representative Paul Ryan (R-WI), Chair of the House Budget Committee, and Senator Patty Murray (D-WA), Chair of the Senate Budget Committee, released their respective budgets for Fiscal Year (FY) 2014. To no one's surprise, the budgets have little in common and approach the issue of deficit reduction in very different ways. A House/Senate conferenced budget is not expected to emerge from this process.
Rep. Ryan's budget, "The Path to Prosperity: A Responsible, Balanced Budget," promises to balance the budget in ten years by achieving $4.6 trillion in cuts. To achieve a balanced budget in this short amount of time (even shorter than the drastic 20 year goal he proposed in last year's budget), Rep. Ryan's budget slashes spending for health care and for programs that benefit low-income and vulnerable Americans while lowering the tax rate for the wealthiest Americans.
Rep. Ryan proposes cutting the top individual tax rate to 25% from its current 39.6% as well as eliminating the Alternative Minimum Tax and suggests that such cuts will not add to the deficit. However, when Rep. Ryan proposed cutting the top individual and corporate income tax rates from 35% to 25% in his FY 2013 budget, the Tax Policy Center estimated that such cuts would cost more than $4 trillion over ten years.
Advertisement
Furthermore, Rep. Ryan's budget assumes the repeal of the Affordable Care Act (ACA), which is on the verge of celebrating its third anniversary (March 23, 2013). On top of the repeal of the ACA, the budget will cut Medicaid by $756 billion converting it into a block grant program administered by the states. This change will likely increase states' healthcare costs. Although calling for repeal of the ACA, the budget plan maintains the projected $716 billion in Medicare savings that are included in the ACA. The budget plan also cuts Medicare by $356 billion and proposes a voucher-like system for all beneficiaries beginning in 2024. This would affect people born in or after 1959. The proposal would ultimately raise the cost of out-of-pocket care for Medicare beneficiaries. These budget proposals would deny health coverage to millions of Americans, including thousands of people living with HIV. This means that many people living with HIV would not be eligible for Medicaid or would lose eligibility. Many of those who would remain eligible would no longer have access to robust medical care or the drug formulary needed to remain healthy.
Furthermore, those who became ineligible for Medicaid or health exchanges would also find that non-defense discretionary safety net funding for HIV treatment and care such as the Ryan White Program would receive drastic cuts. Measuring from post-sequestration funding levels, Rep. Ryan's budget cuts non-defense discretionary (NDD) programs by an additional $700 billion. However, as both parties seek to replace sequestration, it is important to measure Rep. Ryan's budget from pre-sequestration levels of funding. When measuring from these levels of funding, the proposed budget cuts non-defense discretionary spending by more than $1 trillion. These proposed cuts are vague and unspecified and reduce NDD spending to its lowest level on record as a share of the economy, according to data that goes back to 1962. Such cuts are detrimental to the progress of the latest HIV/AIDS research, which shows that people living with HIV who through consistent treatment and care are able to reduce their viral load to undetectable levels also curtail their likelihood of transmitting the disease. As such, losing access to needed treatment and care not only will reverse the gains in lives and health of people living with HIV but will increase the number of new infections.
Additionally this budget will strongly curtail direct spending on HIV/AIDS prevention programs and other programs that provide health care, food and nutrition, housing, and other support services that are vital to the health and well being of many people including those living with HIV/AIDS. Rep. Ryan's budget proposes $800 billion in cuts to mandatory programs over ten years, 70% of which benefit the most disadvantaged Americans. Those programs subject to such cuts include Pell Grants, school lunches and child nutrition programs, Temporary Assistance for Needy Families (TANF), the Supplemental Nutrition Assistance Program (SNAP), the Supplemental Security Income (SSI) program, and the Earned Income Tax Credit program.
Representative Hal Rogers (R-KY), Chair of the House Appropriations Committee, has stated that the budget proposed by Rep. Ryan cuts too much, especially given the amount of discretionary spending cuts that Republicans have made in the past few years. He will, however, reluctantly vote in favor of the budget. The Center on Budget and Policy Priorities has also published an analysis of Rep. Ryan's budget, which can be viewed here. AIDS United has written a letter strongly urging Members of the House of Representatives to vote "No" on Rep. Ryan's FY 2014 budget resolution, stating that this budget is unacceptable and must be rejected. A sound federal budget is crucial to the national response to HIV. Achieving such a response must occur through a gradual, balanced approach that includes revenue and does not harm vulnerable populations or destroy the safety net of programs for health care and economic security.
On Wednesday, March 13, a day after Rep. Ryan revealed his budget proposal, Sen. Patty Murray unveiled "Foundation for Growth: Restoring the Promise of American Opportunity," the Senate Budget Committee's proposal for FY 2014. Sen. Murray's proposal does not balance the budget in ten years, as Rep. Ryan's budget does, but it does achieve $1.85 trillion in savings in addition to the $2.5 trillion in deficit reduction already passed by Congress.
Sen. Murray's budget is a balanced approach that calls for $975 billion in savings from ending tax expenditures and closing loopholes. It maintains tax rates for middle and lower class Americans, but does not exclude the possibility of raising taxes for the wealthiest Americans higher than those negotiated in the fiscal cliff deal at the beginning of this year.
Sen. Murray's budget replaces the across-the-board cuts of the sequester that were enacted on March 1. The budget calls for $493 billion in domestic cuts, including $275 billion from health care savings that will only impact providers, not beneficiaries. It also includes $240 billion in defense spending cuts and $242 billion in reduced interest payments. Finally, the budget sets aside a $100 billion economic stimulus measure, which includes investments in infrastructure and worker training. Our colleagues at the National Priorities Project have produced a side-by-side comparison of the Ryan, Murray and Congressional Progressive Caucus budgets, as well as public opinion measures, that can be viewed here. Both the Senate and House Budget Committees have passed their respective budgets, and they will be brought to their respective floors next week.
Throughout the fiscal cliff crisis and the sequester, AIDS United has advocated for a balanced approach to deficit reduction that includes spending cuts as well as measures to increase revenue. Given the nature of these two drastically different budget proposals, AIDS United continues to advocate for a balanced approach that protects vital health care and public health programs relevant to people living with HIV/AIDS.