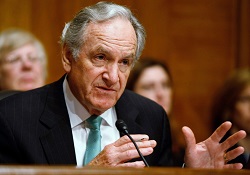 Senator Tom Harkin
Senator Tom Harkin (D-IA), Chair of the Senate Appropriations Subcommittee on Labor, Health and Human Services, Education, and Related Agencies, introduced an amendment on March 12 to the Continuing Appropriations Act of 2013. This amendment proposed increased funding for the AIDS Drug Assistance Program (ADAP), NIH, child care and education while maintaining the current budget parameters. The FY 2013 Continuing Resolution (CR)/omnibus spending package offered by Senator Barbara Mikulski (D-MD), Chair of the Senate Appropriations Committee, provides flat-funding for nearly all agencies with a few exceptions. In addition to this flat funding, the sequester will cut about 5% from most agencies and programs. The Harkin Amendment would add the Labor-HHS-Education and Related Agencies budget to the list of budgets with prioritized funding figures. Specifically, the amendment increases the Ryan White Program AIDS Drug Assistance Program (ADAP) from $933 million to $962 million. The amendment was put to vote Thursday, March 14; although it received a majority vote (54 Yeas), Senate rules require a 3/5 majority vote (60 Yeas), and, therefore, the amendment was rejected. AIDS United continues to advocate funding for such programs that are crucial for people living with and affected by HIV/AIDS.

This article was provided by
AIDS United
. It is a part of the publication
AIDS United Policy Update
. Visit
AIDS United's website
to find out more about their activities and publications.
(Please note: Your name and comment will be public, and may even show up in
Internet search results. Be careful when providing personal information! Before
adding your comment, please
read TheBody.com's Comment Policy
.)