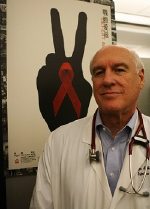 Myron Cohen, M.D.
The D.C. Developmental Center for AIDS Research (D.C. D-CFAR) hosted a seminar with Dr. Myron Cohen on Wednesday, March 13, on "HIV Transmission and Prevention of Transmission: Working Toward the End of the AIDS Pandemic." Dr. Cohen is the J. Herbert Bate Distinguished Professor of Medicine, Microbiology and Immunology and Public Health at the University of North Carolina at Chapel Hill. He also serves as chief of infectious disease medicine, director of the Institute for Global Health & Infectious Diseases, and Associate Vice Chancellor for Global Health at UNC.
Dr. Cohen's research focuses on the transmission and prevention of HIV. For his work developing laboratory methods to measure HIV in genital secretions, Dr. Cohen has received 30 years of continuous funding from the National Institutes of Health (NIH). Dr. Cohen is the architect and principal investigator of the multinational HPTN 052 trial, which demonstrated that antiretroviral treatment (ART) prevents the sexual transmission of HIV-1. This work was recognized by Science Magazine as the "Breakthrough of the Year" in 2011.
Dr. Cohen's seminar focused on many of the breakthroughs and scientific discoveries currently propelling HIV/AIDS research. One of the most significant topics was acute HIV infection (AHI), the period of infection immediately after exposure. He believes that most new HIV infections are due to exposure with someone who has AHI, yet there are few resources available to allow for widespread detection of patients with AHI. Patients with AHI are unlikely to be aware of their infection, as many symptoms that may occur are nonspecific to HIV. He also emphasized the role that STD/STI coinfection plays in amplifying transmission of HIV; any STD/STI coinfection leads to a greater concentration of HIV in genital secretions. For example, an HIV positive patient who contracts gonorrhea will have eight times the amount of HIV in their genital secretions.
Dr. Cohen also touched on the potential for an HIV vaccine and the next generation of pre-exposure prophylaxis (PrEP). Traditional viral vaccines allow infection to occur in the patient, but prevent symptoms and, therefore, prevent disease. However, this is not possible with HIV. An HIV vaccine will require broadly neutralizing antibodies for all strains of HIV, and due to the variety of strains that can occur, is proving difficult. Despite this difficulty, there are multiple methods of PrEP being researched and tested in addition to the pill Truvada, including shots and gene therapy.
Dr. Cohen stated that this is a time to be optimistic in the field of HIV transmission and prevention. Given the many recent scientific advancements, he believes that we are at the beginning of the end of this disease, and at this critical point, we must redouble our investments in research and science to achieve an AIDS-free generation.