When it comes to HIV, many advocates will agree that education is of the utmost importance, especially basic education about how the virus is transmitted and how people can protect themselves. But what about questions that HIV poses as a larger phenomenon? Where are people tackling questions like: "How can the Catholic Church respond to the HIV epidemic?" "How can we move education about HIV onto an online setting?" and "How can we get HIV activist history to be a part of American History in public schools?"
HIV in the Classroom is a series of articles that highlights educators and activists who are working with college-age (and younger!) students to illuminate the many aspects of life and society on which HIV has an impact -- politics, history, society, the arts, religion and more.
Social Work Students Discuss Matching Medicine With Compassion
Social worker and longtime HIV activist Terri Wilder didn't take an "HIV and Social Work" class at either her undergraduate or graduate institutions -- because such a course wasn't offered. Now, Wilder teaches the class she never got to take, to a group of budding social workers as a professor at Fordham University. We caught up with four students from Wilder's "HIV and Social Work" graduate course -- Ashley, Tina, Megan and Justin -- and asked them about why they took the class, how social work fits into the field of HIV treatment and care, and how the course is helping them become better professionals.
Making AIDS Activist History a Part of U.S. History
Do you think the general U.S. population just "got used to AIDS?" No, of course not. "It wasn't a passive process, and they weren't nice about it," recalls filmmaker Jim Hubbard; "This country had to be forced to deal with the crisis." And activist groups like ACT UP (AIDS Coalition to Unleash Power) were at the forefront of America's earliest education about AIDS. Fast forward a few decades, and Hubbard -- director of the gripping 2012 documentary United in Anger: A History of ACT UP -- along with renowned author and academic Sarah Schulman, are the two people behind the ACT UP Oral History Project. Since 2001, Schulman and Hubbard have been preserving the history of the influential AIDS activist group, and working to push this rich chronicle into its rightful place in mainstream U.S. history -- as a justice movement as significant, and vital to explore, as the feminist movement, the African-American civil rights movement and the LGBT rights movement.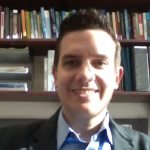 What Would a Good Catholic Do? Bioethicist Helps Students Wrestle With Theology and HIV
While many in the HIV community have have had mixed-to-negative experiences with the Catholic Church as an institution, Doyle is invested in showing the positive points Catholic theology can bring to a conversation around treating those living with HIV. In his course, "Theological Ethics and HIV," Professor Doyle asks his students to articulate the reach and scope of the HIV epidemic; identify current political and religious responses to the epidemic; and wrestle with the epidemic's moral implications for faith communities.
Teaching in Response to the Terror of HIV's Early Years
Before Dr. Kimberley Hagen co-founded the Center for AIDS Research at Emory University in Atlanta -- back when there barely was any HIV research, or HIV education, or anything but fear and ignorance surrounding HIV and those affected by it -- she was a frontline community educator during the darkest days of the epidemic. Now she's an assistant professor of behavioral science and health education at the Rollins School of Public Health -- and she teaches a massive open online course called "AIDS" with more than 10,000 students enrolled. How did her long career begin? She was looking for a poster for her kitchen.
HIV Education From the Dark 1980s to the Digital Masses
Dr. Kimberley Hagen has taught HIV education to undergraduates and medical professionals since the mid-1980s, before many people were even discussing HIV. Now she's bringing that conversation out of the classroom and onto the Web. Through the brand-new world of massive open online courses (MOOCs), Dr. Hagen is bringing the course "AIDS" to Coursera, currently one of the largest purveyors of MOOCs. In this interview, Hagenbreaks down her online course and discusses the challenges of teaching sensitive material in an online setting.
HIV and Education Twitter Chat: Best Of
Here at TheBody.com, we love interacting with our readership. On Thursday, March 28, 2013, we got together with dozens of our Twitter followers for TheBody.com's inaugural Twitter chat. The theme was "HIV & Education," and we think everyone walked away having learned something new! We attracted followers from several countries and continents to share their thoughts and get involved in this knowledge exchange. Read some of the best responses to our questions in this recap slideshow.

Stay tuned for more interviews and features in this spotlight series!