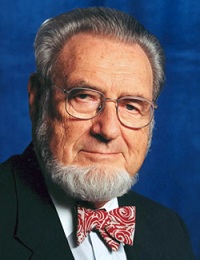 C. Everett Koop
Dr. C. Everett Koop, the surgeon general for the Reagan Administration just after the disease of HIV was discovered, died on Monday in New Hampshire. As a conservative with ties to the religious right, Koop's nomination had been opposed by many liberals who feared the potential for politicizing the office. Instead Koop used his office to wage a campaign within the administration to more aggressively fight HIV, ultimately issuing a Surgeon General's report on AIDS in October of 1986 that spoke candidly about preventing HIV and controversially called for the use of condoms for those who did not practice monogamy or abstinence. The release of the report was the first time that the federal government spoke out forcefully about the AIDS epidemic emphasizing that AIDS was a disease and that the government response must be to fight the disease, not people with the disease.
Dr. Koop followed the report by mailing a booklet, "Understanding AIDS" to 107 million U.S. households, the largest public health mailing ever undertaken. Ultimately, Dr. Koop almost single-handedly changed the Reagan Administration's response to HIV from hostility and apathy towards a fuller, more open response based on the principles of public health. In the process he earned the gratitude of many people living with, responding to, and affected by HIV.
Ronald Johnson, AIDS United's Vice President of Policy and Advocacy, honored Surgeon General Koop's memory at this year's AIDSWatch Congressional briefing by noting that in championing an aggressive response to HIV he was forced to speak out against the prevailing attitudes within the Reagan administration. Noting that the fight continues to make sure that evidence based prevention, education and criminal justice policies must be prioritized over ineffective approaches, Mr. Johnson called Koop "a "stellar example of putting science over politics."
Marsha Martin, Director of the Urban Coalition for HIV/AIDS Prevention Services (UCHAPS) and a member of AIDS United's Public Policy Committee, told us that "Dr. Koop was America's doctor." She was able to speak with Dr. Koop most recently following the inaugural C. Everett Koop address and award at the Forum for Collaborative HIV Research 2010. She stated, "Dr. Koop set the bar on how our national government should and must respond to the needs of America's communities and citizens. His last public appearance before the HIV community was an example of his commitment to sharing his ideals about how to achieve and maintain the health of our nation. He shared his wisdom, insights and humor as he recounted the history of the US response to HIV and 'his no nonsense conclusion' that HIV was a serious enough medical concern that 'every American needed to know.' And the rest is history. We are a better nation for it."
Dr. Koop's New York Times obituary can be found here.
Dr. Koop was remembered on the White House's AIDS.gov blog here.