Where Does It Hurt?
By Rev. Andrena Ingram

March 1, 2013
As a child, whenever you were outside playing and fell off your bike, or fell down as you were running down the block... chances are you ran inside crying, where your mom or dad would say: "What happened?" "Where does it hurt?" Chances are, a little antiseptic a band-aid and a hug (and a little nudge) to get back out there and play is enough to dry your tears and do exactly that: "Get back in the game".
In other case scenarios, maybe the injury is one of a serious nature, which includes a visit to the ER, or to your family doctor. A conversation with your doctor might begin with: "Where does it hurt?" and then: "On a scale of 1 to 10, with 10 hurting the least, how much does it hurt?"
It's too bad we can't do that with emotional pain. Too bad we can't do that with issues of childhood trauma.
After being abused for many years, how would a child answer that question?
How would an adult answer that question? Even after thinking that they have been healed from whatever trauma it is. Do we ever heal?
I saw this little doll at an HIV workshop at the Lutheran AIDS Network 2011 Biennial Conference. The workshop was to identify the hurts we have suffered in our lives. I kinda forget what all the band-aids were for... but as you can probably guess, my band-aid is covering the little girl's mouth... and says 'Sexual Assault'. I know there is another one on her leg that says "addiction" (that person is very special to me), and on her head is one that says... "loss of a loved one".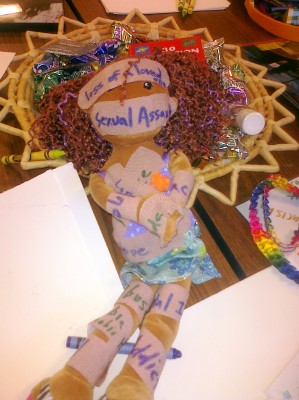 Even as I look at this picture, I am picking up nuances I didn't notice before, because the finished product of the little girl was powerful. It is even more powerful now, as I look at her. She is lying in a bowl of candy, and with crayons surrounding her. Was this intentional? I don't think so, but it speaks volumes, cause that is what being a child should be about... crayons, and candy (not too much). Also, one of her eyes is peeking out from under a band-aid, while the other one is wide open. This speaks volumes also, because nine times out of ten, abused children "see, while not trying not to see". *sigh*
The band-aid is covering her mouth, because being sexually abused/assaulted/molested was a "secret". A dirty secret that was imposed upon me through fear of my father hurting my mom. I kept silent for a long time... .and it nearly killed me.
The Advocacy Workshop at this year's SHYG Event was moving. And the teenager who pulled it together, and presented it did an excellent job. Her first time speaking in front of crowds. The video clip about child abuse really resonated within me. "The child who has to keep secrets, the child who goes to bed hungry, the child who is bullied, the child who is afraid, the child who lives in fear" made me remember.
... where does it hurt?
... DOES it still hurt?
Advertisement
It hurts in my heart, and sometimes in my head. Have I healed from it? Do we ever really heal from anything traumatic? I say yes, and no. We get the therapy and help that we need. It takes years of hard emotional work -- realizing that you were not (and are not) at fault for what happened to you. More years of therapy to learn the tools needed to be empowered, to recognize your self-worth, to feel the pain and to move past it -- while at the same time acknowledge it's power in shaping who you are, as my friend Roz(author of Embracing My Shadow) would say "embracing the whole you". It's really the only way you can move past it and be there for others who have been or are going through the same thing. And in being there for others, your healing continues. The healing is a lifetime process.
At the end of the workshop, I was asked a very important question (on the side).
"Have you forgiven your father"?
How a propos! Especially since the weekend was totally about FORGIVENESS!
Yes... I have forgiven my dad. Yes... I love my dad. (He passed away 24 years ago). It took many years for me to understand that he was suffering, and that he was a sick individual. The years of anger and bitterness toward him manifested itself in my self-abuse. Many years to forgive him. The forgiveness was prompted with the knowledge that he cried for me on his death bed. (I was in the streets -- nowhere to be found). Missed the whole funeral. But that is another story.
Where does it hurt?
On a scale of 1 to 10, I would have to say, it depends upon the time of the year, the time of the day, or situations I may find myself in.
Never a 1, 2, 3, 4, 5. But some days, definitely sometimes 6, 7, 8 and 9.
I actually never want to forget. If I forget, I won't be able to see the child OR adult in front of me suffering.
Not forgetting, is how I keep my grip on grace, and get back in the game.
Thanks be to God.
Get email notifications every time this blog is updated.
---
| | |
| --- | --- |
| No comments have been made. | |
Add Your Comment:
(Please note: Your name and comment will be public, and may even show up in
Internet search results. Be careful when providing personal information! Before
adding your comment, please
read TheBody.com's Comment Policy
.)