HIV and Gay Media: The Vanishing Virus
February 27, 2013
The turning point could be traced to August of 1998. It was the month that, for the first time in well over a decade, the Bay Area Reporter did not have a single AIDS obituary submitted for publication. The promise of protease inhibitor medications had been realized, and it felt for many that our long community nightmare was coming to a close.
The milestone in the life of San Francisco's LGBT newspaper was celebrated around the country and became a media story unto itself. "AIDS Deaths Take Holiday," trumpeted the Pittsburgh Post-Gazette. "For Once, No AIDS," said the Wilmington Morning Star. The headline in the Spokesman Review assured us that "No News Is Good News." The Bay Area Reporter's own front page carried two words in enormous type: "No Obits."
That could be seen as the moment in which coverage of HIV in gay media began to fade.

Today, the LGBT community is celebrating other milestones with joyful regularity. The right to serve openly in the military. Marriage. Growing acceptance and political muscle.
HIV/AIDS has largely moved off the front page and out of public consciousness. Despite newsworthy data such as increased HIV transmission among gay men and the ongoing slaughter of gay black men in particular, those stories feel stale. It has all been said so many times before. Even new storylines, such as pre- and post-exposure prophylaxis, cure research advocacy, and tools on the horizon such as rectal microbicides, it's become harder to capture the imagination or interest of the gay community. When new data was reported recently showing that half of the 20-year-old gay men today will have HIV by the time they're 50 (and if they're black, that figure rises to a whopping 70 percent), the news barely rated a tweet or newspaper item.
What, then, is the responsibility of LGBT media in this climate of rising infection rates and a bored readership? Are they simply reflecting the community's waning interest, or do they have a responsibility to keep HIV in the headlines, to serve as advocates for better public awareness?
I was just in the perfect place to ask these questions: The 2013 LGBT Media Journalists Convening, held in Philadelphia and sponsored by the National Lesbian and Gay Journalists Association. About 100 media professionals, including a healthy dose of bloggers like myself, attended the event, which educates LGBT journalists on various issues so that we might report on them with more authority. Those issues this year were transgenders, immigration, aging, labor and international rights.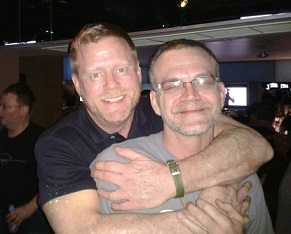 Mark S. King and Bil Browning
The absence of HIV/AIDS wasn't lost on me, I assure you (AIDS activists called them out about this in real time in the event's Twitter feed at #LGBTmedia13) and it became the topic of my interviews with various people in attendance. Their very personal answers -- and undeniable passion for the cause of HIV in many cases -- sure made it a little easier to understand the tough choices they are making every day. I will be very interested in your reaction.
Aside from my griping over HIV coverage, it really was terrific to be in the company of a lot of dedicated journalists, and I appreciate very much the work done to mount the event, including the contributions of Bil Browning of The Bilerico Project (pictured with me at right).
Is sparse HIV coverage just a sign of the times? Is it progress? And what can we do to increase visibility again?
The journalists in my video provide some answers, but I especially liked the observation by gay political activist David Mixner, who reminded me that coming out, whether as gay men or as someone living with HIV, is the greatest tool in fighting stigma and helping people see the importance of the issue. I'm glad I have some company in the poz blogosphere, but we can always use more voices. Anyone who has the ability to share their story, online or across the dinner table, can make an awesome contribution.
Meanwhile, I'm going to keep nudging my LGBT media colleagues, and I encourage you to do the same.
Thanks for watching, and please be well.
Get e-mail notifications every time Mark's blog is updated.
Visit Mark's live blog at www.MyFabulousDisease.com.
More From This Resource Center
---
---
Comment by: Patrick N Brown
(Nashville, TN) Tue., Mar. 19, 2013 at 7:03 pm UTC
Hey Mark,
What a shame for the gay community to turn its back on the HIV/Aids issue. As a 60 year old man that found out in June 2011 that I was near death from Aids this is a very real subject for me. My newest challenge is that when I was so sick less than two years ago I lost my job and many friends because of the stigma attached to my disease. Now after a two year waiting period, I have been told that when I receive Medicare in June of this year that my meds will only be covered for the first three months of each year. I am now in the process of having to sell my home and move to a state that recognizes my meds as necessary to remain alive. I just spent 10 days in California, one of the few states I have found that will not stop my medication that keeps me alive. What a shame that gay people and all people turn their back on this very real life or death situation in America today. I'm so saddened to have to leave my family and friends just to stay alive. You can imagine the depression and stress I face every day with this decision. AIDS still is here, and kills people like me every day. I write this with a hope that people like you and I are brave enough to speak up and tell their story, that without my drugs I will again end up in the hospital with PCP pneumonia and a disease that will take my life. Are people blind to the fact that the only thing keeping me alive is that daily drug that I'm soon to be deprived of in Tennessee? What a horror for me and my family to be faced with again. I now understand why people in my support group take their own life because they're tired of the fight.
Thanks for speaking up, and I hope I can figure out a way to live another year. Regards, Patrick
Add Your Comment:
(Please note: Your name and comment will be public, and may even show up in
Internet search results. Be careful when providing personal information! Before
adding your comment, please
read TheBody.com's Comment Policy
.)