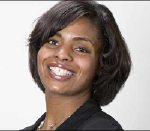 Danielle Houston
Soon health care professionals who don't specialize in HIV/AIDS will be offered a helpful list of guidelines to follow, as provided by the U.S. Department of Health and Human Services' Panel on Antiretroviral Guidelines for Adults and Adolescents.
A working group within the Office of AIDS Research Advisory Council, the panel has been tasked to help identify tangible ways to increase demand for treatment for impacted populations, as well as integrate biomedical and behavioral interventions, among other objectives.
Recently the Black AIDS Institute sat down with Danielle Houston, one of the group's two new community members as well as its co-chair, to discuss the role she'll play in helping craft the upcoming "Antiretroviral Guidelines for Adults and Adolescents."
Houston, who is a member of the Black Treatment Advocates Network, works as a public health specialist at Legacy Community Health Services in Houston. There she is responsible for advancing health literacy around HIV science, treatment and research, and helping people with HIV live longer, healthier lives.
Advertisement
Will you please describe the work you do on panel and the importance of the pending guidelines?
I am expected to assist in the development and revision of the guidelines for using antiretroviral therapy in HIV-infected adults and adolescents. Each member must stay abreast of the most current scientific findings though medical journals and conferences, as well as safety information disseminated by drug manufacturers or the Food and Drug Administration. We must also identify new information that may warrant updates in the guidelines. The guidelines are a living document. As we serve our respective communities, we will be actively looking for ways to improve them. The panel makes sure that the guidelines include all populations and the best data possible.
What kind of impact do you feel the panel can have in ending the epidemic?
We will compile a manual for providers will help them make the best clinical decisions for their clients. Many clinicians haven't received a whole lot of training in how to provide care for people living with HIV and AIDS. The guidelines will provide them with specific, invaluable information. This is going to be especially important after the Affordable Care Act goes into effect. That's because those in treatment will be able to go to any primary care provider who accepts Medicaid. These guidelines will serve as the best how-to guide for those doctors on how to treat them.
Will the panel's work affect the Institute's goal to increase demand for treatment?
I think we are best positioned to help increase demand for treatment by encouraging better literacy. As people better understand their medications, they are likely to be more comfortable initiating treatment and remaining adherent. This is the best way to maintain wellness, rather than having to respond to the illness.
How will this work inform your 9 to 5?
My insights into how the panel's decisions are made will be an invaluable tool in the communities I serve, especially with people who harbor distrust of the medical establishment. Many times, this skepticism poses a barrier to entering or staying engaged in care. In addition to my professional background, my personal perspectives will be an asset to the panel. I am deeply committed to improving the future landscape of HIV treatment and how it impacts women and communities of color.
What's the relationship between your work on the panel and BTAN Houston?
Historically, New York, Los Angeles and San Francisco have led the U.S.'s attempts at therapeutic and preventive vaccines. As of 2013, we do not have great candidates in either vaccine category. People who have volunteered for these studies will most likely be disqualified from volunteering for any of the new, more advanced vaccine candidates coming down the pipeline. I believe places like Houston, with large medical and research facilities and vaccine-naïve populations, will lead the next generation of clinical trials. It will take a lot of community involvement to ensure that Houstonians are educated and prepared for this next phase. Many times I've told my clients that HIV treatment helps them be here for The Cure. I look forward to fulfilling my role to help take us there.
Tomika Anderson is a freelance writer based in Brooklyn, New York. Her work has appeared in Essence, POZ, Real Health and Ebony magazines, among others.