A Gay Man Discusses His Decision to Begin PrEP -- Part One
February 13, 2013
Len Tooley is an HIV-negative gay guy on pre-exposure prophylaxis who works in Toronto as a gay men's health promoter, HIV educator, tester and counsellor. In the first of three interviews about being on PrEP, he discusses his decision to go on it.
In July 2012,
the U.S. Food and Drug Administration (FDA)
approved
the use of Truvada (a fixed dose combination in one tablet of emtricitabine and tenofovir) to reduce the risk of HIV infection in uninfected individuals who are at high risk of HIV infection and who may engage in sexual activity with HIV-infected partners. This use of an anti-HIV drug to prevent infection is known as pre-exposure prophylaxis (PrEP).
PrEP is considered by most observers to be a major breakthrough in the war against HIV transmission. In Canada, however, there's no indication that we'll follow the American lead any time soon. Experts, and indeed many in the HIV community, argue about the desirability of doing so.
However, some Canadian physicians are already prescribing Truvada "off-label" as PrEP for some of their patients. Len Tooley is one patient of such a physician. He agreed to talk to PositiveLite.com about his decision to go on PrEP.
Advertisement
In this series of three interviews, Len and I talk about his decision to access PrEP, his experience starting to take PrEP and how he responds to critics of negative guys like him who decide that PrEP is right for them.
John McCullagh: Len, thanks for agreeing to talk with PositiveLite.com about your decision to go on PrEP. Before we get started, can you tell us a little bit about yourself?
Len Tooley: Sure, John. I'm a 31-year-old queer guy who lives, loves, cooks, cycles, and works in downtown Toronto. I also work professionally in the HIV sector as an HIV-negative guy. In that regard I work as the coordinator of community health promotion programming at CATIE, Canada's national HIV and Hepatitis C knowledge broker. At CATIE I coordinate a number of projects related to gay men's sexual health. In my spare time -- if you could call it that � I also work part-time as an HIV and STI tester and counsellor through Hassle Free Clinic, a sexual health clinic in downtown Toronto.
I mention what I do professionally because it's given me the opportunity to learn a huge amount about HIV and gay men's health that has really informed my decision to access PrEP. That being said, I should make it clear that I decided to do this interview with you as an individual telling my own story -- I'm not speaking on behalf of either organization but rather as someone who is affected by HIV.
John: Thank you for that clarification, Len. In that regard, I should also mention that I'm a member of CATIE's board of directors. So let's start with the obvious question: Why did you make the decision to go on PrEP?
Len: First and foremost, John, to prevent HIV infection. I have a tricky relationship with HIV. I know that given the proper treatment, medical care and social supports it has become a pretty manageable illness that doesn't have to drastically change someone's life. Of course, that's not at all to say that being HIV-positive is easy or without complications, but it is different from even a decade ago. By different I mean in terms of the treatments available and long-term health outcomes � especially if the infection is caught and treated early. So, while I know that getting HIV doesn't have to be the end of the world, I also know that it's probably easier and better for my body overall to stay HIV-negative.
As I mentioned, I'm a relatively young, sexually active queer guy who has sex with gay men. And I'm doing so in downtown Toronto, which has the highest prevalence of HIV among gay men of any urban centre in Canada � as high as 23% according to the best sources we have to date. To me this means that it's almost certain that I have had, and will have, sex with HIV-positive guys. As I've learned through providing HIV testing, and as more and more evidence is showing us, when you're having sex in an HIV epidemic almost everything you do sexually � even low risk activities like giving oral sex without a condom � has an added risk for HIV infection.
John: "Having sex in an epidemic". That's an interesting way of expressing the risk we gay guys run when we have sex. Can you talk a bit more about that?
Len: Sure. One of the main reasons I say that is because of the way we know HIV moves among men who have sex with men (MSM). Studies show that anywhere from 50-75% of new HIV infections among MSM in Canada every year are driven by people whose HIV infection is also recent (what we call early or acute HIV infection). That's because when someone is newly infected with HIV they're less likely to know about their status. At the same time, they have the highest levels of the HIV virus in their body fluids because their body has not yet developed any ability to control the virus at all.
So I know that even if the guy I'm having sex with says he's HIV negative, there's always a chance that he's not only positive, but that he also recently got HIV so he's very likely to pass it on as well. It's in these 'perfect storm' scenarios that lower-risk activities (which, we must remember, are not 'no risk' activities) are much more likely to enable HIV transmission. In other words I know that even if I'm having 'low-risk' sex, I'm more likely to get HIV than most people.
John: For almost thirty years now, most gay men have known that the most reliable way to prevent HIV transmission, even in an epidemic, is for us to wear condoms, at least when we have anal sex. So why did you decide to take PrEP too? Isn't this a little like wearing a belt and suspenders?
Len: Ha! To be honest with you, John, I'm not perfect -- even if I wish I was. And I have to admit, I haven't had perfect condom use throughout my life. I've managed to stay HIV-negative for quite a while, but this was partly a combination of "responsible" condom use and -- when "not-so-responsible" -- luck. Those moments when I had done something that I knew might put me at higher risk often led to a lot of anxiety. Not constant, overwhelming anxiety, but one that prevented me from feeling good (meaning, guilt free and shameless) about the awesome sex that I had had.
John: So taking PrEP would give you added protection from HIV on those occasions when you might find yourself in such a situation?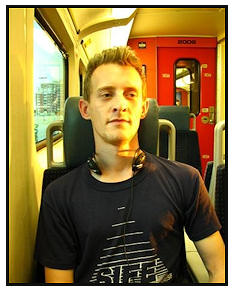 Len: Exactly. Working in the HIV sector I'm fortunate enough to be aware of the newest advancements and research going into HIV treatment and prevention. I'd been reading about PrEP and how, even if it's not a �guarantee,' it's been shown to be quite effective. But it hasn't been approved in Canada so it seemed like an impossible, or at least unlikely, tool. Early last November, during one of my more anxiety-filled days thinking about what I might have done since my last HIV test that might have exposed me (even though "I should know better"), I thought -- wouldn't it be great to have PrEP? And then I realized it was totally possible. That all I needed to do was to convince my doctor to prescribe me the drug. My confidence was bolstered by the fact that the U.S. FDA has already developed guidelines for prescribing PrEP to gay men. I read a really helpful resource by Project Inform that helped me make the decision too.
But beyond my own risk, there's another set of reasons for me to choose to access PrEP: the positive guys in my life that I have had, or will have, relationships and/or sex with. From doing testing and knowing a lot of positive guys, I know that for many of them passing HIV on to someone they're having sex with is something they want to avoid at all costs. Sometimes this leads them to only dating or having sex with other poz guys. For me, PrEP is a way that I can not only take responsibility for my own sexual health (and the sexual health of my community), but it's also something I can do to help reduce the fears and anxieties that some poz guys have around transmitting HIV to someone else.
I also understand that it can be really hard for some poz guys to disclose their status to negative guys, and I hope that my being on PrEP can make those guys feel more comfortable disclosing their status to me. I also hope to help create an opportunity for more honest and open dialogue about our safer sex decisions.
Next week, in part two of this interview, Len talks about the conversations he and his family doctor had about going on PrEP and his experience of actually taking Truvada as a way to help him stay HIV-negative.
This article was originally featured on PositiveLite.com.
More From This Resource Center
---
---
Comment by: stephen McCarthy
(Ireland) Wed., Mar. 20, 2013 at 3:31 pm UTC
Sounds interesting, I have a problem tho, I hope the gentleman researchs the long term effects of prep , if used long term.
Comment by: Tyler Grant
(Owensboro,KY) Tue., Mar. 19, 2013 at 9:36 pm UTC
I think he is smart and if it was there before now I would have done the same so I wouldn't be pos.....
Comment by: Posboy
(Columbus Ohio) Fri., Mar. 15, 2013 at 11:47 pm UTC
This is great, but like one of the other comments said this could make Hiv - not use condoms, just to plz a cute boy who does not like or use them. But on anther note it could be useful for those who understand the world we live in and date pos guys.
Comment by: Todd
(San Diego) Wed., Mar. 13, 2013 at 1:58 am UTC
I'm another who routinely used condoms and still tested positive, and guess what? I find this application deeply offensive. I can't help but wonder how many people are going to die for the improved sex lives of those who don't want to use condoms. God forbid we make rational decisions in our society, but this drug has placed the needs of those with HIV against the wants of those who don't like condoms, it has pitted an effective prevention strategy against one which has historically failed, and is still largely untested. That's a slap in the face. PrEP wouldn't have helped me, as I didn't think I was at risk. PrEP won't help MOST people who test positive. It will help the drug companies though. The idea that PrEP will "help disclosure" or eliminate stigma (as if disclosure weren't a result of stigma) is only the most recent in a series of incoherent hopes about what it will do. Let's just be honest, and admit that the only thing we know PrEP will do is jack up the prices of antiretrovirals, and keep them out of the hands of even more people who need them to live. These people would have otherwise been noninfectious. Please, don't tell me that by taking medicine from people who need it, they'll feel more comfortable disclosing to you as they waste away.
Comment by: Philip D.
(San Francisco, CA) Mon., Mar. 11, 2013 at 3:35 pm UTC
Very intriguing. I found Len's thought process ultra-sensible and his level of self-care, admirable; particularly as a young, gay man. It literally, warms my heart.
I had two regular FB's the year before I seroconverted; both of which, unknowingly had just been infected with HIV and presumably had very high viral loads. Although condoms were used, every time with both of them, we explored a variety of activities of questionable safety. I can't help but wonder whether I'd be HIV positive had this sort of thing been talked about and available in 2005.
Bravo to Len (and John) for sharing his decision, so publicly and with us.
Add Your Comment:
(Please note: Your name and comment will be public, and may even show up in
Internet search results. Be careful when providing personal information! Before
adding your comment, please
read TheBody.com's Comment Policy
.)