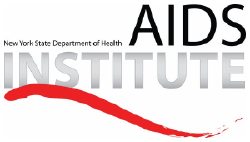 Image from the New York State Department of Health.
Last week we reported that the New York State budget is proposing cutting the State's Office of Public Health by $70 million dollars, and subsequently, a near $12 million dollar cut to the AIDS Institute.
This proposed cut to the AIDS institute is enormous, not only in terms of money but also in scope.
For 30 years, the AIDS Institute has spearheaded some of the state's greatest programs, services, and achievements in the AIDS pandemic, including massive reductions in transmission and tremendous wins in the prevention and education of HIV/AIDS.
Since 1983, the AIDS Institute has lead:
A 79% reduction of new AIDS cases from 1993-2010
A 82% reduction of AIDS-related deaths from 1994-2010
A reduction in mother-to-child HIV transmission from nearly 40% in 1990 to 0.7% in 2010
Integration STD services with HIV/AIDS services to serve clients of both programs and reduce overall transmission
Integration of Hep C treatment into primary care
Integration of Hep C screening in community clinics and sites
Facilitated the expansion of HIV testing to include people aged 13-64 years old
Reduced 2008 Medicaid costs by $4.2 million
Improved the health outcomes for more than 17,000 people living with HIV/AIDS and other chronic conditions in 2011
And this is just a cursory glance into the AIDS Institute's successes.
Housing Works, Harlem United, and Help/PSI invite everyone to sign onto our letter urging Governor Cuomo to reconsider these cuts and to save the live-saving services and programs housed within the AIDS Institute and the Office of Public Health at large.
Please read the letter in full below and then sign on to save the AIDS Institute by emailing Terri Smith-Caronia, Housing Works' vice president of New York advocacy and public policy at smith-caronia@housingworks.org.
Make your voices heard.
(Please note: Your name and comment will be public, and may even show up in
Internet search results. Be careful when providing personal information! Before
adding your comment, please
read TheBody.com's Comment Policy
.)