A Conversation With Elicia Gonzales, Executive Director of GALAEI and Co-Founder of PleasureRush!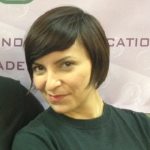 Elicia Gonzales
What if you were having a hot time with somebody new -- and a hard question about playing it safe came up? What if there were videos out there that brought up these questions via scenarios just like the ones happening in bedrooms and locker rooms all over the world -- without holding back a bit on the action?
From steamy online videos to hilariously fun, sexy parties to raise awareness within communities, Philadelphia's PleasureRush! program is committed to bringing sex-positive, pro-pleasure messages and activities back into HIV awareness, especially among LGBT communities of color.
"People have a right to have a healthy and pleasurable sex life, regardless of orientation, gender identity or HIV status," says Elicia Gonzales, executive director of the Gay and Lesbian Latino AIDS Education Initiative (GALAEI). She spoke with TheBody.com about the program -- and how other HIV service providers can incorporate a sex-positive outlook into their work.
Please Note: The videos embedded on each page of this article are sexually explicit in nature. Watch at your discretion!
Encounter 1: What would you do if you find yourself in a situation like this?



Tell us a bit about PleasureRush!: How did the idea for the campaign come about? What community needs were you responding to?
Going through school, I knew that I wanted to be a sex therapist. I thought I would be the next Dr. Ruth. I have a master's degree in human sexuality education and a master's in social work. When I got into the HIV field, I felt that my legacy, if you will, would be to "bring sexy back" to HIV prevention. Obviously, this was when Justin Timberlake's song was very popular. [laughs]
The driving force behind PleasureRush! has been the need to talk about sex within the world of HIV, where surprisingly it often doesn't get talked about enough. Prior to coming GALAEI I worked at the Mazzoni Center, where I made some attempts to have a sex-positive perspective by throwing an event in honor of National Masturbation Month -- which is in May, in case you didn't know -- promoting the notion that masturbation is literally the safest sex of all. And it was met with some mixed reviews -- in part, I believe because it was focused more so on female sexuality and female masturbation, and those two things are oftentimes incredibly neglected when it comes time to talking about HIV and HIV prevention. But for other folks it was seen very positively and a step in the right direction.
"Sex is something that can be both pleasurable and healthy."
When I came to GALAEI, I knew that I would have an opportunity to bring home this notion that sex is something that can be both pleasurable and healthy. At the time my "co-conspirator" if you will, Norman Medina, who was working at GALAEI at the time, he and I really started to brainstorm around what we could do to get this idea off the ground. And hence PleasureRush! was born. It's been in existence now for almost two years. May 2011 was our official launch.
PleasureRush! acknowledges the connection between pleasure and health. It supports an understanding that sex and sexuality are healthy, natural and an integral part of everyone's life. It's focused specifically on the LGBT community, and our claim is that people have a right to have a healthy and pleasurable sex life, regardless of orientation, gender identity or HIV status.
What are the components of the campaign?
To date there are primarily two components, but we are in process of turning this into a fully operational program. The first consists of our "What If" video series. The "What If" videos are created to entice people and engage them in dialogue around sexual scenarios that might happen to them. There is a series of seven videos that are now at our blog. They're considered pornographic in nature, so some of them have been flagged by YouTube and taken down. But we will just keep putting them up.
So each "What If" video asks, "What if you were in this situation?" -- where you are in the heat of the moment and you had a difficult decision to make. It could be around using a condom, disclosing your HIV status, whether or not to get an HIV test, whether or not to engage in quote-unquote "risky sex." But the point is that it's showing real-life scenarios that would really happen. And begging the question "what if?" That's one of the more established components of this project that are out in the world right now.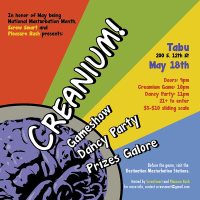 The other piece of it that we have done so far is engaging community. One of our primary goals is to bring conversations around sex and sexual health to the masses, if you will. So in May 2011 we had our kickoff event, which was the launch of the first video. This past May, we partnered with ScrewSmart, which is a sex-positive burlesque-type troupe in Philadelphia that's fantastic and amazing. We did a game event at a local bar based on the board game Cranium, but we called it "Creamium" and it was, again, in honor of Masturbation Month. It was hysterically fun sex education, and 110 percent sex positive . We invited community folks to come to this local bar that is very community focused, and we had a few vendors, and the highlight of the night was that random contestants got together and played this great game of Creamium -- asking questions about you know HIV, masturbation, favorite sexual positions -- but all very fun and silly and campy while also providing a sex-positive education message. There are pictures all over our Facebook, so you can look it up. We are going to do it again in May for Masturbation Month.
We also did an event on November 8 that was sort of a spinoff of the popular erotic novel Fifty Shades of Grey, as a kick off of Philadelphia Leather Pride Weekend. It was also all sex positive, with more of a focus on the kink community, as in the book. The focus was more on the queer community end, but talking about how people can explore different acts of sex and sexuality that don't necessarily involve more vanilla kinds of traditional sexual expressions.
We have a crazy fun time with the community celebrations. We got a ton of positive feedback. People are bored of just going to a bar and drinking and hanging out. They want a lot more interactive stuff to do, and we absolutely gave them that -- but in addition to that they learned all kinds of stuff that they might not have thought they needed to know, or known where to turn for, you know?
We probably also made some matches, because there were so many people getting pretty close to each other and playing the game that they would not have otherwise been talking to. So it turned in to a dating night too, I think.