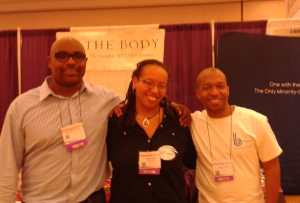 Jason and Reggie with Olivia, between their two companies' exhibit booths at the U.S. Conference on AIDS in 2012.
Olivia Ford: Can you tell us about some of your work in the HIV community? Have you partnered with any organizations other than VillageCare at the time of your launch? And what was that like? And also, have you partnered with organizations outside of New York? Do you travel? Is b condoms kind of a national deal?
Jason Panda: We actually get a lot more traction outside of New York than we do inside. I think part of it is that with New York, it's a little bit different, because we are a for-profit company, so we do have to sell condoms, as well. And in New York City they have a really big condom campaign. So I think it's a little bit more difficult to get integrated into some of the New York nonprofits.
But I can tell you, we supply condoms as far away as Guam, American Samoa and the U.S. Virgin Islands. We have a lot of traction in the state of Georgia. We've run numerous campaigns all across the country. We were the official condom for this year's BET Rap It Up tour. We had a campaign last year with the Kaiser Family Foundation and Greater Than AIDS, where we highlighted HIV/AIDS education amongst HBCU (historically black college and university) youth. We have a lot of traction in Miami, as well, where we're kind of built into the nightlife, as well as the community side.
We did a campaign a few years ago called She Carries, where we basically donated condoms to women's organizations that focused on HIV/AIDS all across the country. What we tried to do there was basically open up the discussion about relationships, and condom negotiation, and what are different techniques or ways that you can have that conversation within couples, and also amongst single women.
I know this past year on World AIDS Day we actually had a big event in New York City where we brought Chef Roblé -- he has a show on Bravo; we had Solange Knowles there; we had Stevie Boi, who is like a high-end fashion eyewear designer. What we did there was we tried to get celebrities to kind of leverage their platform to increase the reach of HIV/AIDS awareness around World AIDS Day.
Reggie Thornton: We literally have a board here at headquarters, where we list what we call a Condom Coalition. It's really just people from all facets of our culture, from celebrities to nonprofit workers; and we really truly are trying to build a common coalition of like-minded people that are aboard on this mission -- which is safe sex.
Mathew Rodriguez: Can you describe for the readers the difference between the two wings of your company -- you have for-profit and nonprofit sides to b condoms -- and how they operate together, and what each does?
Advertisement
Jason Panda: We are a for-profit company. We do still have to sell condoms to keep the doors open. Right now we're still small. We're not nearly at the scale that we plan to be. So what we've been able to do is, whether it's small donations of condoms or meals or something like that to smaller organizations, what we want to do is use some of our condom sales to support grassroots movements. On a larger scale, when we think about how we can leverage the condom sales to support what we think our contribution can be on the community level: That was kind of the only way that we've seen doing it.
When you look at some of our different campaigns, a lot of these things we're paying for out of the condom side; but we realize that it's necessary to get a larger microphone to reach a lot more people.
The same is true as we look at how do we scale this up: It's leveraging condom sales to build community focus and awareness around not only HIV/AIDS, but other STDs (sexually transmitted diseases), as well, and how they impact communities of color.
Reggie Thornton: Earlier this summer, we launched our relationship with Whole Foods. The great example for what we're doing there is, for every condom purchased out of Whole Foods in the Boston area, for instance, we donate another condom back to a local nonprofit. So in Boston's case, it was Fenway Health. So it's really a great opportunity for retailers to connect to their own local communities.
"Where a lot of people look at giving back internationally, we see there's a fight going on right in our backyards." -- Jason Panda
Jason Panda: I think that's what is also different between us and others: Where a lot of people look at giving back internationally, we see there's a fight going on right in our backyards. It's really important for us to come together and support each other, and still be able to make a difference where we live.
Olivia Ford: Switching gears a little bit, inquiring minds want to know: When you say "vegan-friendly condoms," what do you mean? What does that indicate, exactly?
Mathew Rodriguez: We want to know if regular condoms have meat in them. [laughs]
Jason Panda: Now, you would have to wholesale! [laughs] But, no. What vegan-friendly means -- and it's funny, because it isn't something that we actually searched out to become. When we first started the company, we realized that there were two bigger issues that we had to overcome in the condom category. One was that a lot of women, as well as men that have sex with men, complain about drying out -- that condoms don't stay lubed up, or wet, long enough.
A second issue that we came across was that a lot of the guys in the community say that the Magnum large-sized condoms are too thick; you can't really get the sensation of a feeling when you use them. So what we sought out to do with b condoms was to develop a condom that would have a higher quality lubricant, that would allow people to have extended sex sessions and still be able to maintain their fluidity, and that would compete against Magnum by being thinner in its latex, and allowing people to have a better sensation for longer periods of time, as well.
So, in sitting with the manufacturer and working to overcome those two issues, one of the things that we found was that, in the process between when they take the material from the rubber tree, kind of where condoms start off, to when it's processed with additives, some of the things that they ended up taking out were the animal byproducts. It was interesting because, as a result, we realized, wow; we're now vegan friendly! That was something that we could now put into our own brochures and put out to the community, that kind of adds a product differentiator -- which is really important because we were still able to maintain the strength, the quality, and basically the guarantee that we are the best product on the market, while still being able to take out some of the additives that we didn't feel were necessary.
Reggie Thornton: Not only was it just the vegan-friendly portion, but the social responsibility as well. I think there's a misconception a lot of times, in urban communities, that somehow there isn't as much care and concern about the quality of product that we use. And that's just not the case. At the end of the day, whatever response the "vegan friendly" label triggers, they appreciate the care and the quality of product that we're trying to bring to the marketplace.
Jason Panda: That's part of the reason why it was also a natural fit between us and Whole Foods, where we are carried, in that we do consider ourselves a premium product, because we do invest on the manufacturing side, as well as the packaging side. We try to create an affordable luxury. Because we do want it to be affordable, but we do want people to get a better experience using a b condom, as opposed to another condom on the market.
Reggie Thornton: And it really goes back to kind of what we talked about earlier with that ambition. I mean, that's the thing. We're trying to change the optics in which people view their condom company. It doesn't have to be just equipment. It can be a true and authentic connection, not only with the product itself and them, personally, but also collectively as a whole, in terms of the community.
Mathew Rodriguez: Switching gears again, one of the great hurdles that people are talking about in the HIV community is getting the involvement of heterosexual black men in HIV work, and in HIV prevention. I was wondering what your take is on the barriers that are in place towards getting straight black men more involved in talking about HIV and in HIV prevention, in their home lives and in the community, at large; and what do you think it's going to take to overcome those barriers?
"[W]hether you're straight, whether you're gay, whether you're a male, whether you're a female -- if you're a person of color, whether Latino or African American, the probability of you being impacted by HIV/AIDS is going to be a lot higher, just by virtue of who you are." -- Jason Panda
Jason Panda: I think the fault for a lot of the barriers specifically falls on funding. Also, being able to overcome a lot of the preconceived notions -- not only within the community, but within the broader public. I do think that it's becoming more of a discussion now. Because one of the things that's happening is seeing a lot of women and gay men being the most impacted. I think initially people tried to blame it on black gay or bisexual men for directly impacting the HIV/AIDS rate in black women -- not to necessarily say that there are no "down-low" men, or whatever; but that's not the direct correlation to why the HIV/AIDS incidences amongst black women are so high.
As a result of that, we now find that, well, if it's not gay and bisexual men and it's obviously not women only, there's a whole population of men that haven't traditionally been tested for HIV. Part of that may be because if you look historically at how funding was directed within the HIV/AIDS space, it started out primarily amongst white gay and bisexual men, and then it kind of transitioned from there to gay and bisexual men of color.
Going specifically to how we bring in more heterosexual men? Part of it is kind of taking the taboo away from talking about HIV, and opening the discussion.
We work a lot with Iris House in New York and in New Jersey. And you know, they have the "Keep It 100" campaign to involve young heterosexual black men in HIV prevention. They've been really successful in opening up the conversation.
You know, I think the essence of it is: We need to realize that whether you're straight, whether you're gay, whether you're a male, whether you're a female -- if you're a person of color, whether Latino or African American, the probability of you being impacted by HIV/AIDS is going to be a lot higher, just by virtue of who you are.
I would necessarily try to find a way to kind of bridge different communities and open up the discussion; and also realize that people aren't necessarily trying to demonize, or say one community is better than the other, but, I think we just have to have more open and honest discussions and try to found how do we move together as a community.