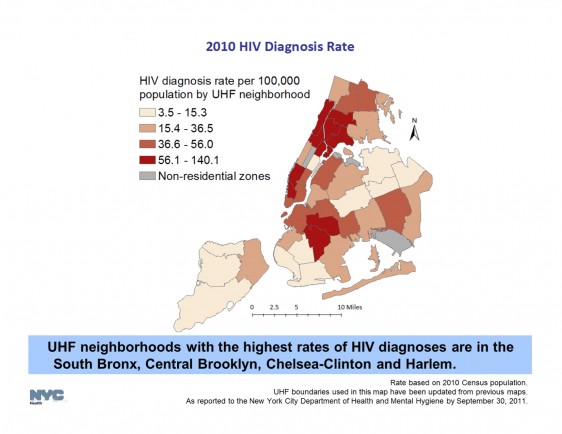 Image from nyc.gov.
While the $10 million dollar cut to the AIDS Institute, the $1.1 billion cut to Medicaid funding, and the changes to NYC's HASA policies scheduled for FY14 aren't even activated yet, New Yorkers living with HIV/AIDS and AIDS service organizations are already feeling the pinch from last year's funding cuts.
HEAT/FACES, a cluster of HIV/AIDS clinics throughout Brooklyn and which have been operating for over 20 years, were notified late last year that the Health Resources and Service Administration (HRSA) would not be renewing the Part-D Program of the Ryan White Care Act, resulting in a $2.1 million dollar loss for the entire borough. For HEAT/FACES, which serves roughly 1,100 people living with HIV/AIDS in Brooklyn, this loss of funding resulted in a $1.7 million dollar cut and laying off 20 staff members, including nurses, case managers, and a doctor.
Advertisement
Similarly, across town in Bed-Sty, the Family Center of Brooklyn who serves people living with HIV/AIDS, also lost its Part-D funding last year, which resulted in the cessation of some of its HIV/AIDS programming as well as staff layoffs.
It doesn't take a genius to know that any reduction in staffing will present challenges in providing HIV/AIDS testing, HIV/AIDS counseling, and getting tests results to people in waiting. Put simply, this reduction in funding greatly affects the borough's ability to fight and treat HIV/AIDS in their neighborhoods.
And it is no mistake to focus on the needs of people living with HIV/AIDS and CBOs in Brooklyn.
Just two years ago, Brooklyn had the highest percent of new HIV diagnoses among the five boroughs, with 495 people being diagnosed. Additionally, according to the DOHMH, over 27,000 Brooklyn residents are currently living with HIV/AIDS, though the "true infection" rate is likely to be higher since at least 1 in 5 people are infected but don't their status. (To put this in perspective, Manhattan is estimated to have more than 33,000 people living with HIV/AIDS).
And, mirroring national infection patterns, HIV/AIDS diagnoses in Brooklyn occur most frequently among black and Hispanic populations. Data show 93% of new female diagnoses in Brooklyn were black or Hispanic women, and young MSM of color have also been hit particularly hard in Brooklyn. As Dr. Jeffrey Birnbuam, Executive Director of FACES/HEAT notes, "Kings County continues to be an HIV/AIDS epicenter for African-Americans, women, and children."
Stay tuned for further updates on NYC and NYS HIV/AIDS funding.