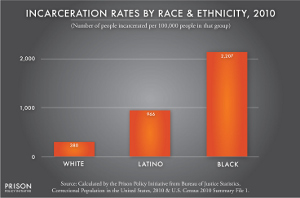 Image from prisonpolicy.org. Click image to enlarge.
Today is National Black HIV/AIDS Awareness Day, an initiative spearheaded by five organizations and the CDC to raise awareness and education about the exacerbated rates of HIV/AIDS infections among African-Americans.
And this is a much-needed effort. Although African-Americans make up 14% of the US population, they make up nearly half of all new HIV infections per year (44%). According to the latest CDC figures, the HIV infection rate of black men is more than 6 times higher than white men, and the infection rates of black women were estimated as high as 15 times higher than the rate for white women. What's more, black MSM represented nearly 75% of all new infections among black men, and nearly 40% among all MSM. And finally, young black MSM continues to be one of the few populations groups whose yearly infection rates rise annually.
One of the major prevention challenges that contribute to the higher rates of HIV/AIDS infection among African American populations is the high -- speciously high, in fact -- rates of incarceration among black men, women, and youth. According to the Pew Center, black men ages 20-34 have the highest incarceration rates among any other population in the United States, and black women aged 35-39 also have astronomically higher incarceration rates than white women and Latina women.
Incarceration stymies HIV/AIDS treatment, education, and prevention efforts because correctional facilities often lack the resources and medical tools to implement clear testing and prevention programs, as well as providing links to mental and physical care due to the restrictions based on their imprisonment. In other words, prisoners are not likely to be able to access AIDS service organizations or expert case managers while incarcerated, leaving them to facility workers who do not specialize in HIV/AIDS care and treatment.
What's more, people living with HIV/AIDS recently released from incarceration face seemingly insurmountable challenges. This time is often "characterized by limited access to medical care, interruption of antiretroviral therapy, poor virological and immunological outcomes, and behaviors that can transmit HIV infection. Studies show that as many as half of HIV-positive inmates leave prison or jail with no place to call home and no income to meet basic subsistence needs."
To further understand the needs of those living with HIV/AIDS and with histories of incarceration, Housing Works teamed up with the National Minority AIDS council to release the report, "Mass Incarceration, Housing Instability and HIV/AIDS: Research Findings and Policy Recommendations." The report examines the intersection between incarceration, homelessness and HIV vulnerability within the African American community, as well as the social disparities that drive the AIDS pandemic including poverty, institutionalized racism, health care access, and financial disparities.
Released yesterday, this report sheds some much needed light on how communities of color continue to be affected by HIV/AIDS.
Read it now and please share it with your networks, not only today, but for all people living with and affected by HIV/AIDS.