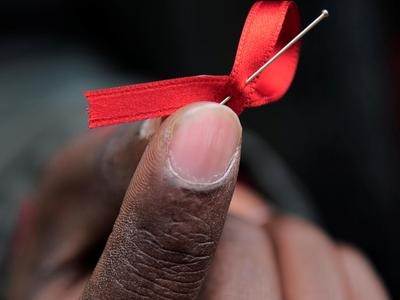 Black HIV/AIDS Awareness day is everyday. Credits: mfeast.blogspot.com.
National Black HIV/AIDS Awareness Day is upon us again. We have some ups and downs to reflect on when it comes to infection rates. For example, the infection rates among Black women nationally dropped between 2008 and 2010. That's pretty promising. But among Black women in DC, the infection rates are still high. Young Black gay men still have the highest infection rates among homosexual men, even though studies have shown that they are no more promiscuous than other gay men. And heterosexual Black men remain absent from the conversation. In short, we still have a lot of work to do to get to the core of this issue. There are a myriad of items to consider when it comes to AIDS in the Black community. I would like to highlight eight of them.
1. Personal Responsibility is of the utmost importance. Barring violence or intimidation you are responsible for your own health. There are many underlying reasons why HIV is so prevalent among African-Americans (click here to read some) but the bottom line is you don't have to get it. Protect yourself. Protect your partner.
2. Getting tested isn't the worse thing in the world. The Center for Disease Control estimates that 32 percent of Blacks were diagnosed with AIDS within one year of testing positive for HIV. That typically means that they were tested late. Do not fear the test. It's hard at first but you are worth it.
Advertisement
3. This is still not a gay disease. Far too many times when heterosexuals are diagnosed with HIV they look at their sexual partners to try and figure out who could have been gay. It is quite possible that none of your prior sex partners were gay. They may have just been irresponsible at some point.
4.Your medications and medical care are critical to your health. African-Americans have been found to be more likely to stop HIV treatment and fall out of care. It's understandable why people would avoid follow up visits to the doctor or skip medications after their initial diagnosis. Who wants a constant reminder that they have a disease? But consider the consequences of not following through. Medications suppress the virus in your system, which keeps you healthy and makes you less contagious. As worrisome as it may be, sticking with your medical routine is your best defense after diagnosis.
5. There is no cure. Hey Conspiracy Theorists!! Take a parade rest. As Dr. Lisa Fitzpatrick discovered in the PBS special Endgame, which aired this past summer, there is a small fraction of African-Americans who believe 'theories' that aren't supported by facts. Misinformation and rumors hurt us in so many ways. Please do the research. There have been many wonderful advances over the past three years and a cure is no longer a dream. But it's certainly not a hidden reality.
6. Domestic violence and poverty puts you at risk. I know it's hard to see the connection but they are most assuredly linked together. Think about a woman who is in an abusive situation or a gay young person who is forced to live in the street. They may have to resort to survival sex to stay alive. Being broke, lonely, scared, and/or homeless can make a person very vulnerable.
7. Harm Reduction matters. One of the most effective ways to lower the rates of infection in a region is to sanction and fund needle exchange. Delegate Eleanor Holmes Norton has been fighting for needle exchange for years because it works. No, clean needles will not stop a drug addict from shooting up. That is for him/her to decide. But if they are using needles to get high and still engaging in sexual activity, we need them to be as safe as possible.
8. Being a part of the conversation is how you beat HIV. Whether it's volunteering for a non-profit, supporting a rally, or participating in a vaccine trial, step up and make your voice heard. African-Americans need to be in the conversations about treatment, services, disparities, advocacy, stigma, policy-making and the cure. We need hetero and homosexuals to step up and demand that this disease be taken seriously in the African-American community. If we don't speak up for ourselves, why should anyone else?
This problem won't go away overnight. It won't fade away just because we have struggles with the national budget. And we can't just bury our heads until it moves on. In order to beat HIV among African-Americans, we must remain proactive. It worked for the Black community during the civil rights movement. It can work again in 2013. It's gonna take a collective, steadfast effort to overcome this adversary. We can and will prevail.
Read Candace's blog D.C. HIV/AIDS Examiner.