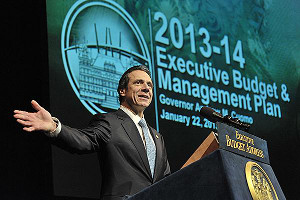 Image from blog.tstc.org.
Last week, Governor Cuomo released his FY2013-2014 Executive Budget, proposing key changes, funding reductions, and consolidations that may impact the delivery of services and quality of care for the homeless and those living with HIV/AIDS and other chronic conditions. While this proposed budget is certainly a first pass, with some bargaining and give and take between the Governor and the NY legislature almost guaranteed, these items especially caught our eye.
To start with, the budget proposes a $1.6 million cut to the Homeless Housing Prevention Services Program (HHPSP), which funds: 1) the New York State Supportive Housing Program (NYSSHP); 2) the Solutions to End Homelessness Program (STEHP); and 3) the Operational Support for AIDS Housing Program. Last year, the final budget funded HHPSP at $30.3 million, and recent projections state that a total of $28.7 million for FY13-14 is simply not enough to fully fund all three programs.
Advertisement
While this is disappointing news, the FY13-14 proposed budget includes a new "House NY" program that seeks to revitalize/maintain over 14,000 affording housing units across NY, as well as create over 5,000 affordable housing units across the State. This promising budget initiative would utilize community development programs and organizations to help maintain and build the State's affordable housing infrastructure. While the proposed "House NY" program details are a little hazy, the proposed budget projects using $1 billion investment to aid the project.
In terms of homelessness and HIV/AIDS services, there is still a lot to be determined. For instance, while the budget proposes 4,000 additional beds for individuals in adult homes and 3,400 beds for NYC's homeless housing program, the budget doesn't detail specific funding numbers that the Office of Mental Health (OMH) -- which runs these programs -- would receive.
Similarly, the proposed budget also does not name how much the Department of Health/AIDS Institute are slated to receive in funding for FY13-14. This lack of disclosure is concerning and we can only hope this is a short term oversight instead of a purposeful omission.
Finally, the proposed budget earmarks $91 for the Medicaid Redesign's Supportive Housing Fund, as well as $15 million to further develop the Health Home infrastructure, which have been found to increase the quality and quantity of supports for people living with HIV/AIDS.
Overall, compared to last year, the FY13-14 budget caps out at $136.4 billion, increases State's spending by nearly 2%, and surprisingly, doesn't include any new taxes.
Stay tuned for more updates on the NY executive budget and the proposed funding for the state's most marginalized.