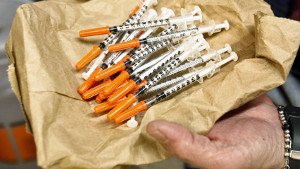 Image from cbc.ca.
According to recent stats, there are at least 211 syringe exchange programs operating one or more sites in the United States. These programs can be found in 32 states and 173 cities, yet the country's second-most populated state, which has an estimated 26,059,203 residents, doesn't have a single syringe exchange program. What's more, this same state ranks 4th for having the highest cumulative AIDS diagnoses in the country, and 7% of all new HIV diagnoses are the result of sharing needles.
Can you guess the state?
Well if I told you it were Texas, you might be quick to insert a quip about Texans, the South, or its recent petition to secede from the United States and start its own government.
Advertisement
But thanks to the steadfast efforts of Texas State Senator Bob Deuell, a Republican, (yes, you read that right), Texas may soon join the ranks of states with syringe exchange programs if he has anything to say about it.
The momentum for a syringe exchange program in Texas has been building for at least a decade now, but both times the bill was introduced into the State legislature (first in 2003 and again in 2005), all Republicans voted rejected the bill, while all Democrats supported the bill. And back then, Deuell voted with his party, rejecting the bill out of the belief that these programs would encourage drug use.
But then, Duell was introduced to facts and logic that showed, among other things, that syringe exchange programs do not increase drug use, stop the spread of HIV/AIDS, and can save many lives. According to Deuell's legislative director Scott Kirby, Deuell has done a complete about-face on the issue. "He even told Republicans that they should take opposition to syringe exchange out of their party platform because it saves lives and doesn't do any damage."
And since 2007, Deuell has fought for the passage of SB 308, becoming the bill's sponsor and continuing to breath live into it even after being defeated again in 2007 and 2009.
While the battle for a syringe exchange program in Texas continues, Kirby assures us that Deuell is prepared for the fight.
Let's hope Texas gets syringe exchange programs sooner rather than later.