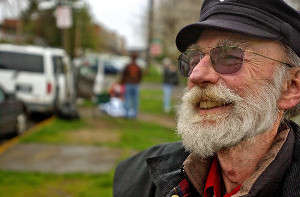 Image from thenewstribune.com.
Last week we were dismayed to hear that syringe exchange pioneer Dave Purchase had died at age 73. While he will be certainly missed, his contributions to AIDS advocacy and the harm reduction field will endure.
Over twenty years ago, when he was edging on his fifties and the AIDS pandemic was at its peak, Dave began handing out clean needles in exchange for dirty ones in downtown Tacoma, WA. Because syringe exchange programs were unheard of in the 80s and drug use was even more criminalized, Dave used his own money to purchase the clean syringes, fully understanding that he could go to jail for 90 days for possessing "drug paraphernalia," a misdemeanor in Washington. Soon thereafter, Dave and his supply of clean needles quickly became a street corner institution, and within five months, he had exchanged 13,000 needles to drug users, the homeless, people living with HIV/AIDS, and those most at risk.
Advertisement
Dave and his newfangled syringe exchange program soon garnered support from the Tacoma community and county health department, and within years, he founded both the Point Defiance AIDS Project as well as the
North American Syringe Exchange Network
(NASEN).
In 1993, Dave also helped form the Harm Reduction Coalition (HRC). Allan Clear, Executive Director of HRC and who knew Dave for over twenty years, said, "When we talk about harm reduction, we are talking about a whole movement, and Dave completely changed the course of harm reduction history in this country."
Clear remembers Dave as working on behalf of the most marginalized, even when the societal and cultural tides were against him. "Whether you exchanged fifty needles a year or five-thousand needles a year, Dave would always be ready to help."
And he will certainly be remembered for his dedication, bravery, and belief in always doing the right thing.
As Joyce Rivera, founder and Executive Director of St. Ann's Corner of Harm Reduction said, "Dave broke the national and local silence regarding injection-related HIV/AIDS by providing syringe access to friends, neighbors and the local injectors of Tacoma, Washington. Dave was a caring and strong-willed leader who knew right from wrong and had the gravitas to depart from the well-worn path of the herd."
As reported by the New York Times, Dave is survived by his sister and a daughter, three stepchildren, and three step-grandchildren.