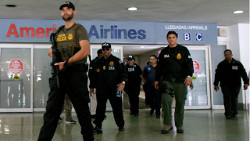 Image from abcnews.go.com.
As the United States wraps up its inaugural events—ceremonial swearing in, speech, luncheon, speech, concert, speech, parade, speech, Commander in Chief's Ball, speech, and Inaugural Ball—Puerto Rico also recently wrapped up the inauguration of many of its own new leaders.
And, like the United States, Puerto Rico is also tackling the issues of drug use among its residents. However, as Colorado and Washington state recently legalized marijuana use and 14 other states continue to decriminalize it, Puerto Rico has taken the opposite approach, ramping up the criminalization of drug use in the territory.
Thanks to Puerto Rico's new Governor Alejandro Garcia Padilla, the National Guard will now be an integral part to the region's "war on drugs." Stationing National Guard troops at seaports and airports, Padilla claims that these new troops will help stem drug trafficking into the United States.
But as Padilla aims to stem millions of dollars worth of drug trafficking, his policies will also likely result in an increased vigilance to criminalizing drug use in Puerto Rico. And as s CAIM's Executive Director Rafael ("Rafi") Torruella knows all too well, criminalizing drug use is far cry from truly helping those that live on the margins in Puerto Rico, including drug users and people living with HIV/AIDS.
Advertisement
"The biggest problem in Puerto Rico is the criminalization of drug use. We need to begin by integrating a voice into the conversation that considers the dimensions of class, race and gender inequality, violence, lack of access to opportunities. We have to consider the rates of HIV and other disease as we seek alternatives to the drug decriminalization in Puerto Rico," he said.
And Rafi's call for decriminalization in Puerto Rico has caught on. Rafi has been featured in a number of Puerto Rico's newspapers, calling for a more balanced approach that considers how best to offer services and programs for drug users, as well as ways to stem the spread of HIV/AIDS and Hep C. CAIM's work -- which exchanges over 100,000 needles per year across 11 municipalities—stresses that any Strategic Drug Policy plan in Puerto Rico must balance vigilance with drug decriminalization, harm reduction and prevention and education practices.
We will continue to update as events unfold in Puerto Rico.
For more on CAIM's call for a strategic drug policy plan, read Rafi's interviews (both are in Spanish) in El Nuevo Dia and Noticel.
You can also view a press release about Governor Padilla's use of the National Guard in Puerto Rico (in Spanish) here.