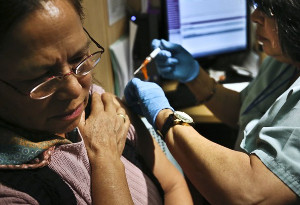 Image from kfor.com.
Guest blog post from Housing Works' CEO and President Charles King
Dear Housing Works Clients and Staff,
Advertisement
On Saturday,
Governor Andrew Cuomo declared a flu emergency
in New York State. This is in response to
epidemic levels of flu
across the nation in the last two weeks. While the flu is largely an inconvenience for most of us, it is potentially fatal for people with weak immune systems, including people with AIDS and other immune-compromising conditions, young children and older adults. This makes it imperative that we take every precaution to prevent the flu virus from spreading.
The most important thing you can do to prevent the flu, if you haven't done so already, is to get vaccinated.
Every one of Housing Works' clinics has the flu vaccine available, and staff will vaccinate you on a walk-in basis. Even if you do not have insurance that Housing Works can accept, we will give you the vaccine. By getting the vaccine, you will not only be protecting yourself, you will also be protecting everyone around you.
The flu vaccine is not 100% effective, but even if you get the flu, the vaccine can make it less incapacitating.
A second step you can take is to frequently wash your hands with either soap and water or an anti-bacterial cleanser, which is availalble at all of our locations. Remember, the flu virus can be transmitted by shaking hands with someone who has the flu, or even touching door a door knob that has been touched by someone with the flu virus on his or her hand.
If you are coughing or sneezing, cover your mouth and nose with the inside of your elbow, not your hand. And avoid shaking hands with others. If you have a fever or other serious flu symptoms, you should stay at home and call your medical provider rather than exposing others.
Please protect yourself and those around you during this flu season. As a healing community, we are here to take care of each other.
Learn more about how the flu can impact people living with HIV/AIDS, vaccination options, and ways to protect yourself.