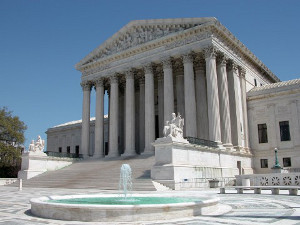 Image from www.breitbart.com.
Last Friday, the US Supreme Court announced that they will take on a case to determine the "free speech" rights of HIV/AIDS groups. The case, U.S. Agency for International Development et al v. Alliance for Open Society International Inc. et al, will ultimately decide if groups that receive funding for HIV/AIDS prevention and education overseas will also have to publicly oppose prostitution and sex trafficking.
The pith of the case boils down to the funding requirements listed in the U.S. Leadership Against HIV/AIDS, Tuberculosis, and Malaria Act of 2003. The document states, "Prostitution and other sexual victimization [sic] are degrading to women and children and it should be the policy of the United States to eradicate such practices." Any U.S. group or organization that does not reinforce opposition to prostitution or sex trafficking will not be eligible for funding.
Advertisement
But thankfully, many organizations are challenging this ultimatum. The Open Society, for example, argues that Congress cannot make funding contingent on the surrender First Amendment free speech rights. Additionally, groups also argue that any public adaptation of anti-prostitution measures might seriously impede their ability to conduct outreach and provide services to sex workers if they feel they will be turned away or arrested.
And they are absolutely right in challenging these funding stipulations.
For one, the U.S.'s characterization of prostitution as "degrading" erroneously assumes prostitution is a monolithic act or experience. But as people living with HIV/AIDS, those who have been incarcerated, and those who have -- and continue to -- live on the margins know, prostitution, or sex work, is imbued with questions of race, class, gender, and above all, access and survival.
Some women and some men exchange sex for food. Some may exchange sex for HIV/AIDS medications, shelter, clothes, and yes -- money, in order to survive. And as WNYC just reported yesterday morning, some men and women engage in sex work because a previous criminal record or complaint has completely shut them out from obtaining gainful employment.
As such, we should be wary of any policy that opposes prostitution when it does not also consider the ways in which the poor are made poor; people do or do not have access to health care; people do or do not have access to HIV/AIDS education and services; people are or are not able to find housing; and how the local government does or does not help find solutions, alternatives, or treatments for folks who are surviving on the margins.
Put simply, we cannot turn our backs on those who are at the most risk of HIV/AIDS because of a monolithic moral argument that fails to consider the driving forces behind sex work.
Secondly, I think it is important to note that most, if not all -- HIV/AIDS organizations would oppose sex trafficking. Indeed, consider the United Nations' definition of human trafficking: "an act of recruiting, transporting, transferring, harboring or receiving a person through a use of force, coercion or other means, for the purpose of exploiting them. Exploitation shall include, at a minimum, the exploitation of the prostitution of others or other forms of sexual exploitation, forced labor or services, slavery or practices similar to slavery, servitude or the removal of organs."
Certainly, as HIV/AIDS advocates we are also human rights advocates, and we must always oppose the exploitation of people whenever and however it occurs.
But to oppose a problem is far from finding a solution for a problem.
While we can oppose sex trafficking, it won't solve how trafficking exists in underground economies, the continued commodification of bodies, or the spread of HIV/AIDS.
International HIV/AIDS prevention and education policies and programs should advocate for the HIV/AIDS education and prevention of all -- drug users, sex workers, and those entrapped in trafficking -- not alienate those who most need to access HIV/AIDS services, programs, and referrals by opposition.