An Ever Increasing Array of Gadgets and Widgets Is Changing the Doctor-Patient Relationship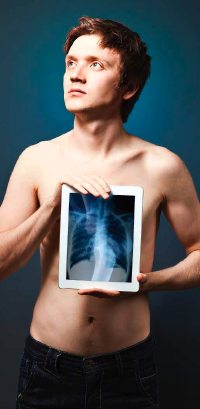 Photo: iStockphoto.com/Erik Khalitov.
As technology advances and becomes more common in our lives, it is transforming modern medicine. From diagnostic equipment to increasingly accessible health care records, technological advances are providing new tools for researchers, medical providers, and patients. Instead of being confined to the office visit, patients now have the option of using electronic health (eHealth) resources to address their health needs through technology. Email, smartphones, tablets, and other devices are changing the face of health care. How has this transformation changed the patient-doctor relationship and the face of HIV/AIDS patient care -- and how will that impact be felt in years to come?
eHealth
Just like other people living with ongoing health care challenges, people living with HIV and AIDS can benefit from the use of eHealth resources. Computer software and mobile apps can help them keep track of symptoms, medications, and appointments. Patients can even create reports to take to their appointments or email directly to their health care providers. Education is a key component of living well with a chronic disease, and many eHealth applications have an easily used education component built into them. When this is combined with accessing personal health records online, patients can have a much better understanding of their health and the different ways they can live successfully with HIV.
An example of easy-to-use online tools comes from the largest single health care provider for HIV-positive people in the U.S., the Veterans Administration (VA). As of 2009, the VA estimated that at least one in every 250 veterans receiving health care from the VA was HIV-positive. The VA has a number of online resources for their HIV-positive patients. Among them is the Drug Dosing Toolkit, a website that provides information on commonly used HIV medications, dosage schedules, and potential side effects. The site also offers information on how to get tested, treatment options, understanding lab tests, alternative therapies, and other aspects of daily living with HIV.
VA patients benefit from a nationally integrated electronic health record (EHR) system. Dr. Pandora Lucrezia ("Luke") Wander, currently a postdoctoral research fellow at the University of Washington, finds this very useful. "The VA connects across the nation. This is super helpful! I was working with a patient the other day and looking at what he had told the nurse in triage. I was thinking about what could cause his symptoms. I noticed that he had records in other places. It turns out he's HIV-positive. I could access all of his information -- CD4 count, viral load -- in the EHR system. That put his symptoms into a different perspective," said Wander.
In addition, the VA offers the Blue Button program as part of its "My HealtheVet" services. Blue Button allows patients to view electronic health information and save, print, or download it. There are three free account types for patients which offer different levels of information and functionality. The Premium account, which requires authentication of the patient's identity before access, allows a patient to participate in secure messaging with their health care team and access to a wide range of personal health information. Patients can get chemistry and hematology lab results and information on appointments, including reminders. By using Blue Button, patients can have a greater level of participation in their health care management.
Advertisement
Technological Solutions for HIV/AIDS Global Health Care
Across the United States, eHealth has changed systems and, just like HIV, it has changed the face of health care across the globe. The South American nation of Peru provides an excellent example of technology working with a national health care system to ensure better patient support. A website offering access to 220 peer-reviewed science, technical, and medical journals, BioMedCentral.com, published an article from 2009, "Medical Informatics and Decision Making," by Patricia J. Garcia et al., describing how the development of a secure data system has helped care providers track treatment efficacy across the nation. With 76,000 people living with HIV in Peru as of 2007, researchers created NETLAB to track lab results, medication use, and other health information.
The system has a registration component that tracks data from sample acquisition to test results, a reporting component where results are reported to users, and an educational component. Each sample is tracked using a barcode that moves with it throughout the process. Patient information is similarly tracked with an identification code. NETLAB is fairly sophisticated and can detect duplicate data or data that should have been included but wasn't. It can even contact the health care provider, medical center, or lab that sent the sample to get the correct patient information. Before results are given to the patient, they are verified by lab personnel.
Users can access NETLAB over the Internet. All results can be accessed regardless of where the test was taken and providers can easily look at the historical data for patients in the system. Results are presented through text and simple graphs that show the results over time. The educational component is available to anyone on the main screen, prior to entering the secure database through username and password entry. This part of NETLAB explains CD4 cells, CD4 counts, and viral loads through text and graphics. It also includes links to resource pages. NETLAB has been designed to be useful for both patients and physicians. Providers and other health care personnel can access the latest information on HIV/AIDS clinical care, research, and primary literature through scientific journals, as well as patient data. Because of its attention to detail and commitment to responding to user feedback, NETLAB seems a good example of how technology can meet the health care needs of a specific population on both sides of the clinic desk.
Technology and Health Education -- Benefits and Challenges
The way that technology affects patients and doctors is in part an individual experience. Dr. Wander has generally found patient use of online health information helpful in her hospital practice. "There was this concern that people would read things online and misconstrue them," she said. "That's not been my experience. People don't necessarily believe what's on the Internet. They come with more thoughtful and educated questions," she explained. "In general when people are more informed about their health, they can participate more in their care."
Technology can help patients take a step to become more empowered in their health care. With the increasing use of smartphones, many patients have instant Internet access at almost all times. While apps, gadgets, and websites are appealing to tech-savvy folks, the balance of benefit versus cost remains uncertain. Online information is only useful if it's understandable. Dr. Perry Halkitis, Professor of Applied Psychology, Public Health, and Medicine at NYU Steinhardt, sees health literacy as a central challenge. "Is technology really solving the problem or only providing the information in a different way?" Halkitis wondered. "Is it being tailored to be meaningful to people?"
The more a patient understands about their own health care, the better chance they have of being healthy. While physicians provide key support in the health care needs of their patients, many of those needs must be met outside of the clinic within the context of the patient's daily life. Many patients rely on the support of family members, partners, friends, coworkers, and other community members. Their lives are played out at their homes, in their workplace or school, in their churches, or at communal gathering places. The physician is only one piece of this puzzle. As eHealth resources become more available, patients can participate more in their own health care on a deeper level.
If patients have the resources, they can become well educated about their illness or possible treatments through the Internet. They can research options and learn about viable health care choices even before they see their doctor. Patients can now send their doctors and care providers questions via email. They can use software and smartphone applications to set up medication and appointment reminders for themselves and record important symptom and health information for their providers. It's important to remember, however, that these options only exist for people who have the resources to use them. On top of that, the challenge of reaching across literacy barriers must be met. No matter how accessible the technology, if the information isn't provided in a way that's truly useful to the patient, it means little, whether on paper or online.
Increasing health literacy is critical in reaching across the power divide between patient and physician. Without a basic understanding of the issues at hand, it's impossible for patients to be truly empowered.
Though physicians and other health care providers are accustomed to working with highly technical systems, patients have a wide range of technical skills. Dr. Halkitis has worked in research for almost two decades, and interacts with both younger and older HIV-positive individuals.
"There is a huge difference in technical skill by age," Halkitis explained. "It's not that older positive men aren't using technology -- they are -- but there isn't the same ease around it that the younger guys have. For them, it's like an extension of their hand."
While technology has the potential to offer great advantages to the population of gay and bisexual men that he studies, Halkitis finds that health literacy is a real issue in his work. "Many of the men in the younger cohort don't understand the limitations of the antibody test we use for HIV. We would like to develop a software application that would show these men the window of time between infection and when HIV can be detected," said Halkitis. His emphasis on increasing health literacy is critical in reaching across the power differential that exists between patient and physician. Without a basic understanding of the issues at hand, it's impossible for patients to be truly empowered in their health care choices.