This Means War
If the fight against HIV is a war, then the computer models being developed are the war games of this fight. And Ravi Goyal is a living metaphor. Fresh out of the University of Pennsylvania, Goyal was recruited in 2002 by the National Security Agency (NSA) for its rapidly expanding counter-terrorism unit. As an applied research mathematician, Goyal used his exceptional math and computer skills to analyze the flow of information within and between terrorist networks. Assigned to find new ways of utilizing information, he was sent to Baghdad.
"It was important to see not just data, but how it was collected," Goyal said. "That really impacts how you adjust for uncertainties and biases that come with various kinds of data collections."
When Goyal's wife, a nurse, suggested he could apply his skills to public health, he left the NSA and enrolled at the Harvard School of Public Health. Today, Goyal models how HIV grows within an individual and spreads across communities.
Advertisement
Goyal is currently working on the epidemic in Botswana. According to the World Health Organization (WHO), one of four people there is HIV-positive. An ambitious, four-year project aims to assess the impact and cost effectiveness of a unique combination of prevention strategies in this southern African country.
Max Essex, principal investigator, professor of health sciences, and chair of Harvard's School of Public Health AIDS Initiative, and co-principal investigator Victor De Gruttola, professor of biostatistics and chair of the school's Department of Biostatistics, believe their computer model can help cut Botswana's infection rate by at least half. Essex thinks this can be done by focusing on people with a high viral load.
"This is the subset of people most likely to transmit the virus," Essex said in a Harvard press release.
The Centers for Disease Control and Prevention (CDC) is funding the Botswana Combined Prevention Project (BCPP) with a $20 million grant. The BCPP is a collaboration between the CDC and the Botswana Harvard AIDS Institute, a joint research and training initiative begun in 1996 by Harvard's AIDS Initiative and the Botswana Ministry of Health.
Researchers will conduct a randomized study, monitoring 20% of the population of the village of Mochudi and 16 nearby rural communities on a yearly basis. In addition to treating patients who have a high viral load, the BCPP will provide antiretroviral therapy to more than 90% of HIV-positive adults and 95% of HIV-positive women who are pregnant. Testing and counseling for adults and voluntary circumcision for men who are HIV-negative will also be offered.
In another key aspect of the BCPP, viral genetic sequencing of new infections is being conducted. "Fingerprinting" the virus of each new patient will help indicate whether infections originated from within a community.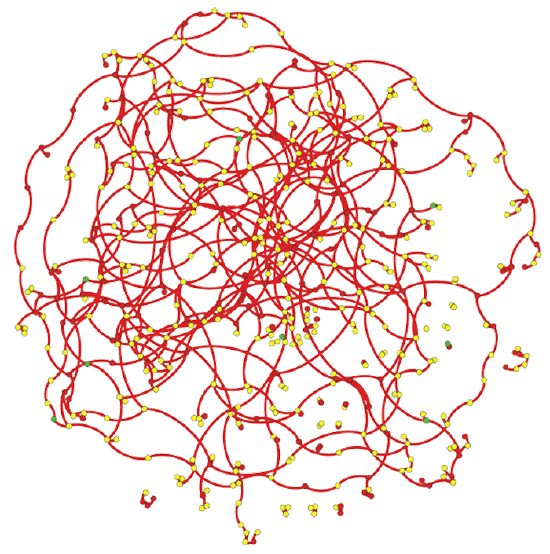 Social network: This visualization of a computer model depicts individuals (yellow circles) and their sexual relationship (red line) to another person.

Evaluating these strategies will be a computer model developed in part by Goyal, who is now a research associate at Harvard's Department of Biostatistics. Goyal and his team will simulate how HIV spreads within a village. To do so requires an enormous amount of data from a variety of sources. Demographic and medical data on the tens of thousands of study participants have been combined with information provided by those who answered a 17-page questionnaire.
"Getting data on sexual histories can be very challenging as people are reluctant to divulge such personal details," Goyal noted.
The BCPP model allows researchers to organize and interpret this data. The biostatistics team, led by De Gruttola, will use algorithms and mathematical techniques to simulate how the virus evolves inside an individual while simultaneously building a model of how HIV moves from one person to the next in a growing network of sexual contacts.
"Geography has an interesting role in treatment as prevention," Goyal said, noting how personal relationships add an unknown variable to the model. "People have relationships outside of their community. Think of the 'agent'-based model. Everyone in a community is modeled. Individuals are represented as dots, or nodes, on a network and relationships are lines, or edges, connecting two individuals. Relationships last a certain amount of time, then disappear from the network."
Computer modeling will allow researchers to follow participants and explore options that would have been too expensive in the real world.
"It wouldn't be practical or ethical to run a whole bunch of experiments over and over again on a group of people," Goyal said, "but a model allows us to test different kinds of interventions and how they would work under various conditions."
Once completed, the BCPP model will be adaptable for use in other countries, even where the nature of the HIV epidemic is different. However, Goyal cautions that computer modeling is not a one-size-fits-all solution to the many aspects of HIV.
"Computer modeling can help guide decisions and give an idea what the best types of interventions are," he said, "but there are limitations. It can't give you the correct answer all the time. It can only tell you what the realistic goals are or what the important things are that we should focus on."