A Pill to Prevent HIV: A Conversation Gay Men Need to Have
January/February 2013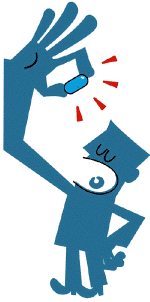 Photo: iStockphoto.com/Alashi.
Last week a friend posted on Facebook: "It's been an interesting life. HIV+ (positive). 10/9/2012." He is 24.
Later, I asked my young friend if he had heard of Truvada, the drug recently approved by the FDA for use as pre-exposure prophylaxis, or PrEP, against HIV. A pill to prevent HIV transmission. Like most people I know, he hadn't ever heard about PrEP and didn't understand it was an option available to him.
Sadly, I'm not surprised. The information that has come out about PrEP over the past year has been so vague or confusing that millions of gay men at risk for getting HIV may not understand it. The fact is, a daily dose of Truvada can statistically protect against contracting HIV.
If taken properly and consistently over a period of time prior to an exposure, an HIV-negative person is protected in roughly equivalent rates of protection provided by a condom, or over 90%. Researchers have estimated that for gay men, taking Truvada daily (seven pills per week) may be 99% effective; four pills a week might be as good as consistent condom use (96%).
So why isn't there a more expansive conversation happening in the gay community about this drug? Where are the front-page headlines? I spoke to some of my own friends about PrEP and quickly realized that many people, both HIV-positive and HIV-negative, have a knee-jerk negative reaction to PrEP -- a combination of healthy skepticism, fear, misinformation, and confusion.
I'm writing this article because I don't want to read any more Facebook postings like that of my young friend. I want people of all ages to have the information they need to decide for themselves about the risks and benefits of Truvada and PrEP.
Advertisement
The Condom Conundrum
Despite decades of safer sex messages, over 50,000 Americans are still newly infected with HIV every year. Gay men, who represent less than 2% of the U.S. population, account for over 60% of new infections.
With statistics like these, you might think that public health departments and HIV organizations would be doing much more to educate the public about this powerful, new tool in the fight against HIV. I asked my own doctor's assistant about PrEP and he admitted he didn't know much about it -- and I live in New York City, arguably a health and medical treatment capital of the world.
I can't help but wonder if the reluctance to promote PrEP may be that there are real limits to what PrEP can and cannot do. PrEP is not a vaccine that can give you 100% protection. It is not Viagra that can be taken 15 minutes before intercourse. It is not a cure for HIV. And it cannot protect you against hep B or C, herpes, syphilis, Chlamydia, or gonorrhea. And still, for many of us, PrEP could be a game-changer.
For as long as I can remember, the only real protection we have had against HIV, other than abstinence, has been condoms. But as protective as they are, condoms are also imperfect. They break. They are used incorrectly. They are at every bar when you don't need them, and nowhere to be found when you do.
I also don't know a lot of people who are able to use condoms "100%" of the time. Do you? Like anything we try to do 100% of the time, it's actually human to be less than 100% successful. That being said, I am constantly amazed at how many presumably negative people I encounter who seem to think nothing of having sex without a condom. Something else is going on -- namely that people are inherently unable to adhere to the "wear a condom every time" warnings. How many times did you slip in the past year? Once? Twice? Too many to count?
It's high time for a different approach.
A New Approach to Prevention
PrEP has the potential to dimensionalize our approach to HIV prevention, principally because taking a drug daily, as a woman might take birth control, more accurately addresses sex in the real world. The same world where people slip up and condoms break.
In reproductive health for heterosexuals, men and women have many options to protect against unwanted pregnancy, from condoms and birth control to the morning-after pill. PrEP as pre-exposure prophylaxis and PEP as post-exposure prophylaxis are both powerful, valuable tools that give gay men, and anyone worried about contracting HIV, additional avenues of protection. Perhaps most important is that like oral contraception for women, but unlike condoms for protection against pregnancy or HIV, PrEP is not taken at the same complicated moment when sexual intimacy occurs; it can be taken at routine daily times before and after those less predictable moments. That is what most makes PrEP a unique addition to condoms in our struggle against HIV: It is neither better nor worse as much as it is a different strategy, one that may protect some people at some points in their lives when condoms are either impractical, unavailable, or insufficient protection.
For those of us who live in relatively affluent, urban centers, it's sometimes easy to forget that safer-sex strategies and condoms are not "one size fits all." There are many, many people at risk for HIV who don't have the voice and power to always demand a condom during sex. There are people in serodiscordant relationships who could benefit from the practical and emotional protection of PrEP. Some people have fears around HIV that prevent them from loving. People with unfaithful and dishonest husbands and partners could be protected. People who "party" and take bigger risks, people who, for one reason or for many reasons, cannot "simply" use a condom 100% of the time. If you are one of those people, and you are lucky enough to have access to PrEP, you might decide that PrEP is a ray of light in an otherwise very dark place.
PrEP vs. Condoms
A new ad campaign from prepfacts.org eloquently proclaims: Love has another form of protection. We'd like to think this means, universally, that people will use PrEP in conjunction with condoms to provide a second level of protection. That would make the most sense from a public health perspective, but PrEP presents us with a fundamental challenge to our way of thinking about protection and safer sex, namely that some people may use PrEP as a substitute for condoms although it does not provide all the same protections.
I spoke with Jeff McConnell of the Gladstone Institutes -- he is a sociologist on the trial that showed Truvada effective against HIV infection in gay men. Mr. McConnell pointed out that a person who is taking Truvada consistently as recommended (daily) and having sex without a condom can no longer be considered to be having unprotected sex, at least for HIV.
It's taken several weeks for me to wrap my head, and heart, around the idea espoused by sites like prepfacts.org and Mr. McConnell that taking PrEP daily and not using condoms could be considered, for some people, safer sex. This goes against everything I've been taught about HIV. Could it be that the language of safer sex, and perhaps sex as we know it, is fundamentally changing with PrEP?
The fear among many of us in the gay community and in public health is that people on PrEP will start taking more risks, risks they would not have taken otherwise. I understand these fears. And share them. But so far there aren't data to support this fear. It could also be that the protection offered by this drug, when used properly, might actually offset any "riskier behavior." Only time will tell. As mentioned earlier, condoms offer protection against a wider variety of sexually transmitted infections than just HIV, and have plenty of other advantages as well.
More From This Resource Center
---

This article was provided by
Positively Aware
. It is a part of the publication
Positively Aware
. Visit
Positively Aware's website
to find out more about the publication.
---
Add Your Comment:
(Please note: Your name and comment will be public, and may even show up in
Internet search results. Be careful when providing personal information! Before
adding your comment, please
read TheBody.com's Comment Policy
.)