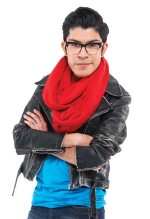 Photo: Andrew Walker/Getty Images.
He'd never planned to go on Project Runway and talk about his HIV status. Mondo Guerra had kept it secret, even from his family, for a decade. But he found himself on that runway lying about the inspiration behind his work and feeling the emptiness of betraying himself, wishing the judges (and everyone else) could know the whole story. What happened as he pointed to the plus signs in the fabric of the pants he'd designed and told the world he'd been HIV-positive for 10 years changed his life irrevocably in many ways.
His return two years later to Project Runway: All Stars was victorious in a couple of ways. Not only did he win the competition the second time around, but in the time since that first revelation, he'd discovered another passion -- HIV/AIDS advocacy -- that had expanded his talents and given his life an additional purpose. He remains grateful for the opportunity that Project Runway gave him, as well as the work he's done with the HIV community that has woven his two worlds together into a most interesting tapestry.
"During Season 8, two years ago, I disclosed my status through a challenge on the runway," said Mondo in an interview with Positively Aware magazine. "I never planned on going to Project Runway and talking about my HIV status. It was influenced by this particular challenge, an emotional challenge that was inspired by childhood photographs. I really wanted to pull something from the past, the present at the time, and the future so I designed a very geometric pattern of a plus sign. When I was on the runway presenting it, I sort of danced around the subject of what I was really inspired by. It wasn't until one of the judges said, 'This pattern looks so perfect.' And I thought, 'No one really knows how perfect it is.' I realized I was really taking away from myself at this point, because not only have I been keeping this secret for 10 years, but now I was lying about the inspiration behind my work. And the work is so important to me -- it's kept me alive since I was a kid. It's always been such an influence, such an encouraging friend to me, actually, and so when I was lying about my work, I felt empty ... very empty ... and it came out. I told them what it really represented and that moment was a turning point in my life. It came out in about a minute and a half and it changed the course of my whole future."
Once the truth was out, he worried going home and dealing with the backlash from his family, from the viewers, from the HIV community. But he got home and the episode aired.
"The response was amazing. I got thousands of emails," he remembers. "A lot of them were from HIV-positive people or people who knew someone who was positive and had questions. A lot of them were from regular people who'd just held onto something and couldn't let it go. My story was relatable to them."
Looking back, he now incorporates what he learned from that experience into his advocacy work.
"My story isn't just about being HIV-positive or negative. It really is about accessing the information and educating yourself and passing that message on to somebody else. Because we're all in it together. HIV really does affect all of us, we all know someone who's infected with this disease and those who are have an emotional impact from HIV and they really do need that extra support."
Mondo knows from personal experience how HIV can take you down a path you would not otherwise choose. "It can get really dark. I can tell you I had to hit rock bottom before I was able to pull myself up."
His lowest point came three years ago when he was in the hospital with PCP for Christmas. "My numbers were super-low. I was dying of AIDS and I thought to myself, 'What am I doing? I'm not in this world and I'm letting this disease take me away from everything I love, my family, my self, my relationship, my art. Why am I allowing this to happen?' That day was really the day when I realized I had to get on the ball, talk to my doctor, find the right treatment, start setting life goals again. It's a huge responsibility, but if you're HIV-positive, that's what you have to do, you have to be proactive in life and take the proper steps to make it happen."
His compassion for other HIV-positive people has guided him into his advocacy work. "It really felt like I had a responsibility to use the advantage I had from the reality-based fashion show to bring awareness to the cause of HIV/AIDS."
Merck & Co., the pharmaceutical company that makes the HIV drugs Crixivan and Isentress, approached him and asked if he'd like to collaborate to do a campaign. The first collaboration with Merck was the Living Positive by Design campaign. He and Jack Mackenroth, the first designer to reveal his HIV status on Project Runway, worked to promote HIV education.
But it is the latest campaign, I Design, that he feels is a reflection of his life journey living with HIV. It also called for input and participation from the HIV community, something that was crucial to him.
"It was really important to me when they approached me to talk about the campaign that it was interactive, that it had a sense of participation, and that it also had a lot of self-reflection."
The goal of the campaign is to empower HIV-positive people to truly partner with their medical providers to "tailor" the treatment plan that is right for them.
As Dr. Michael Gottlieb says in the video on the Project I Design home page, communication between the patient and the provider should be open, honest, and go both ways because "no two patients are the same."
"If you look at the Project I Design website, it's really easy information, not intimidating," Mondo says. "I remember when I was first diagnosed A) it was scary enough and B) I had to go into this clinic that I was terrified to walk into and there was all this information all at once. It was very black and white, there was nothing light about it, it was all very heavy, so I was determined that this would be very easy information."