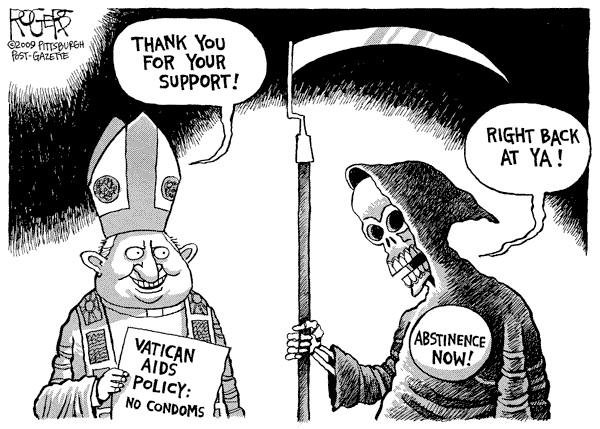 Image from www.robrogers.com
Over the last year, a few patterns about HIV/AIDS have become abundantly clear. The first is that media coverage of HIV/AIDS has sharply declined, which may coincide with the fact that many in the US no longer see the disease as the country's number one public health issue (that honor goes to health care reform, or Obamacare as the pundits dubbed it). The second is that youth, particularly MSM ages 19-24, are being infected at escalating rates, which is likely due to the fact that they aren't practicing safe sex. As the Kaiser Family Foundation states, "young gay and bisexual men are the only group for whom new infections rose between 2006 and 2009." Thirdly, it has become clear that many young adults are not being given proper HIV/AIDS education and prevention.
Take, for example, this shocking story that Think Progress broke this morning about West Virginia, where there are "no standards for ensuring that sexual health material is medically accurate and unbiased by religion." In fact, even as West Virginia is being called upon to standardize (and modernize) their curricula, one West Virginia lawmaker is still defending abstinence-based education as the best way for students to avoid STDs, HIV, and unwanted pregnancies. Delegate Linda Sumner, R-Raleigh, said, "Isn't [abstinence] always the best way to make sure you don't get sexually transmitted diseases and unwanted pregnancies?"
Advertisement
Oh yes, she did.
But as we all know -- or all of us know except Linda Sumner -- preaching the wonders of abstinence is far from comprehensive sexual health education. In fact, abstinence-advocacy often neglects to explain how STDs, particularly HIV/AIDS, can and cannot be spread, ultimately putting young adults at a great disadvantage when the time comes for them to protect themselves.
And let's be perfectly clear here, abstinence-only education simply isn't working.
In a statewide poll, over 20,000 young West Virginians are sexually active, and 75% report not using any form of birth control. Take that, abstinence lackeys!
Secondly, and perhaps even more damning, is the fact that across the state, 12% of West Virginian youth reported that they didn't "learn anything" about how to prevent HIV/AIDS infection. Twelve percent! That's 100% too many who are not receiving sex and HIV/AIDS education.
When we are finally on the precipice of being able to move toward an AIDS-free generation, thanks to the coordination of scientific advantages, tireless AIDS advocacy, and community organizations, we simply cannot stand by while West Virginia takes this possibility away from us in their willy-nilly sex and HIV/AIDS education.
Join us in tweeting the West Virginia legislature to tell them to implement state-wise comprehensive (and smart) sex, STI, and HIV/AIDS education! Their Twitter handle is: @wvlegislature. We must stand by the health of youth everywhere!