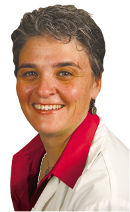 Michelle J. Sherman, R.Ph., A.A.H.I.V.P.
Table of Contents

Your pharmacist and pharmacy play a critical role in keeping you adherent with your meds, guarding against drug-drug interactions and advocating on your behalf. Take a look at these steps to finding a pharmacy that's just the right fit.
1. The Pharmacy Staff MUST be HIV Sensitive
Your medications are a crucial component of your treatment plan for HIV. The pharmacist and the pharmacy staff are important members of your health care team. It is very important that the members of the staff at the pharmacy are HIV sensitive and that you feel comfortable and welcome at the pharmacy.
Pharmacy staff must be non-judgmental, non-homophobic and non-AIDS-phobic. Some examples of HIV insensitivity are the following (these are real examples that have happened to clients):
A pharmacy staff member looks down on you and treats you differently from other customers at the pharmacy counter
When you sign for your prescription and use a staff member's pen, you see them throw the pen in the trash when you are done
A client ran out of his medications because his ADAP (AIDS Drug Assistance Program) coverage was expired and he went into the pharmacy. The pharmacist came out from behind the counter, slapped a Bible down on the counter and said, "I can't help you, you people deserve what you get, read the Bible, there is nothing I can do." As you can imagine, the client was devastated
The pharmacist comes out to the counter and tells you how to take your "AIDS" medication while there is a line of people right behind you from your neighborhood who can hear every word
The pharmacy gets on the store public address system and says " John Doe, your AIDS medication is ready"
Since you have to take your antiretroviral medications for the rest of your life, you will be building a long, strong relationship with your pharmacist and pharmacy staff. It is essential that you feel comfortable and at ease with your pharmacy.
Advertisement
2. Your Pharmacist and Pharmacy Staff MUST Be Knowledgeable About HIV
Is the staff able to answer all your questions and concerns with regard to HIV and related issues? Is your pharmacist an HIV expert with HIV credentials? An HIV expert pharmacist with HIV credentials is a pharmacist who has undergone additional or specialized training in HIV, and is an expert in HIV medications, side effects, drug-drug interactions, adherence and other HIV medication-related issues. Pharmacists are usually credentialed through the American Academy of HIV Medicine or through the HIV certification program at the University of Buffalo School of Pharmacy and Pharmaceutical Sciences.
3. Avoid Pharmacies Offering Kickbacks! Where Do Your Meds Come From?
A kickback is something the pharmacy offers you to switch pharmacies and to lure you away from your current pharmacy. Kickbacks include things like cell phones, gift cards, iPods, or paying you and your friends to switch pharmacies. This is an ILLEGAL practice, and if you accept these things you could be held liable if the authorities crack down on the pharmacy! Avoid these incentives. The BEST thing your pharmacy can offer you is PRICELESS: It is the information, education and care you receive. It can save your life!
Does your pharmacy purchase their HIV meds from a reputable drug wholesaler? Some pharmacies participate in illegal practices and purchase their medications from small wholesalers that obtain medications through illegal means, such as reselling drugs that they get from HIV clients, buying drugs from shady pharmacies or tampering with and repackaging HIV medications. These "shady" wholesalers offer drugs to pharmacies at much lower costs than the pharmacy could buy it for from one of the major drug wholesalers. This drug fraud has resulted in HIV clients getting "used medication" and medications where the meds have been changed and are not the actual medication or dosage that you doctor has prescribed. What the prescription label says and what is actually contained in the bottle are two different things.
Getting medications of this kind can be CATASTROPHIC to you because:
The medication has been tampered with and can be contaminated
It is ILLEGAL to re-use another person's prescription
The actual medication in the bottle may be different from what is prescribed, and this can result in failure of your antiretroviral regimen. The contents may be different, or it may be a lower dose, or it may contain a completely different drug altogether
The bottle may contain a drug that you are allergic to or be a drug that you were not prescribed at all, resulting in severe side effects, drug-drug interactions, or even hospitalization and death
Actual examples of this are the following:
Prezista (darunavir) 600mg tablet bottle containing Prezista 300mg tablets inside the bottle
Combivir (AZT/3TC) tablets containing Ziagen (abacavir) tablets inside the bottle
Zerit (stavudine, d4T) 40mg capsules containing Zerit 20mg
Procrit (epoetin alfa) injections that have been diluted so you don't get the correct dose
Drug fraud is a problem, and authorities have been cracking down where possible:
You have the right to ask your pharmacist which wholesaler they use! The major wholesalers in the United States are Amerisource-Bergen, Cardinal Health and McKesson.